According to research, online retailers will spend $7.3 billion on AI technologies by the end of 2022. According to Global Newswire research, the global market for AR and VR technologies is expected to reach $1.270 billion by 2030, up from $37.0 billion in 2019. E-commerce is booming and shows no signs of slowing down. On the negative side of this success, everyone is selling their goods online, often using the same e-commerce platform. Search, browse, images, descriptions, shopping cart, rinse, repeat, and frequently return. Further to that, if the shopping experience is this generic, why not do all of your shopping online?
Many customers still prefer to shop in a physical store because they want to handle or try on an item before purchasing it. Augmented reality and Artificial Intelligence (AR and AI) can provide immersive experiences online, allowing customers to feel as if they've handled an object or tried on a blouse without having to go to the store.
Millennials and Gen Z expect more from their shopping experiences, and they frequently use technology to expand the way they interact with their surroundings. They want more customization, interactivity, and a better overall experience. These features can be provided by augmented reality and artificial intelligence on an eCommerce site.
What Digital Marketers Should Know About AR and AI
AI is Changing the Future of Digital Marketing
Artificial Intelligence (AI) advancements in the last 3 years have changed how brands interact with their customers. One of the most significant impacts of artificial intelligence on marketing will be in content creation. AI has created a whole new field known as content intelligence, in which AI tools provide data-driven insights and feedback to content creators. This means that by establishing a continuous feedback loop, designers and marketers will be able to improve and scale their content creation efforts.
It should come as no surprise that an increasing number of businesses intend to spend more money on marketing advancement in the coming years. It comes as no surprise that 50% to 70% of executives intend to increase their marketing expenditures.
Imagine Siri writing you a college essay or Alexa spitting out a Shakespearean movie review. Chatbots that use artificial intelligence (AI) and machine learning to learn from data from actual conversations may very well improve the overall shopping experience.
Early in December 2022, OpenAI invites everyone to test ChatGPT, an AI-powered chatbot that converses with users in an amazingly convincing manner, accessible to the public. Users, including academics and some in the tech industry, have been wowed by its capacity to offer extended, thoughtful, and thorough responses to questions and prompts – even when they are incorrect.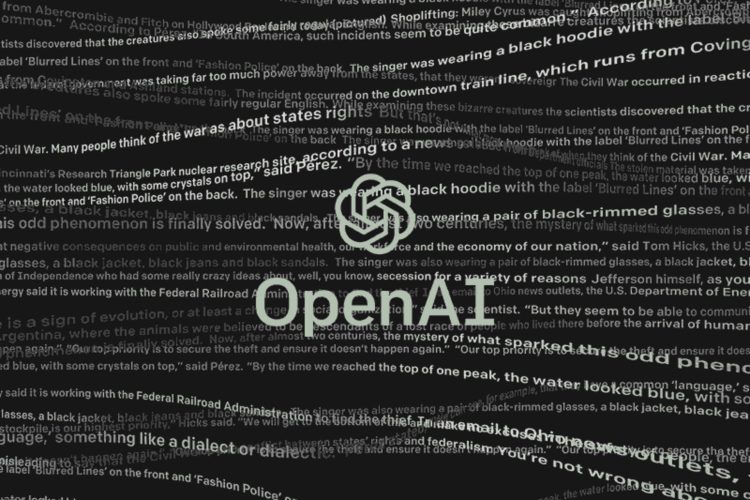 Benefits of Using AR for eCommerce
AR has changed the customer experience and is a significant differentiator in today's market. AR is the overlaying and sharing of physical spaces, images, and objects on a user's screen, where the virtual interacts with the real world. AR has enabled brands to interact with their customers in 3D on mobile devices.
As these new digital experiences transform customer journeys into immersive visual interactive experiences, the market is changing in unexpected ways. We now have AR applications that serve as powerful new mechanisms for businesses to add value to their customers' journeys, from pre-sales to sales to after-sales, enriching the two parties' relationship. AR allows customers to try before they buy. Customers can try products before purchasing them without having to visit a store.
AR also increases the value of interactive packaging AR. Customers can benefit from augmented reality's enhanced visual experience of a product's packaging. When customers view a 3D image of the package, they interact with the product more and have a more valuable shopping experience; they can see product details that they would not have seen without AR.
Furthermore, it enhances the customer's AR shopping experience. In a post-pandemic world, contactless transactions will become more common. AR will be at the forefront of this transformation, reshaping how retail and e-commerce operate: from providing an all-inclusive online shopping experience to achieving new levels of customer satisfaction.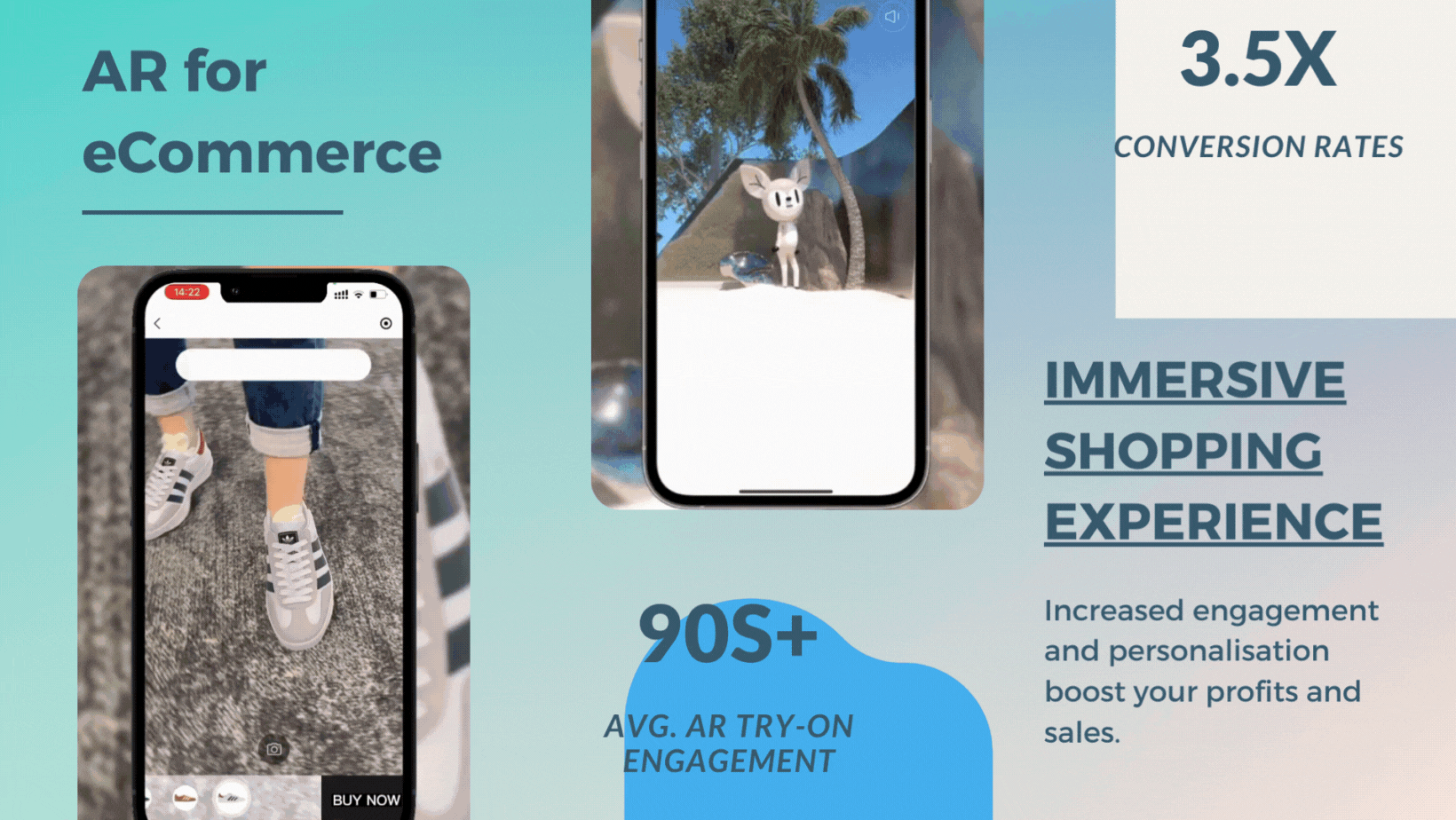 The Blending of AR and AI Leads to Happier Customers
Despite the fact that augmented reality and artificial intelligence are distinct technologies, they can be combined to create amazing new experiences.
AI models also have become extremely adept at many of the tasks required to generate immersive AR experiences on their own. Deep neural networks can detect vertical and horizontal planes in real time, estimate depth and segment images for realistic occlusion, and even infer 3D positions of objects. AI models are increasingly replacing some of the more traditional computer vision approaches that underpin AR experiences as a result of their capabilities.
Source: Twitter, Sergei Galkin @sergeyglkn
Source: Twitter, Russ Maschmeyer @StrangeNative
Sergey Galkin and Russ Maschmeyer made quite a stir with their Shopify prototype that improves the customer shopping experience by combining voice assistant, artificial intelligence, and augmented reality. With Kivisense, you can now automatically create a customized product for your customer.
AI models are also being layered on top of AR. Customers' shopping experiences can be changed by real-time clothing swapping. AI and AR can be used to create immersive mobile experiences when used correctly.
To categorize, the most popular method used by developers to integrate AR and AI models is to take photos or audio from a scene, process the data using a model, and then use the output of the model to activate effects in the scene. Here are a few visualizations:
Audio Recognition
AI models are trained to recognize specific words that activate AR effects. For example, a user may ask certain questions, which will cause certain 3D animations to play. It enables users to initiate AR interactions with simple voice commands. Users can activate the AR Santa crystal ball, for example, by saying "Merry Christmas." Budweiser's marketing strategy in the Qatar World Cup this year, for example, triggered the animation effect of the virtual mascots of various teams through AI conversations.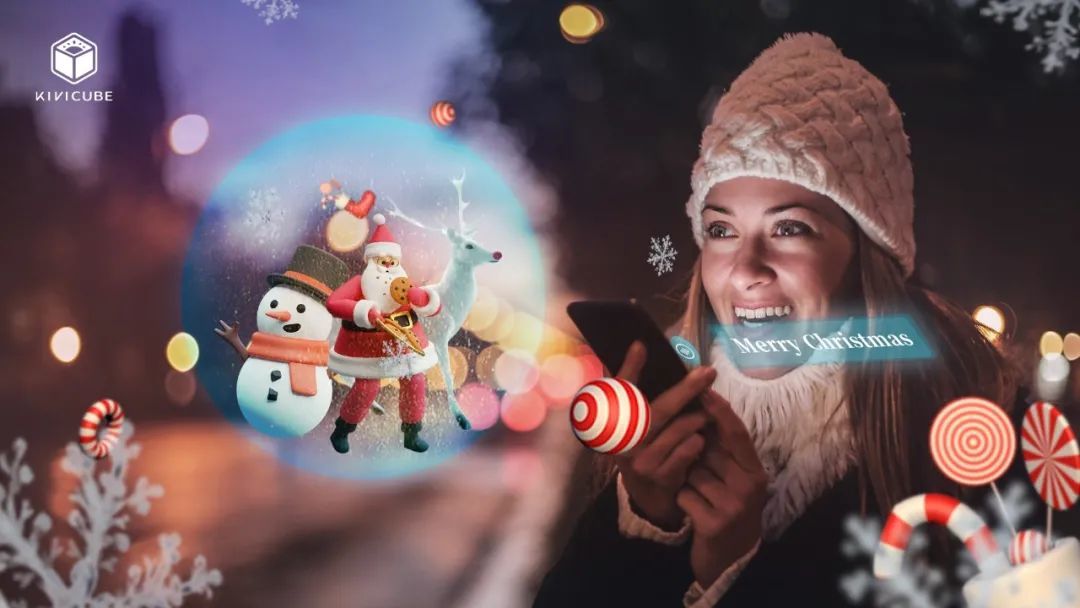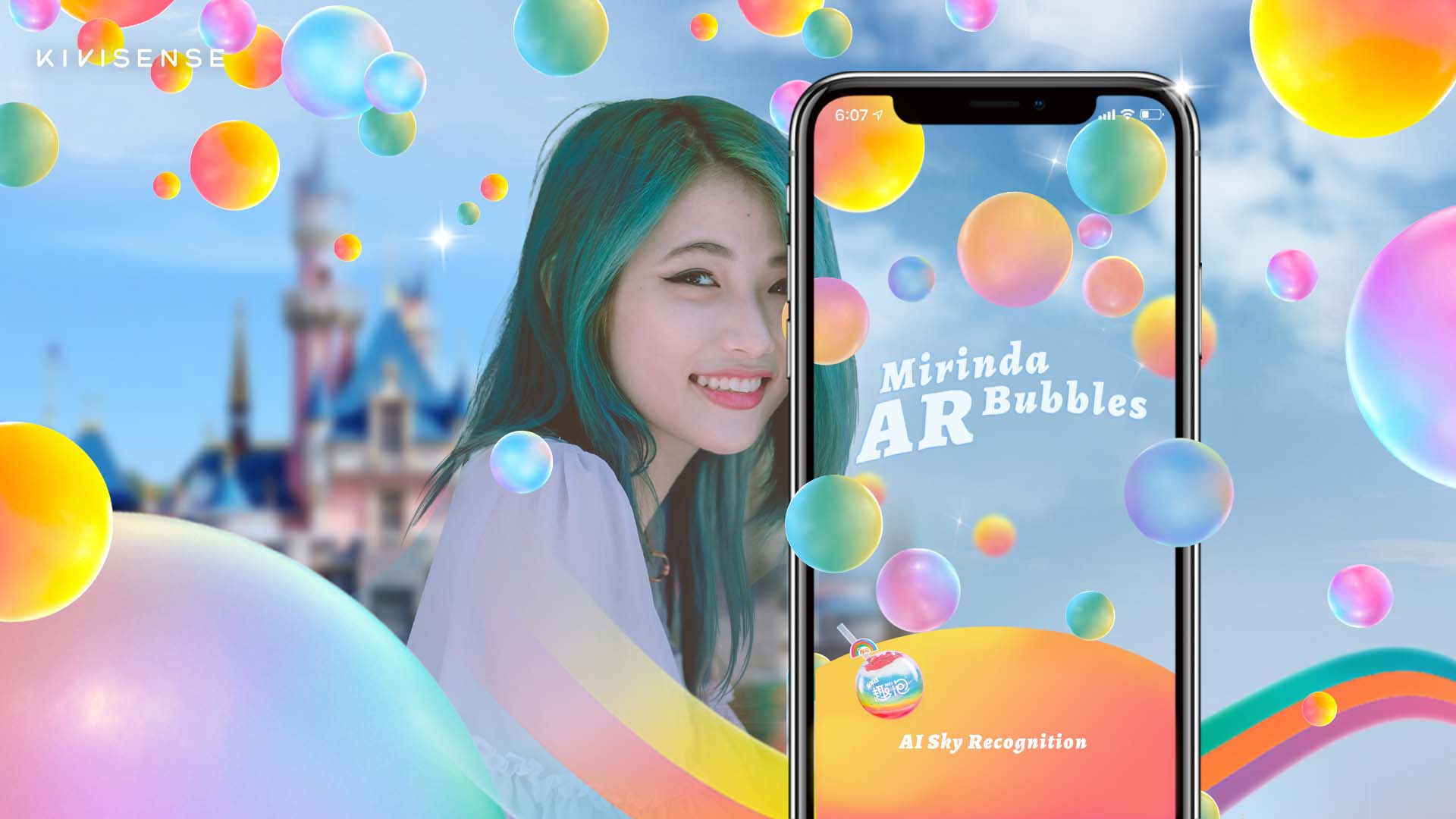 Image or Scene Labeling
A camera frame is passed through an AI model that classifies an image. The classification results in an AR label for that location. We, Kivisense also support the recognition of many iconic architectures. Users can scan famous buildings in the real world for an AR interaction. It can even recognize the sky in different weather conditions. Pick up your mobile camera, and scan the sky. This will result in AR interaction.
Text Recognition
An AI model locates, reads, or translates text in an image or scene. Next, augmented reality APIs are used to re-overlay the processed text into the 3D environment. For instance, during the Chinese Lunar New Year, Alipay launches its scanning "fu (blessing)" campaign, drawing in millions of users in keeping with the Chinese custom of pasting "fu" on the door. Additionally, we help with the handwriting font. By scanning the text they have written, users can start an AR interaction. For instance, scanning "5G" to start an AR interaction and get coupons from JD.com. We also support the recognition of particular logos. Users can launch the AR interaction by scanning specific logos.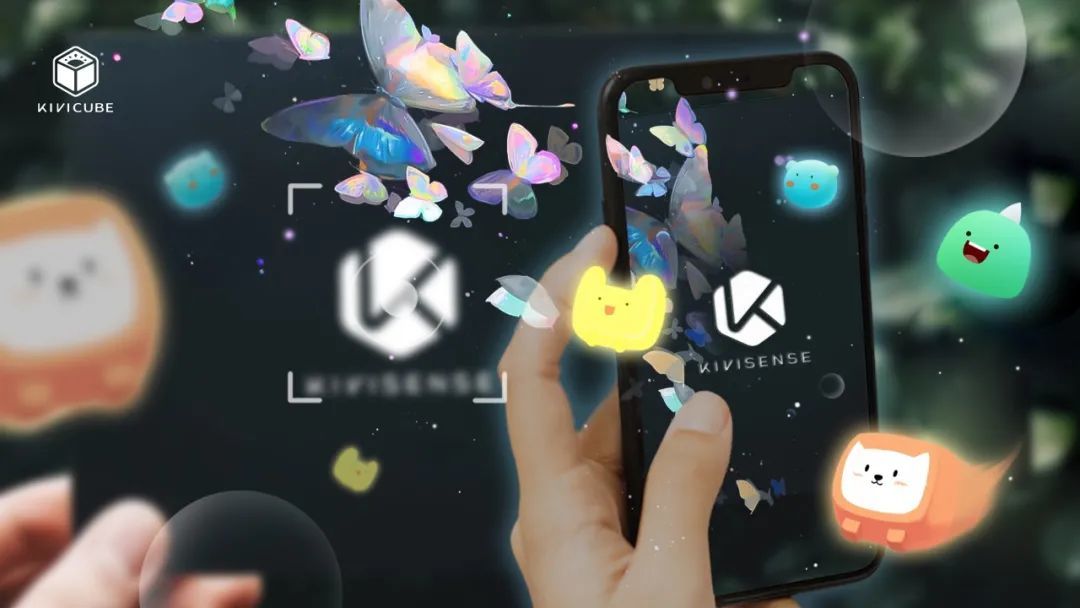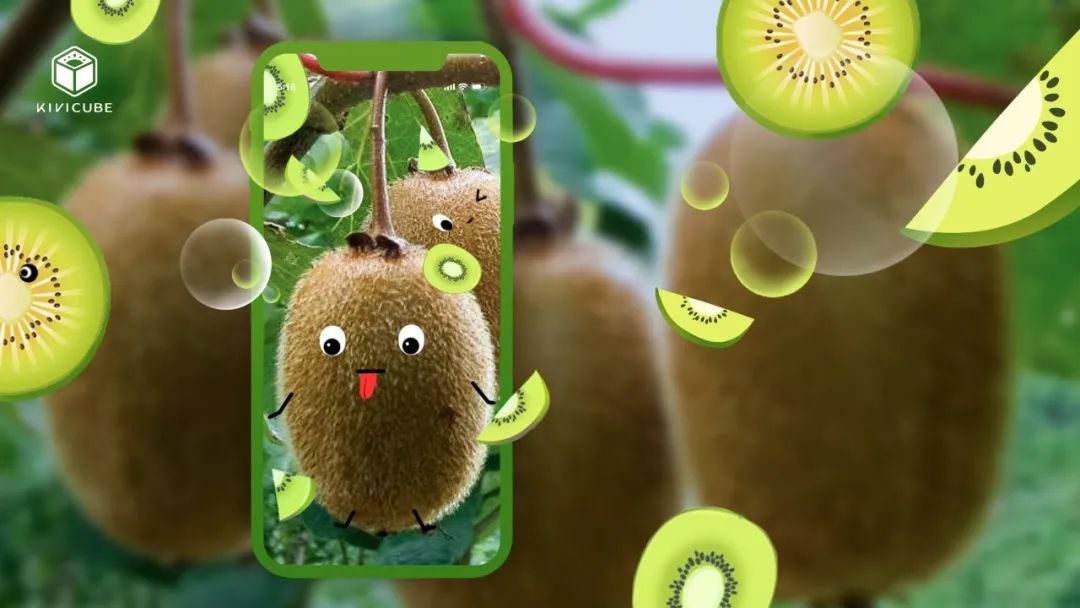 Object Detection
An AI model is given a camera frame and is inquired to estimate the position and size of objects in a scene. The location data is then used to create hit boxes and colliders, which allow physical and digital objects to interact. The artificial intelligence plugin can recognize plants, fruits, and vegetables. It can recognize them in real life and even in images.
Pose Estimation
The position of objects such as hands and fingers can be used to control AR content. The combination of AI and AR can enhance the AR experience, improve the virtual try-on experience with more precise AI body tracking, and trigger AR interactions with AI recognition of common hand gestures.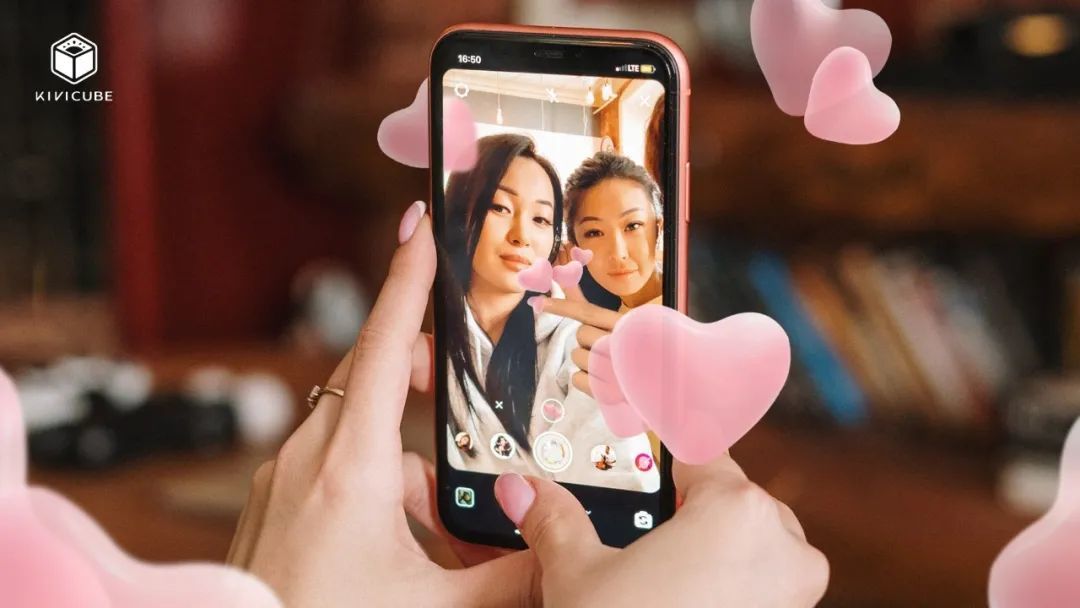 Artificial intelligence and augmented reality are distinct but related technologies. Because of their ability to track and understand the 3D world, smaller, faster, and more accurate AI models will be the engines of AR features. They'll also keep improving AR experiences by adding effects and interactive content to AR scenes.
By 2030, AR will have profoundly affected virtually every aspect of marketing. When the next generation of smart glasses, developed by Microsoft, Facebook, and Apple, hits the market, augmented reality experiences will become even more popular.
There is no doubt that augmented reality is the future of marketing because it flips traditional business advertising approaches to create fully immersive shopping experiences that boost engagement levels in both physical and online stores.
Get the Most out of AR and AI with Kivisense
At Kivisense, we believe that your business should have the freedom to create and innovate. That's why we are committed to leveraging the power of AR and AI to provide flexible solutions that give you a competitive advantage.
Claims of AR capabilities are not just hype, our solutions is proven and highly advanced and can be seamlessly integrated into a variety of platforms such as the web, app, Shopify, social media, and more. We have had great success in partnerships with Gucci, Dior, Pomellato, Valentino, Canada Goose, lululemon, Salvatore Ferragamo, and many more leading brands. What are your thoughts on AI and AR? Contact us right now!