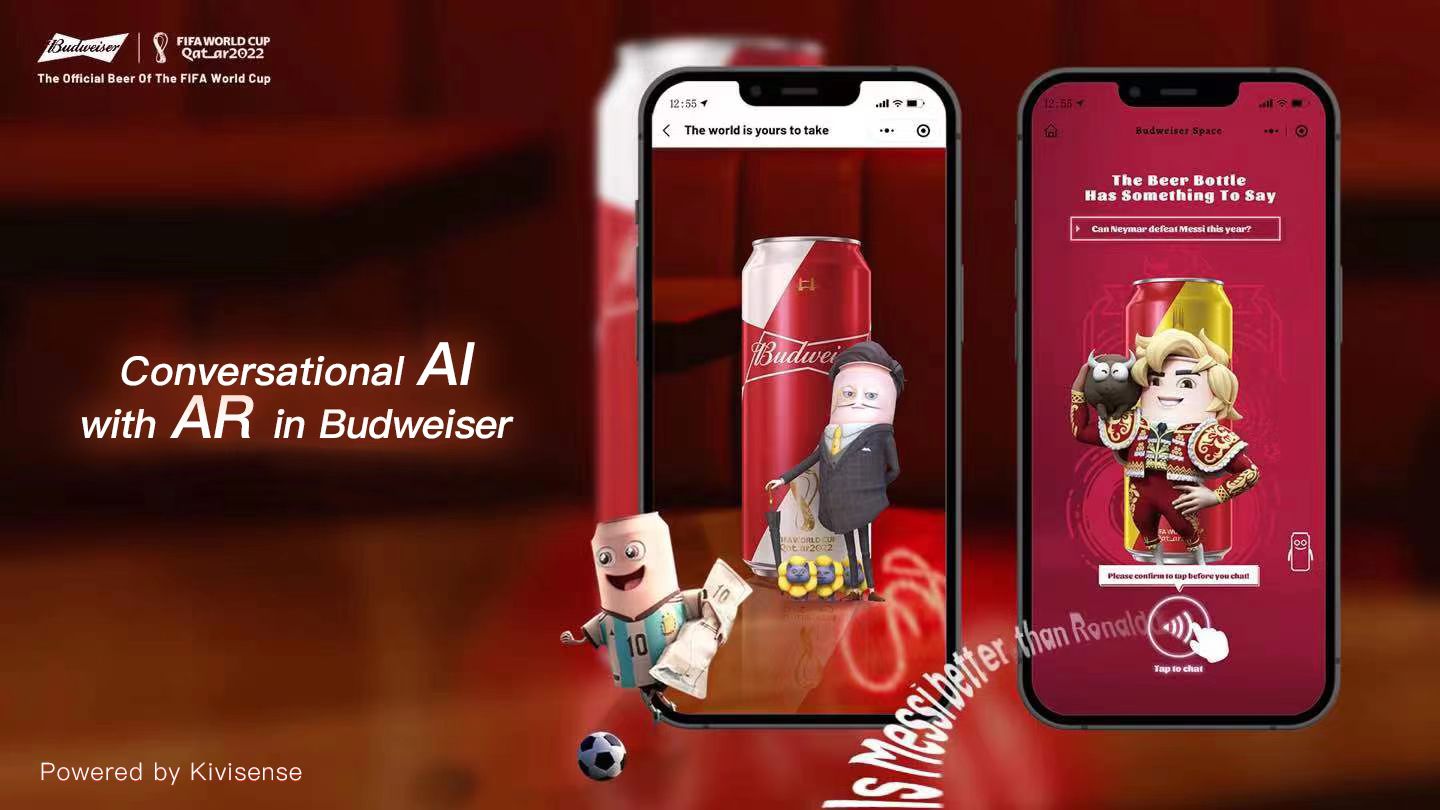 AR and AI Help Budweiser Create a Delightful Beer Packaging

Budweiser
www.budweiser.com
Budweiser has long had a firm grip on the World Cup and it has always been able to introduce new ideas. This year is no exception; it blended the features of eight countries in the design of its canned beer packaging and developed an innovative campaign that allows consumers to connect with eight personified chatty avatars attached to the bottles and experience conversational AI interactions with them.
The World Cup is not only the world's most popular sports competition. It is an international celebration of the passion of football, bringing together the emotions of numerous fans. Budweiser is always innovating its products in the face of this marketing field. It creates FIFA special edition beer bottles, which adds emotional value to its product and becomes an effective way for fans and customers to unleash their passion for football carnivals.
Conversational AI with AR in Real Life | The Beer Bottle Has Something To Say
The World Cup in Qatar this year is no exception. Budweiser has turned the beer bottle into an interactive game, with eight personified chatty avatars attached to the bottles in AR that users can interact with. With the use of conversational AI, customers are able to talk to the Budweiser bottle in real life. They can enjoy a new way to drink beer by unlocking new features. This new packaging strategy aims to improve the brand image as well as promote the "Budweiser" brand. This is especially true for Gen Z, who are more accustomed to interacting with digital products and games. While many companies rely on traditional advertising methods and technology, Budweiser's digital strategy is that it can utilize eCommerce technologies to bring more novelty into the market.
This is a project that we helped Budweiser in developing from the scratches. In this case, the bottles act as anchors for activating the personified avatar attached to them, users need a real bottle to trigger the AR object tracking, which is one of the reasons why its sales are enhanced.  Soon after scanning the bottle, customers can engage in entertaining chats with the digital avatars. Whether it's "Is Messi better than Ronaldo?" or "Can Neymar defeat Messi this year?", these kinds of off-court slander and so on can always be dealt with wittily.
Personification of AR Content | Creating A Bond With the World Cup Fans
Budweiser has nailed the essence of digital strategies in design, which fully arouses consumers' enthusiasm of the involvement of the World Cup. The loyalty of consumers has been aroused by the intelligent digital design strategy, coupled with fast response and multiple incentives – a strong signal to the consumer that Budweiser deserves their attention and participation. The success of this AR object tracking based game lies in spontaneous participation. 
From a broader viewpoint, this can be viewed as Budweiser's effective endeavor to increase brand-tailored communication through conversational AI, which not only provides an immersive way for fans and consumers who cannot be present at the scene to participate in the World Cup, but also makes Budweiser an effective carrier for fans to release their passion in football carnivals, and revels with fans as the one-team companion. In terms of brand positioning, the creative layout of Budweiser's World Cup digital marketing game has already matched the trend. 
On the other hand, fans and consumers in the digital space have become participants and experiencers. The digital space can help them to better express themselves and their passion for the World Cup, and activate new awareness of Budweiser.
From Entertaining to Engaging | Make the Brand Stand Out with Immersive Customer Experience
The key to tackling digital brand promotion is that consumers' attention is always finite, and in this wave of digital marketing only distinguishing can build brand differentiation. The various World Cup hot spots in beer bottles can naturally target the social highlights of consumers, and interesting questions have completed the start of communication. Consumers simply need to scan the bottle, setting up a foundation for a wide variety of individuals to engage in it. It has also established a game mechanism to stimulate consumers' desire to share. Through their simple action of setting "tap to share"  forward friends or generate posters, they have enhanced the convenience of participating in activities and created an interactive communication. 
Budweiser uses the principle of "game-like" participation in the interactive operation of its product packaging, to stimulate consumer enthusiasm and participation. Either the conversational AI or AR object tracking is a highly effective way to interact with consumers, helping Budweiser achieve more content views, more traffic on the brand's official website and ultimately drive purchases in store or through the e-commerce.
Customer-Centric Branding | Reinventing The Customer Experience With AR and Conversational AI
In the past World Cup promotion, most brands have focused on product-centric consumption. Brand purchase behavior ends, as well as the end of the marketing process. This has led to a weakening of brand experience, but also inevitably led to marketing homogeneity. In essence, the conversational AI with AR in Budweiser beer bottle puts aside the "Product-Centric" consumption scenario, but "Customer-Centric" to build a complete brand experience journey. At the same time, Budweiser beer has not only used the bottle as the fulcrum, but also pioneered a new path of digital experience marketing in addition to beer scene market. The product can be perceived and touched, which has become a popular method of brand communication in recent years.
Since its founding in America, Budweiser has successfully made its name as a global leader in the industry with its years of development. In the Chinese market, Budweiser is also growing rapidly, becoming one of the top ten international brands. As an international beer brand in China and "World Cup" sponsor, Budweiser will not only create an incredible experience for fans around the world by leveraging digital technology to bring them closer to their passion, but also enhance the brand's value and position through unique marketing activities and innovative customer experience.
Get the Most out of AR and Conversational AI with Kivisense
At Kivisense, we believe that your business should have the freedom to create and innovate. That's why we are committed to leveraging the power of AR and AI to provide flexible solutions that give you a competitive advantage.
Claims of AR capabilities are not just hype, our solutions is proven and highly advanced and can be seamlessly integrated into a variety of platforms such as the web, app, Shopify, social media, and more. We have had great success in partnerships with Gucci, Dior, Pomellato, Valentino, Canada Goose, lululemon, Salvatore Ferragamo, and many more leading brands. What are your thoughts on AI and AR? Contact us right now!