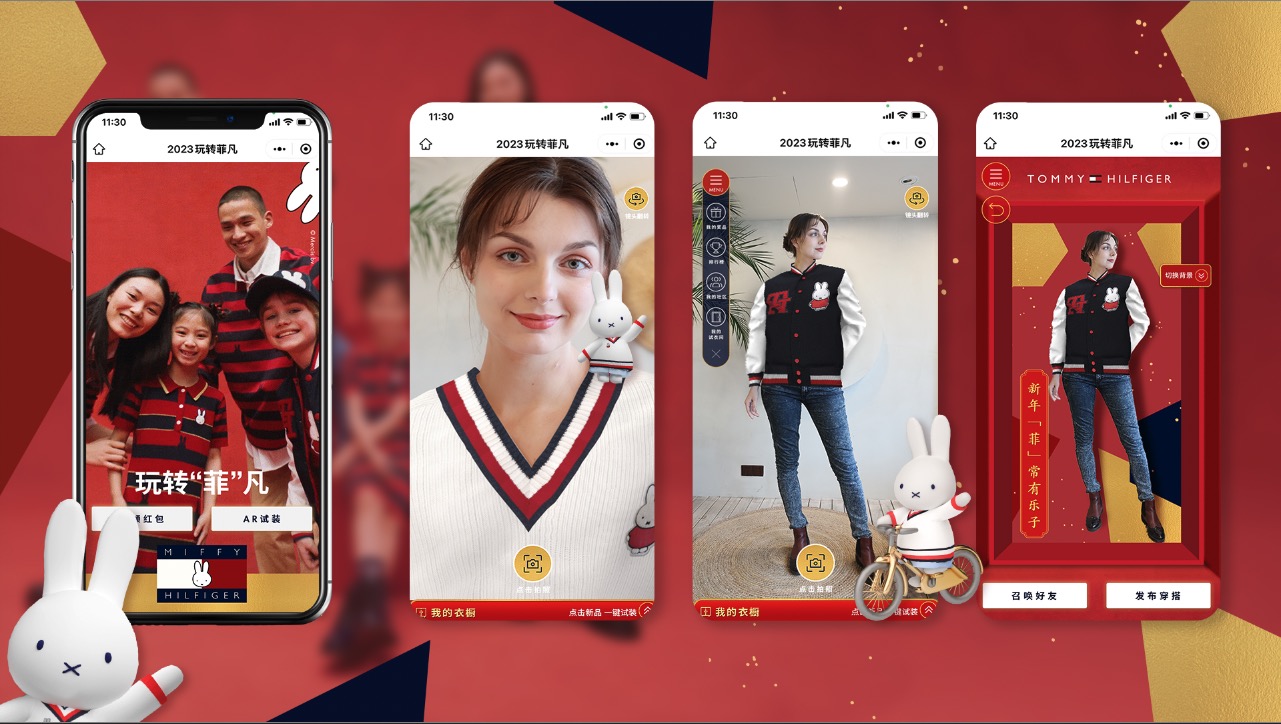 Tommy Hilfiger
https://www.tommy.com.cn/
Tommy Hilfiger is thrilled to celebrate the year of the Rabbit in 2023 with an innovative collaboration that blends virtual try-on tech with the beloved Miffy to create a festive collection with a fashion-forward edge using AR clothing. It's Chinese New Year collection puts a creative spin on the brand's signature clothing styles with classic colors and playful Miffy motifs for the year of the rabbit. 
In celebration of the Chinese Year of the Rabbit in 2023, a popular brand Tommy has launched a new collaboration that combines a classic IP image with a collegiate style to create a fresh line of clothing and accessories for the Lunar New Year. The brand aims to add more fun and fashion energy to its members with this new collections of 50 items including men's and women's clothing, children's sportswear, and accessories, all designed with a minimalist aesthetic that reinterprets Tommy Hilfiger's classic collegiate style logo.
To further enhance the shopping experience for customers, the brand has also launched an AR virtual try-on experience on the "Tommy Hilfiger Styling LAB" , where users can virtually try on clothing using AR clothing tech. This innovative fusion of classic branding and forward-thinking technology aims to create a new online shopping experience and spark a trend towards virtualization in the fashion industry.
The use of fun AR experiences not only celebrates the new year but also embodies the emotional appeals of young people who are actively playful, creative, and willing to showcase themselves. By introducing this new virtual try-on feature, the brand aims to provide a more engaging shopping experience that enhances customer confidence in their purchases and reduces the return rate.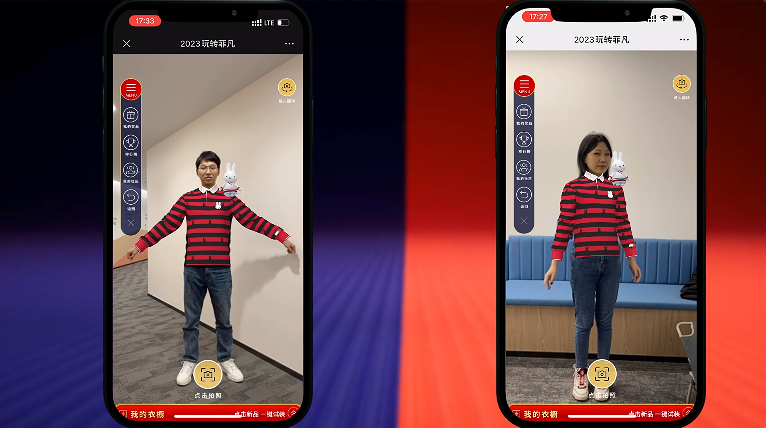 This virtual try-on tech not only meets the demands of the "lazy economy" consumer trend but also allows Tommy's members to enjoy a more interactive and engaging shopping experience. Members can easily register for the program and start trying on clothes virtually with just a few clicks. The high-performance human feature tracking technology covers both the front and back cameras to ensure a perfect fit and realistic experience. This 3D high-performance rendering engine also accurately reproduces the fabric's color, texture, and drape, enabling members to make informed decisions about their purchases.
In addition to the AR wardrobe, the collection includes interactive features such as playful Miffy interactions in AR, exclusive benefits like limited edition red envelopes and stickers on WeChat, and new year gift cards. To further engage customers, Tommy has launched an AR Chinese New Year fashion guide and a variety of interactive features, fostering competition and engagement, and driving brand loyalty and growth by leveraging the power of social media.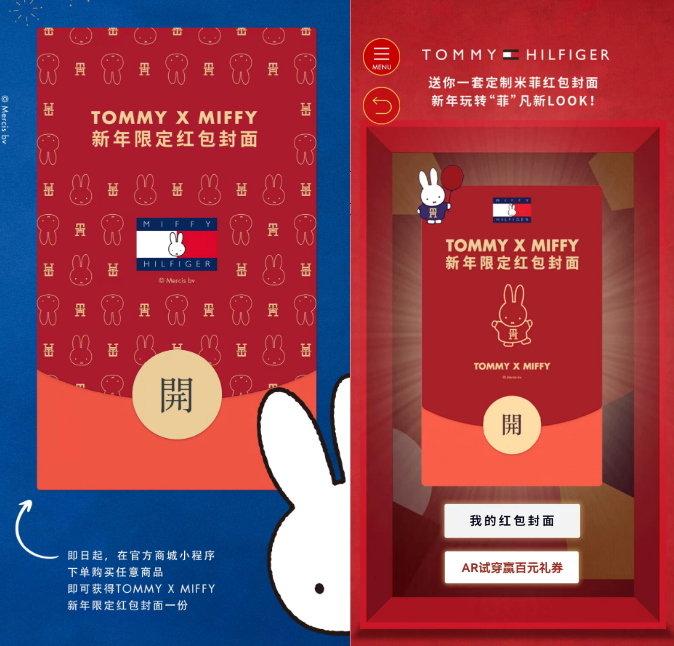 The introduction of virtual try-on clothes in Tommy's marketing strategy represents a smart move that not only engages customers but also boosts brand awareness and loyalty. With this innovative tech, Tommy's members can confidently select their favorite items from the new collection and experience the true meaning of high-quality fashion. The collaboration merges the best of both worlds: fashion and technology. The dynamic interactive features inspire customers to engage and share their experiences, while our AR-enabled virtual try-on brings a real-life shopping experience to our customers.
Our AR-enabled virtual try-on for Tommy has revolutionized the shopping experience. By providing customers with the ability to try on clothes virtually and share experiences on social media, we have expanded our customer base and strengthened the brand identity.
Related Post: Kivisense Officially Launches Its AR Clothing Try-On
Virtual Try-On Clothes: The Future of Online Shopping
Shopping for clothes online has become increasingly popular over the years. With just a few clicks, you can browse through hundreds of clothing items, compare prices, and make a purchase without ever leaving your home. However, one of the biggest drawbacks of online shopping is not being able to try on clothes before buying them. This is where virtual try-on technology comes in.
Virtual try-on clothes allow shoppers to try on clothes virtually, using their smartphones, tablets, or computers. This technology uses augmented reality (AR) and artificial intelligence (AI) to create a virtual environment where shoppers can see themselves wearing clothes in real-time. This technology is becoming more and more popular, and it's easy to see why. In this article, we'll explore the benefits of virtual try-on clothes and how they're changing the face of online shopping.
Benefits of Virtual Try-On Clothes
Increased Customer Confidence
One of the main advantages of virtual try-on clothes is that they increase customer confidence. When shopping for clothes online, it can be difficult to know what size to order, especially if you're shopping from a brand you've never bought from before. With virtual try-on technology, shoppers can see themselves wearing the clothes before buying them, which can help them make more informed decisions. This, in turn, can lead to fewer returns and exchanges, which is a win-win for both shoppers and retailers.
Personalized Shopping Experience
Another benefit of virtual try-on clothes is that they provide a personalized shopping experience. This technology uses AI to analyze a shopper's body measurements and suggest clothing items that will fit them well. This means that shoppers can spend less time searching for clothes that fit and more time browsing through items they're likely to love.
Virtual try-on clothes have been shown to increase sales for retailers. According to a study by Accenture, 61% of shoppers are more likely to buy from a retailer that offers virtual try-on technology. This is because virtual try-on technology provides shoppers with a better idea of what they're buying and reduces the likelihood of returns and exchanges. Additionally, virtual try-on technology can help shoppers visualize how an outfit will look on them, which can increase the likelihood of a purchase.
Reduced Environmental Impact
Finally, virtual try-on clothes can have a positive impact on the environment. Online shopping has been criticized for its negative environmental impact, including excessive packaging and transportation emissions. However, virtual try-on technology can reduce the need for returns and exchanges, which can help reduce the overall carbon footprint of online shopping.
Leave Your Customers Wanting More with AR Try-On Solution for Clothing
If you would like to try our leading AR solution for clothing, Kivisense empowers brands to visualize how the shoes will appear to your customers before purchasing them. It has had great success in partnerships with Gucci, Dior, Pomellato, Valentino, Canada Goose, lululemon, Salvatore Ferragamo, and many more leading brands. Furthermore, the Kivisense AR solution can be seamlessly integrated into a variety of platforms such as the web, app, Shopify, social media, and so on, assisting businesses in reaching Omnichannel and increasing the sales growth. What are your thoughts on the Virtual Try-On for clothing? Contact us right now!