Kivisense officially launches its AR clothing try-on. The augmented reality trying on clothes solutions use a camera to capture and trace the customer while mapping a realistic virtual representation of the product over the customer's body in real-time. With Kivisense AR try-on, clothes and accessories shopping becomes more accessible for customers.
How to enable consumers to have the same online shopping experience in an omnichannel reality as the offline? It has become one of the concern focuses of online retailers.
Kivisense has also been committed to helping customers restore their offline shopping experience through AR clothes fitting technology and 3D rendering technology, to bring try-on experience before the purchase.
In the past two years, we have launched a number of AR try-on solutions, including AR shoes try-on, AR jewelry try-on, etc., empowering more than 50 international top brands.
Kivisense breaks through technical bottlenecks and innovates the previous fitting algorithms to create the best AR clothes fitting experience for customers using mobile devices. Here at Kivisense, we are glad to announce that our AR clothing try-on is officially launched today, which is a great complement to the current AR try-ons! Without further ado, let's take a look at the highlights of our AR clothing try-on.
An Upgrade of AR Clothing Try-on Engine
Well-Performed Human Feature Point Detection and Tracking
Kivisense AR engine has been greatly optimized to enable the mobile devices to perform better, and provide seamless detection and tracking of human body features with much less computing cost.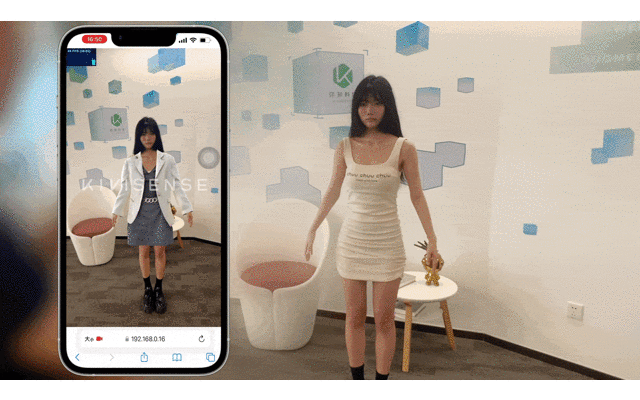 Cross-platform AR Clothes Fitting Service
Kivisense AR clothing try-on is self-innovated and can be used on multiple channels through diversified platforms, including Web, Wechat Mini-program, shopify, offline boutique stores, etc., empowering brands in an omni-channel reality.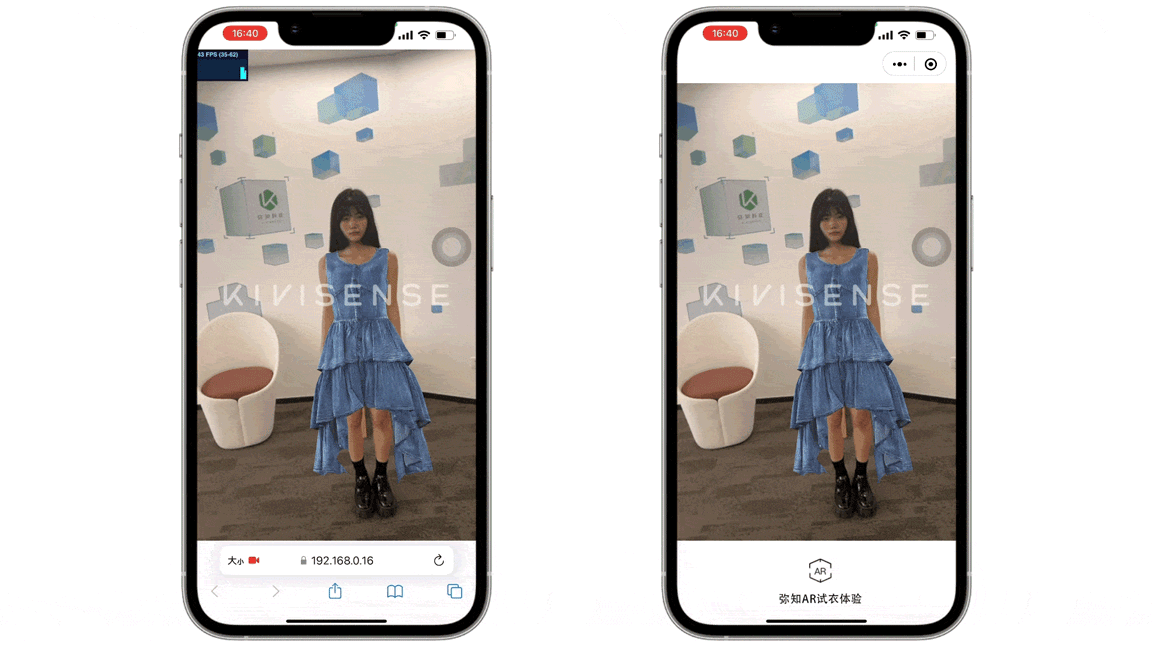 Optimization of 3D Rendering Engine
In order to seamlessly render the 3D model in reality, we have appropriately optimized the 3D rendering engine, as well as other supporting components of a fitting solution, to achieve the best representation of complex clothing textures and details.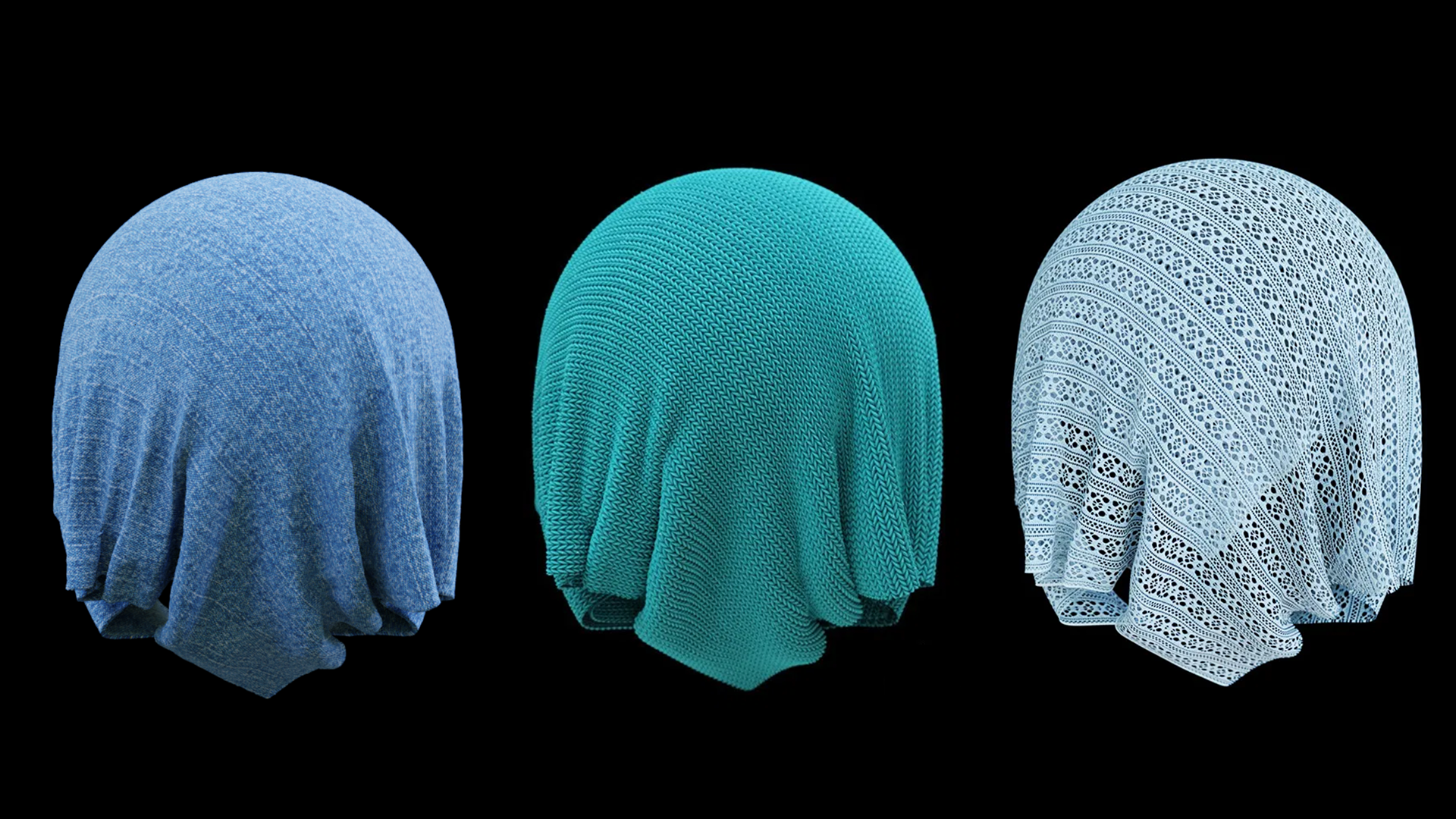 Support from the Self-innovated Physical Engine
In the past, customers complained that the offline virtual screen try-on is too stiff from reality. The main reason was that the clothes we wore would have corresponding motions with the shopper's actions, which was not available in the try-on technology before.
To this end, we have developed a physical engine to virtually simulate the wearing effect in reality, so that AR clothing can move simultaneously as soon as it senses the change in the person's actions.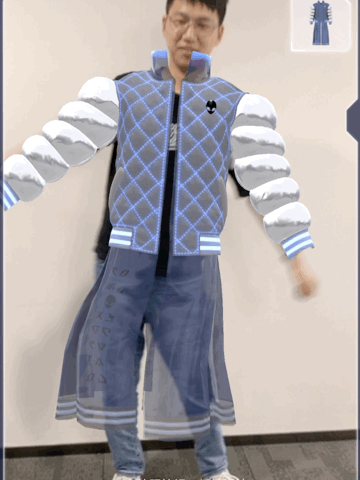 Wider Usage of AR Clothing Try-on
AR clothing try-on enables shoppers from e-commerce platforms to make more satisfying purchase decisions quickly. Consumers can freely explore various clothes anytime and anywhere, which will greatly reduce return rates and improve consumer satisfaction.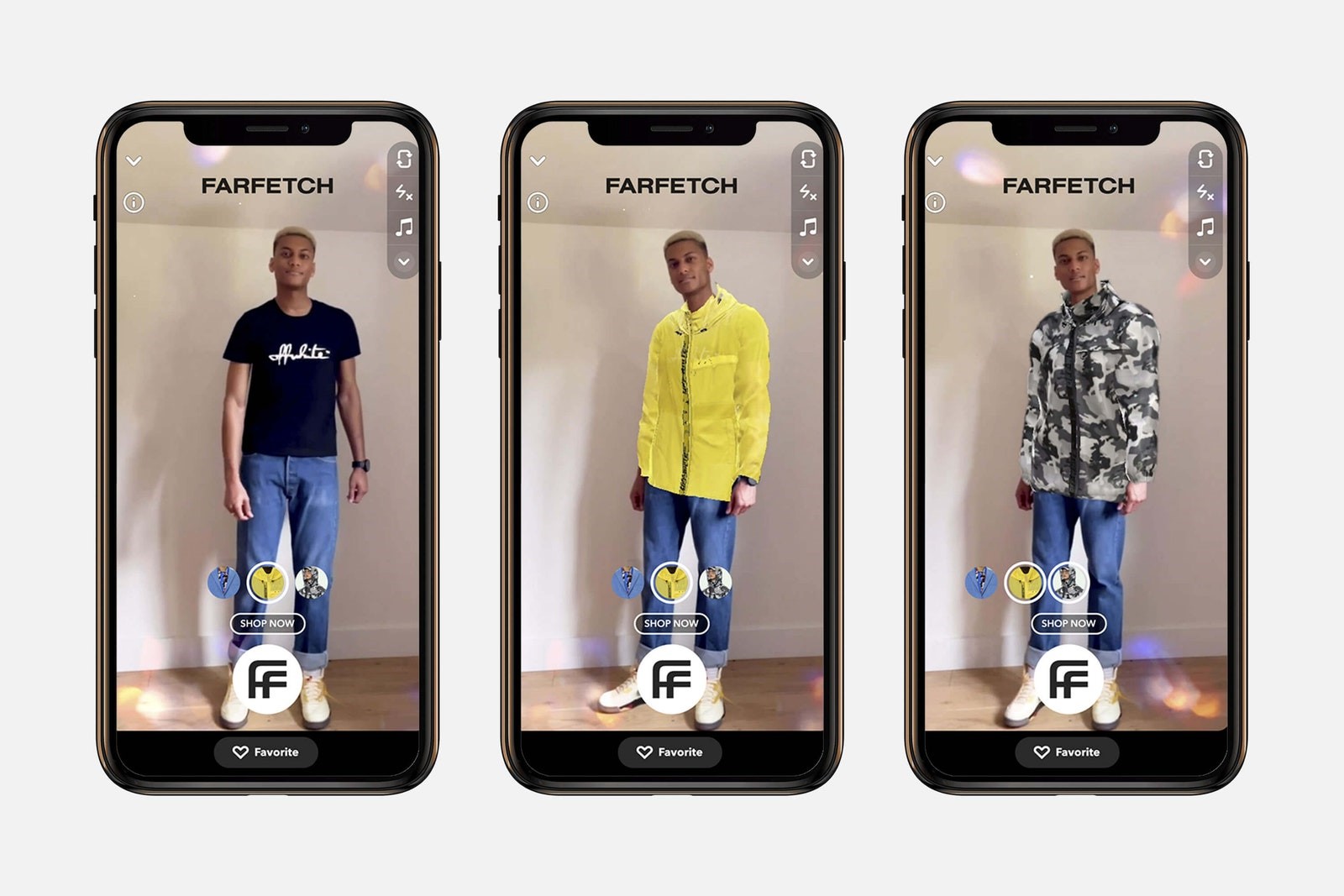 Besides, Kivisense clothing try-on algorithm is not only applicable for clothes fitting but also the handbag try-on. Whether it's a crossbody bag or a shoulder bag, the customer can wear it in anyway they want, which helps consumers make the best purchasing choice and benefits the partners by increasing ROI through AR.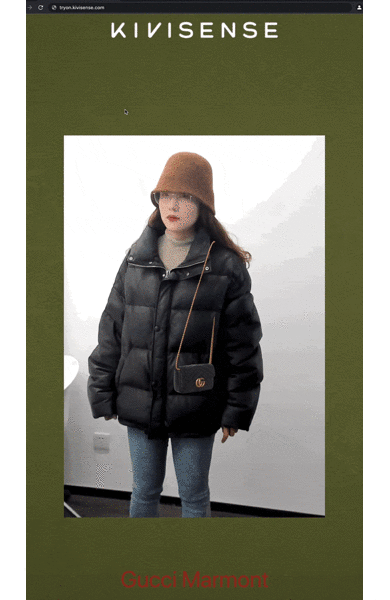 With the acceleration of the digital economy, the non-fungible token (NFT) is shaking up the art world. A growing number of customers are testing the NFT market by purchasing NFT digital collectibles. Kivisense clothing try-on empowers and upgrades the digital collectibles to impress the customers with its wearable NFTs, which allows the digital collectible holders to feel the digital fashion and enhance the engagement on their visible, wearable, and valuable NFTs.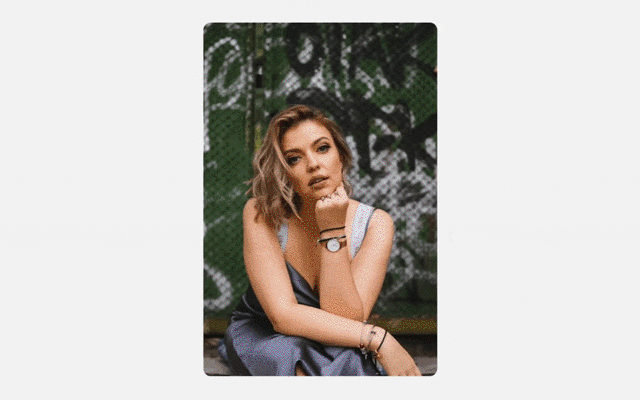 Contact Us Now
Kivisense AR TRY-ON is officially released and available online. Please do not hesitate to contact us at <sales@kivisense.com> or scan the QR code below for further information and a complete walkthrough of all the products and services we offer. Request a demo now!