To survive in the competitive market, Web-based augmented reality packaging has quickly become the core technical solution for the new product release of many fast-moving consumer goods (FMCG) companies. The reason why brands pay close attention to AR is deeply related to the characteristics of FMCG itself. It is a kind of visual product with the features of high convenience in consumer purchasing, frequent procurement, large sales volume, short shelf life, and low brand loyalty. This industry is saturated with various items on supermarket shelves, which means high turnover rates and fierce competition among brands. Thanks to innovative AR packaging, FMCG brands can provide consumers with immersive and stimulating experience that makes them stand out and achieves excellent sales & ROI conversion rates.
AR Packaging Stimulates Impulse Buying Decisions & Drives Sales Conversion
Some of the world's largest FMCG companies also compete for market share in this industry, including Procter & Gamble, Coca-Cola, Unilever, Nestle, PepsiCo, etc. Companies like these have to focus on marketing FMCG with immersive AR scenarios and attract customers to buy their products. That's why AR packaging in FMCG is a quite important factor in the production process. Let's analyze the reasons in detail.
1. Digital Packaging in FMCG, Impulse Purchasing Behavior
Impulse buying is usually the tendency of customers to purchase products without prior planning. When they make such buying decisions on FMCG at the spur of the moment, it is usually triggered by their emotions and feelings. Therefore, the product packaging, price, and highlights have become important factors affecting consumers' purchasing actions.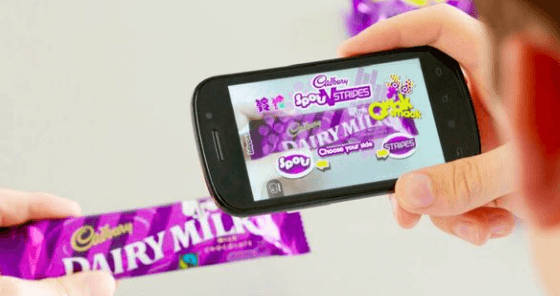 Through WebAR technology, the visualization of FMCG packaging can be further extended to the real world, successfully catching consumers' attention and creating an excellent visual experience. The promotional campaigns and unique selling propositions of all kinds of consumer goods can be digitized into immersive scenarios with Web-based AR, which directly touches the emotions of consumers.
2. How Does Social Media Drive Sales on FMCG Brands
Gen Z has already become the largest generation of consumers in 2020, with their direct spending accounting for $143 billion. According to a report by CASSANDRA, 93% of parents say their children influence family purchases, meaning a significant portion of overall market spending is due to these youths. Many brands are making innovative marketing changes to cater to them because they are the first digital natives, born into a world of vast technological advancement and innovation.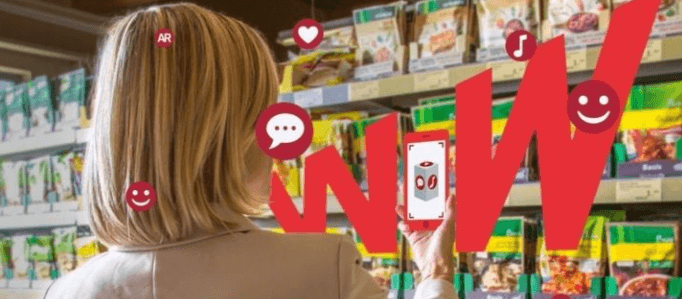 97% of Gen Z consumers said that they use social media as their primary source of shopping inspiration and 65% said they use social media to find entertaining content. They are more engaged in the use of AR filters, AR shoe try-on, AR eyewear try-on, AR ring try-on, etc., so the WebAR marketing activities will be more in line with their usage habits.
Interactive AR ads on social media platforms can help brands target more potential customers. With an immersive experience, consumers will be more willing to share AR photos via social media, which boosts brand awareness and improves sales conversion rates.
7 Best AR Packaging Showcases in FMCG
Augmented reality has skyrocketed as a way to attract consumers' attention. If brands do it well, their performance will grow faster than you can imagine. Here are 7 fast-moving consumer goods examples using AR packaging in 2021.
Brand 1: Helena Rubinstein
Technical Solution: WebAR Image Tracking
Helena Rubinstein, an avant-garde skincare brand adhering to the spirit of "Beauty Owes Everything to Science", is not only a founding brand in the beauty industry, but also the first batch of brands to create AR marketing campaigns.
In 1950, HR released 5,000 balloons with perfume samples on the Manhattan business district, and made them flying at consumers. In that era when everyone was still used to print advertising, this creative digital AR marketing has undoubtedly left a deep and lasting impression on consumers.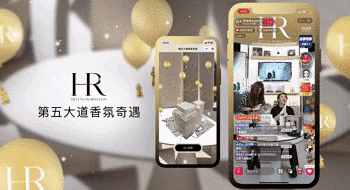 With WebAR image tracking technology, HR replicated the classic scenario for customers. At the HR beauty boutique, consumers can scan a map of Brooklyn to instantly see the 3D Bonwit Teller building rising from the ground and golden balloons with perfume samples falling from the roof.
Li Jiaqi also explained and demonstrated the interaction during the live broadcast, helping potential customers understand the story behind HR more intuitively through AR.
Brand 2: SK-II
Technical Solution: WebAR Gyroscope Tracking
During Labor Day in 2021, SK-II released an immersive shopping experience for consumers at Sanya International Duty-Free Shopping Complex. It not only created a delicate pop-up store here, but also launched an interactive AR experience during breaks when consumers were lining up to enter.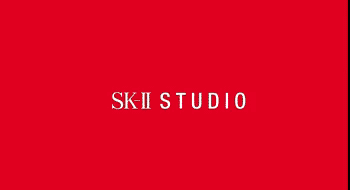 Simply scan the SK-II storefront, consumers can experience its new animated series "VS Change Destiny ", enter the AR animation world created by SK-II Studio, and enjoy the fun of Olympic athletes defeating beasts (Kaijus in Japanese). With this creative interaction, brands effectively create innovative ways to communicate with their consumers.
Brand 3: P&G
Technical Solution: WebAR Motion Tracking
Procter & Gamble, the largest official worldwide sponsor of Olympic Games Tokyo 2020, released an AR challenge that invites users to record a short selfie video of their cheering on athletes. It's potentially that this interaction would put themselves in the stadium, that is, scrolling their videos on the big screens.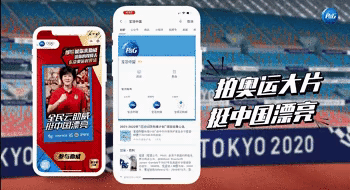 Through AR motion recognition technology, the movement of user's hands on their chest can be quickly recognized, and then they can instantly see the 3D icon of P&G products, which deepens their impression of the brand. After the video is recorded, consumers can get the offline consumption discount coupon with one click, helping the brand realize sales conversion.
Brand 4: Watsons
Technical Solution: WebAR Object Tracking
Watsons teamed up with imma, Asia's first digital human, to launch its new "X Soda". The target group of this series is Generation Z, so the marketing campaigns are also tailored to their usage habits.
Virtual human imma has been selected as the ambassador for the new product of Watsons Soda Water, which caters to the latest hot topic of the metaverse. In terms of social media marketing, the brand has integrated WebAR object tracking technology for the first time, allowing uses to scan the bottle with mobile phones to experience it. Customers will immediately see virtual AR imma in the real world and see X energy popping out.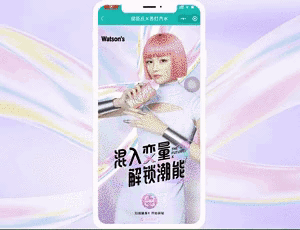 Users can also take pictures to share them with friends and win a lucky draw. The coupons can be used directly at Watson's online stores. This AR marketing has significantly improved user engagement, user loyalty, brand image, and sales conversion for Watsons.
Brand 5: Mirinda
Technical Solution: WebAR Sky Recognition
Mirinda launched an AR campaign with Shanghai Disney to help users experience its new rainbow bubble drinks and enjoy the refreshing summer taste in an immersive way. After scanning the sky, a screen full of rainbow bubbles appears. Consumers can customize their rainbow bubbles by freely editing the barrage. They can also DIY their own rainbow posters to become the next relay of the campaign.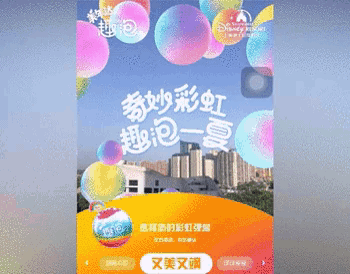 Brand 6: Martell
Technical Solution: WebAR Image Tracking
Martell teamed up with fashion designer Angel Chen to launch a limited AR packaging series based on the Mid-Autumn Festival. When consumers scan the packaging surface of the Noblige Limited Edition, they can see the magnificent scenery of Martell's first shipment to China in 1858 in real-time. All four sides of the outer package are designed with AR experience, which is convenient for consumers to unlock the interaction from any angle.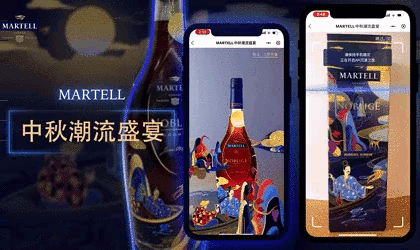 The upgraded AR packaging not only provides consumers with a differentiated creative experience, but also attracts them to understand the story behind the brand in a subtle way and gradually occupies consumers' emotions.
Brand 7: China Tobacco
Technical Solution: SLAM AR (World Tracking / Plane Tracking)
China Tobacco launched an AR experience to stimulate consumers' memory of Liu Sanjie. As one of the best cigarette brands in the 1980s, Liu Sanjie Cigarette has made a comeback after 30 years. Combining the unique selling proposition (USP) of the new version while refreshing the public memory is the focus of this campaign.
After consumers open the interaction with the mobile phone, the AR Liu Sanjie will be placed in the real environment through SLAM technology. Liu Sanjie, a folk singer from the Zhuang ethnic group, opened the show with her classic song to arouse the public awareness of the brand.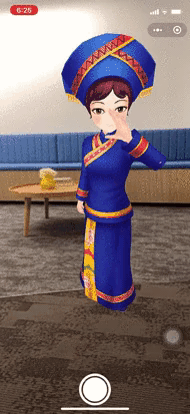 Thirty years later, her compositional style has also changed. This interaction combined her music genre with hip-hop that has been popular in the past two years, creating a new hip-hop Liu Sanjie. The brand also incorporated the USP of the new cigarettes into her original rap, which left a deep impression on consumers.
Marketing campaigns with advanced AR technology can greatly attract consumers to experience them, and help brands build deep emotional connections with their potential customers. Where to find a reliable service provider and create innovative interactions to enhance sales conversion? Just keep reading.
The More Reliable Service Provider, The Higher Sales Conversion Rate
Kivisense is the world's leading augmented reality service provider, focusing on the technology development and application of WebAR.
Kivicube WebAR Authoring Platform comes with WebAR image tracking, SLAM (plane tracking/world tracking), face tracking, and foot tracking, allowing brands to complete innovative AR scenarios through the online visual editor and publish them to the Web. Be creative now. Visualize your products and promote them in an immersive way.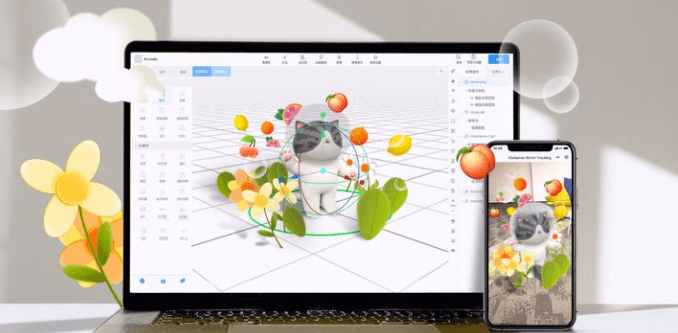 Conclusion
The visual impact and socialization of WebAR scenarios coincide with the features of FMCG itself. At present, with the rise of the metaverse concept, AR, as one of its important branches, will definitely bring more capacity expansion with the influx of capital. Let's look forward to more amazing AR packaging in FMCG next year.