WeChat red packet has become a revolutionary strategy for brands to improve engagement and brand awareness during the New Year. Many luxury fashion brands launched their customizable red packet covers with brand logos and unique visual elements on the Official Accounts, Mini-programs, and Video Channels, ultimately increasing sales conversion. You can't imagine that more than 5 billion unique covers had been created during the Lunar New Year of 2022. With the consumption behavior of Gen Z changing increasingly, Canada Goose introduced the Chinese New Year AR Lens that allows users to send best wishes in AR and get red packet covers.
Celebrate the Year of the Tiger with Canada Goose AR Lens
Canada Goose refocused its marketing investment towards brand storytelling and e-commerce through AR technology. Dani Reiss, president and CEO of Canada Goose, said that they have always been digitally native and invested it heavily with a long-term view. By the end of 2021, they launched AR footwear try-on to help users virtually try on multiple styles before buying. Consumers can make quick purchase decisions through hyper-realistic 3D engagement and AR try-on experience, which greatly shortens the sales cycle.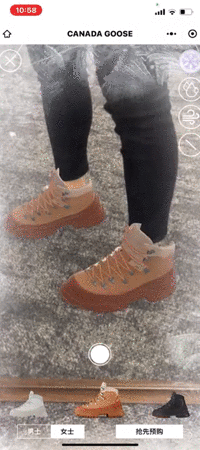 Known as the most distinctive member of the cat species, the tiger represents strength, courage, and the power to dispel evil. With the release of Canada Goose Chinese New Year AR Lens, users can celebrate the Year of the Tiger in an innovative way and carry the strength of the tiger. Go to Canada Goose WeChat Mini-program and immerse yourself in the festive atmosphere through two interesting AR scenarios.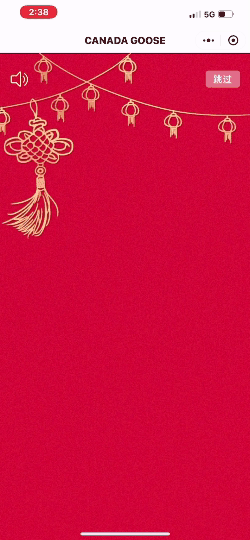 Festive Interaction with AR Tiger and AR Filters
There are some blessings featuring tigers in different poses at the bottom of the screen. With body segmentation, 3D greetings instantly appear on your back and can adapt to your posture in real-time. Freely take photos with your favorite one. Interactions with AR tiger in the real world are much more immersive and innovative, significantly improving customer engagement.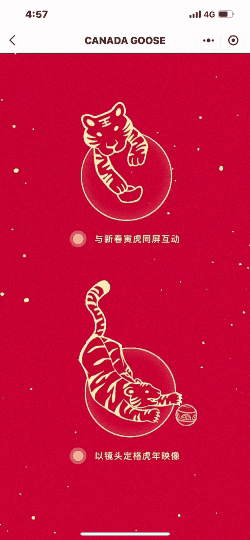 Display Digital 3D Greetings in the Real World
Select a blessing you like and then ultra-realistic 3D content will be presented in the real world through AR plane detection and tracking. Gen Z often expects technology to be integrated into their daily lives in a way that is different from any other generation before them. Canada Goose Chinese New Year AR Lens has transformed their lives and inspired them to share blessings with friends, greatly improving brand awareness.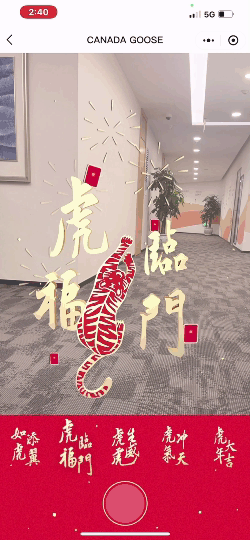 AR Lens Drive More Private Traffic from Social Media
Every brand pays a lot to drive high private traffic, as it is an essential factor in determining whether a business can attract more target audiences. Through social media platforms, you can quickly increase brand awareness, let people know about the benefits of products, and build relationships with customers. Canada Goose released AR lens on its Official Accounts, Mini-programs and Video Channels, which attracts more users to its private domain pool and improves ROI conversion rates. Featuring a sharing function, it inspired more UGCs and reached more potential customers.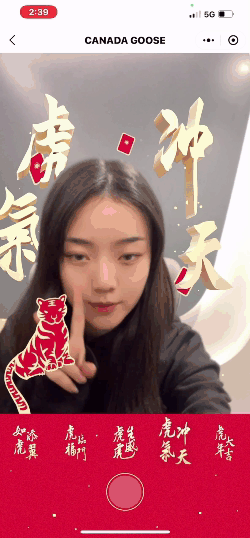 During the interaction, consumers have the opportunity to draw the Canada Goose red packet cover. When it is used, other users can feel the unique style of the brand and explore more details by directly accessing the official account, effectively improving sales.
Conclusion
Gen Z has high expectations for digital experiences, shaping how they feel about brands, shopping, and technology. Through the Chinese New Year AR Lens, Canada Goose built deep connections with consumers, greatly improving brand awareness, private traffic, and sales conversion rates. Kivisense, an all-in-one AR service provider, has developed WebAR try-on for any category you want, such as sneakers, eyewear, high jewelry, watches, etc., as well as Kivicube WebAR Authoring Platform for digital AR campaigns. Instantly create innovative AR campaigns to drive omni-channel sales in Metaverse.