The surfaces most likely to carry coronavirus are those that have been touched by many users, such as doorknobs, product surfaces, closed changing rooms, or self-checkout, etc. With security and uncertainty in consumers' minds, the way they shop is changing dramatically, McKinsey said. To put customer safety as a top priority, Gucci sunglasses virtual try-on has been launched to help consumers virtually try the eyewear on and safely find the perfect pair online.
In the U.S., retail sales in April 2020 were down 7.7% compared with the same period in 2019, while e-commerce sales increased by 14.8%. In the 27 European Union countries, online retail sales grew by 30%, while total retail sales decreased by 17.9%. Many brick-and-mortar stores around the world have also been closed due to lockdown measures. The COVID-19 crisis has accelerated the shift to e-commerce. Gucci eyewear AR try-on is a successful example of transformation, which not only ensures customer safety, but also redefines the shopping experience, and increases user engagement & sales conversion rates.
5 Things to Consider Before Buying Eyewear Online
The convenience and ease of buying eyewear online can save lots of time and effort compared to going to a physical store. Consumers can not only take full advantage of free shipping, but they can also save up to 30% to 75% on the price. While these can be tempting, it's recommended to be aware that wearing an unflattering or wrong frame can cause eyestrain, headaches, or even double vision. The following lists a few drawbacks of ordering sunglasses online for your reference.
You can't try glasses on or have someone help you in person
It hard to determine which frame is best for your face
You're not sure which color suits your style best
It is impossible to see more details of the product from any angle
You might not be satisfied with the eyewear after receiving them, and it is troublesome to return them
Gucci Virtual Eyewear Try-on Redefine Your Shopping Experience
Choosing the perfect colors and styles online is quite difficult because you can't actually see them in the mirror at a physical store. Some websites allow you to see how the glasses look on your face after you upload a photo, but you can't switch to different styles, try them on in real-time, and see more details. Don't worry. Gucci sunglasses virtual try-on is the next-gen AR shopping experience that bridges the online-offline gap. See how it works.
3D Display
Go to the Gucci flagship store to find a pair of glasses you like and click through to the product details page. You'll immediately see a 3D show that allows you to view its dynamic effect from 360 degrees. You can also drag it to see the 3D effect at any angle or zoom in to view the eyewear in detail. For example, with 3D magnification, you can check the gold metal frame, pink lenses, crystals, gold metal temples, etc., for Gucci's new Geometrical-frame Sunglasses.
Virtual Try-on
If the styling and 3D details of a particular pair appeal to you, just click on the "AR Try-on" button to start your experience. All you have to do is put your face in the wireframe, and it will recognize and track your face in real-time. It is recommended that you try them on in a good light for a better effect. You can also try on different styles to find the one that fits you best. The frame can also stay fixed in place as you turn and tilt your head.
If you're struggling to decide which one to choose, directly take your try-on photo and share it with friends for valuable advice. Once you find the perfect pair, simply click on the "Buy Now" button to complete the purchase with one click. Don't miss out on this innovative and convenient "AR See Now, Buy-Now" experience.
How Can Gucci AR Glasses Try-on Access New Levels of Shopping: 6 Benefits
What draws consumers to eyewear websites is not only the wide selection and easy-to-navigate styles & colors, but also the immersive try-on experience. Stephen Kodey, a senior director of research at the Vision Council, said the surveys showed that online buyers who had AR try-ons were more satisfied than those in the brick-and-mortar stores, as consumers tend to have higher expectations for convenience, choice, and price. Let's take a look at how Gucci AR glasses try-on can access a new level of shopping experience.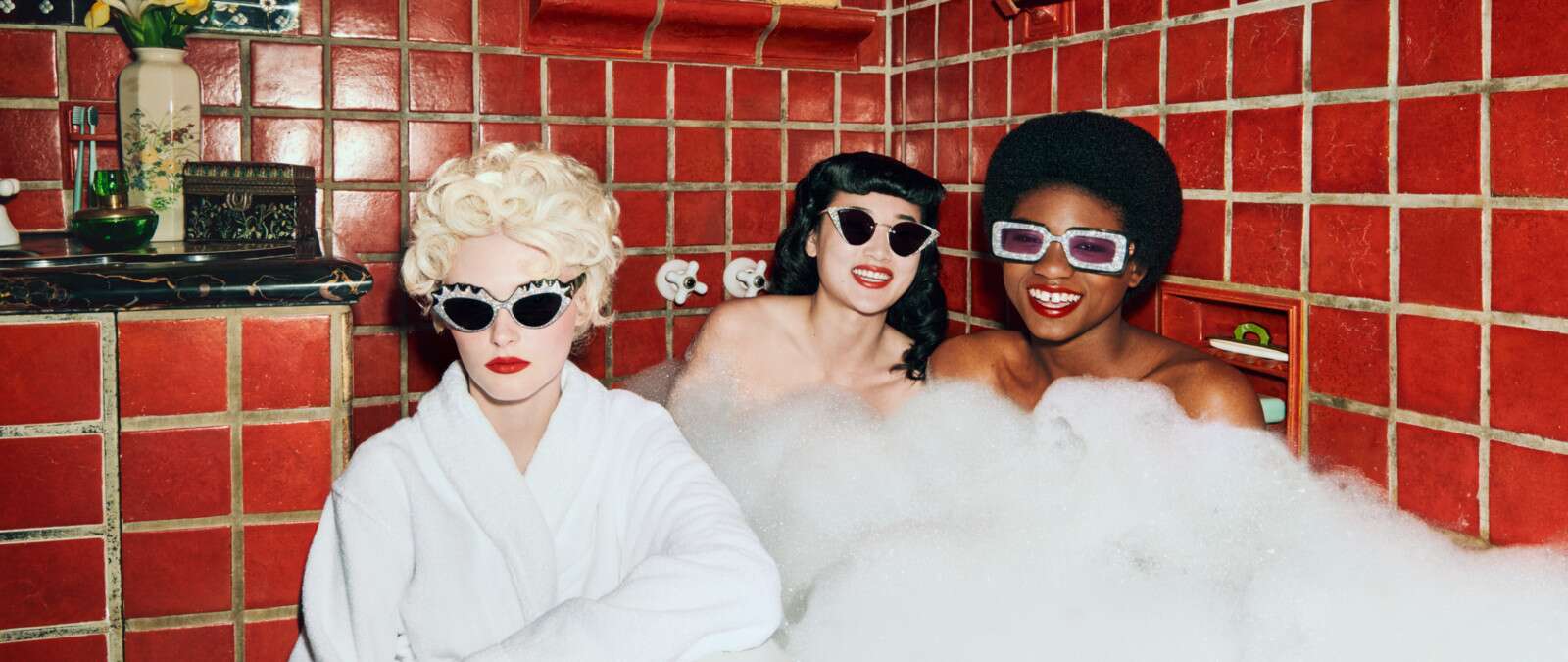 3D Display Make Gucci Sunglasses Online Store More Tangible
By giving consumers control over digital elements in their real space with the Gucci 3D show, they'll feel more connected to the brand. Consumers can view each pair of eyewear in 360 degrees as if they have a floor salesperson at their fingertips.
Real-time Face Tracking: AI Deep Learning
With advanced AI technology, Gucci virtual try-on provides consumers with more stable and efficient face tracking to detect the face position and direction in real-time, enabling users to view the try-on effect at any angle.
Immersive 3D Eyewear Model & High-performance Rendering
The 3D rendering engine can simulate various common glasses materials with high precision, such as alloys, resins, plates, etc., making the 3D eyewear model more realistic.
Virtual Try Before You Buy: Satisfaction Guaranteed
"Try Before You Buy" and "View in Your Space" augmented reality technologies are extremely popular among online shoppers. In addition to Gucci eyewear AR virtual try-on, many industries in beauty and fashion are providing customers with "Try Before You Buy" model based on AR technology, such as AR ring try-on, AR necklace try-on, AR sneaker try-on, AR watch try-on, etc., so they can see how the product looks on them, including in different styles and colors.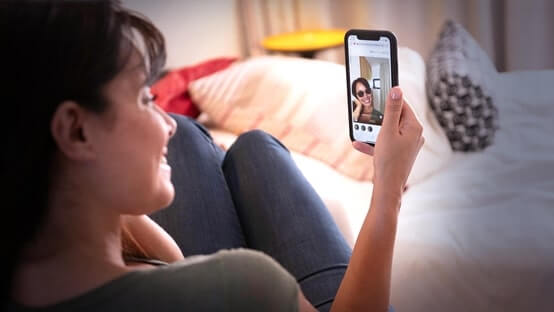 Reduce Troublesome Returns
Through online digital Gucci eyewear, the brand deepens consumers' favorable impression on the product, improves consumer confidence & satisfaction, and reduces the return rate. Customers are more likely to click on the "Add to Cart", which increases sales conversion. In addition, they are less likely to return sunglasses, saving the companies' costs on shipping, restocking, and repackaging. This is a win-win for brand sales and customer satisfaction.
Create Interesting Content to Share with Friends
Augmented reality in e-commerce practically provides ready-made digital marketing hacks for any advertising. When consumers are fascinated by their fashionable try-on photos, they are more likely to share this interesting experience with friends and followers on social media platforms, which turns them into advocates for the brand.
Best Eyewear AR Try-on Solution in 2021: Top 7 Highlights
IDC reported that AR/VR spending rose to $18.8 billion in 2020, a 78.5% increase from its 2019 projections. Through AR try-on technology, Gucci has achieved higher user engagement, sales conversion, and ROI rate. In 2020, there are also a number of innovative companies using AR to enhance the customer experience, attract them to buy products, and provide an immersive & interactive experience.
Ready to leverage AR to bring real value to your business in 2021? To save your time and money, our team did some research and found the most cost-effective AR solution provider, Kivisense, which continues to focus on AI deep learning and provides professional AR algorithm support. Its services mainly include two aspects, one is AR virtual try-on service, and the other is an online Kivicube WebAR Authoring Platform. Take a look at the following seven highlights that explain why it's strongly recommended.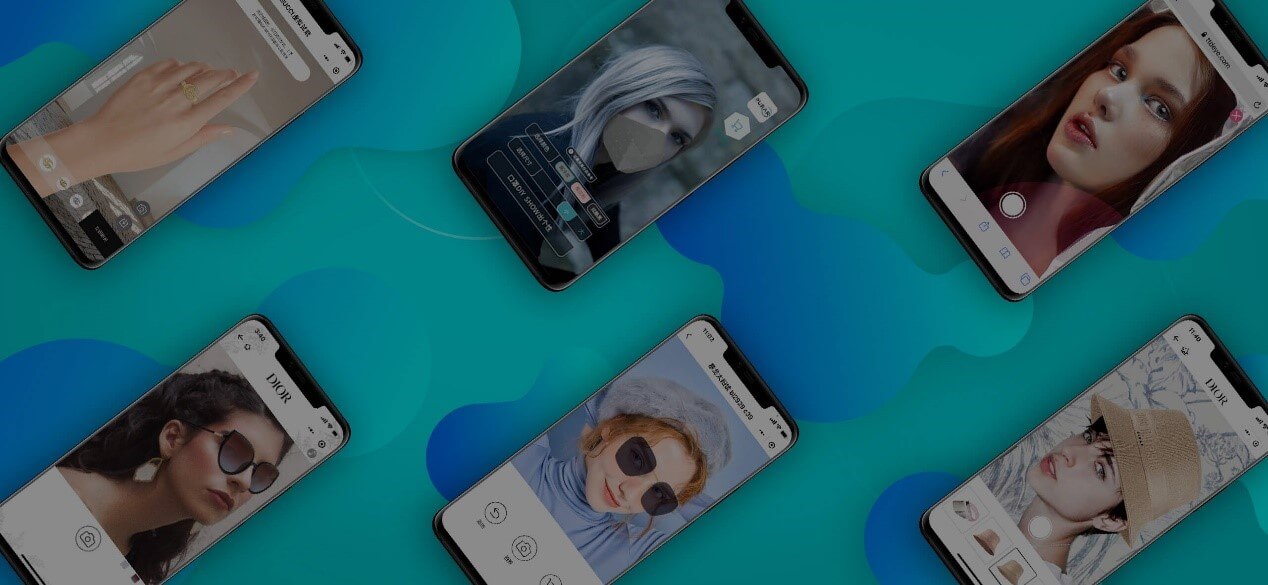 Stable AR face tracking algorithm: it supports accurate and real-time face recognition & tracking, making your face fit the frame better
High-precision 3D rendering technology: it can perfectly restore the gloss of all kinds of frames for a high degree of simulation
Efficient material production: with unique real-time rendering technology, its ultra- stereoscopic 3D eyewear model brings users a more realistic 3D vision
Super compatibility: brands can freely embed its AR engine to Web, APP, EC SaaS like Shopify, etc.
Convenient cloud management platform: partners can manage various products through the background
Fast Deployment: the delivery can be completed within 1 hour
Multiple AI recognition and perception: it also supports the Web-based iris tracking, hand tracking, foot tracking, etc.
Conclusion
Due to the COVID-19 pandemic, global brands are embracing digital-first marketing strategies, such as Gucci virtual eyewear try-on, Dior AR sneaker try-on, etc. The eyewear industry is expected to reach an estimated value of $258 billion by 2027, making it more important than ever to meet customer needs on the digital AR shopping experience. For customers, they can make shopping decisions quickly, and complete purchases flexibly and safely. For brands, this means increased user engagement, improved visit duration, and enhanced customer satisfaction. It's time to apply AR try-on engine to improve your ROI. If you have any other ideas, feel free to share them in the comments.