Through AR jewelry try-on, AR shoes try-on and NFT digital collectibles, Gucci has further reinforced its position in the fashion industry. According to Luxe Digital, the brand remains the most popular luxury brand online, with 15.2% of the total search interest for luxury goods. Jewelry is one of Gucci's main product categories, but high prices and an inability to see what they look like in real life often mean lower purchase rates. With AR try-on technology and accurate size measurement, the brand has significantly improved their user engagement and sales conversion rates.
Gucci Ring AR Try-on and Size Measurement Make Shopping Easier
When shopping for a ring, customers usually try dozens of styles before finding the perfect one. Gucci launched a hyper-personalized AR ring try-on this Cyber Valentine's Day to simplify the decision-making process. At the official flagship store on Alibaba's Tmall and WeChat Mini-program, consumers can virtually try on rings and see how different styles look on them.
Hyper-realistic 3D Engagement
Gucci provides users with an unparalleled and hyper-realistic 3D engagement through the ambient lighting simulations, realistic material reflections, advanced light scattering, and detailed surface textures. Everyone will be deeply impressed by these visual 3D rings.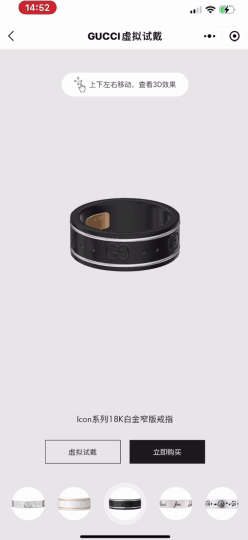 Innovative AR Ring Try-on
Choose the one you like and click on the "AR Try-on" button to discover the world of sparkling rings. It is recommended to place your hand within the wireframe for better virtual try-on effects. Freely changes styles to find the perfect one. Consumers can also directly complete purchases here or share try-on photos with friends for suggestions.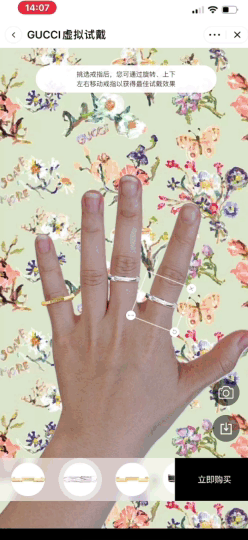 Through this photo try-on, the brand loyalty and user engagement has significantly improved. Of course, businesses can embed real-time AR jewelry try-on. The AR ring renderings will fit perfectly on your fingers with full hand-movement support.
Accurate Ring Size Measurement
Size measurement has also been introduced to help consumers find the ideal ring size. Get a credit card or anything of the same size and an existing ring with the right size. Place the card as instructed and drag the slider to align the black line with the edge of the card. Put the ring on the screen and adjust the dotted line until it coincides with the inside of the ring.

Hyper-realistic AR Bracelet Try-on Recreates the Luxurious Look
Gucci bracelet AR virtual try-on renders high-definition digital versions of physical products, from every aspect, down to the smallest and most complex elements. Their advanced rendering technologies can simulate the light behavior in the real world, such as light reflection, diffusion, scattering, etc., further enhancing the realism of bracelets. They customize lighting simulations based on the roughness and texture of each materials' surfaces, which makes the bracelet look as luxurious as it would in a real boutique.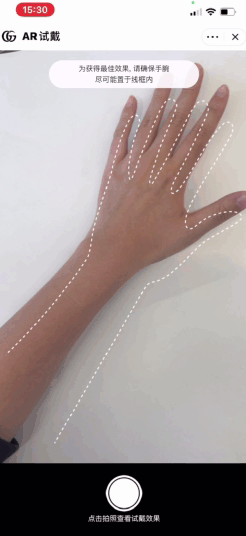 Click on the "AR Try-on" button and place your wrist within the wireframe to try on various styles. Freely rotate or move it to make it fit perfectly on your bare wrists. Cucci seamlessly integrates this AR See-Now-Buy-Now experience into Alibaba's Tmall and WeChat Mini-program, driving omni-channel sales growth.
Embed Feasible AR Jewelry Try-on to Drive 3.5X Sales Growth
With e-commerce and omni-channel becoming increasingly popular in the jewelry industry, more brands plan to create digital shopping experiences tailored to consumers' needs. Only teams with in-depth knowledge of products and technical components can deliver outstanding AR try-on engagement for your customers. Kivisense, a Sino-French joint venture, will be your top priority.
They focus on hyper-realistic WebAR try-on solutions for any product category in your store, like shoes, watches, handbags, eyewear, jewelry or even clothing. It's been deployed as a SaaS service globally for all the try-on scenarios from head-to-toe. Here we go into details about their jewelry try-on engines.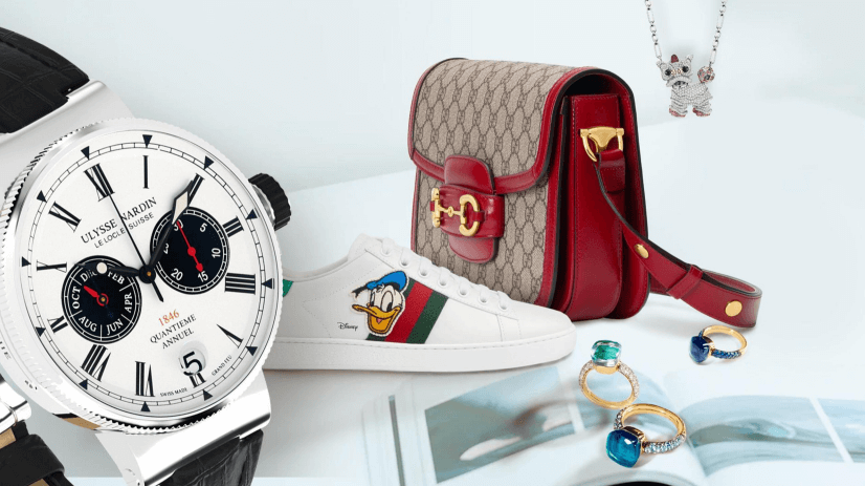 Excellent Hand Tracking, Extreme Realism and Accurate Size Measurement
Kivisense provides excellent hand tracking and extreme realism to ensure customers feel confident when making purchase decisions, increasing brand loyalty and sales conversion rates. Ultra-advanced hand tracking algorithms are trained on 3D hand models using a variety of gestures, textures, skin tones, and hand and finger sizes to create a solution that truly works for everyone.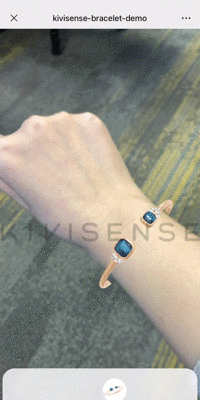 High-performance 3D rendering engines create extremely high-definition digital models of physical rings and bracelets, fully conveying the most realistic and luxurious product details. The technology also comes with an accurate size measurement that helps consumers quickly find the perfect rings, greatly reducing return rates.
Support Real-time & Photo Try-on for Jewelry
Partners can integrate real-time or photo try-on mode according to their needs, both of which are available for rings, bracelets, necklaces, etc. It's omni-channel supported in your Web, APP, Shopify, Boutique or Pop-up store. Let's see the detailed chart comparing them.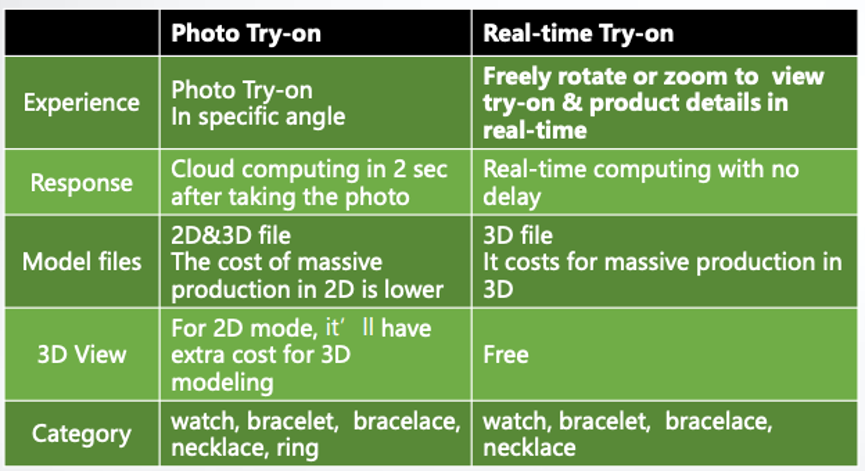 In today's luxury and fashion retail environment, personalized AR jewelry try-on shopping experiences will be the key to enhance the omni-channel shopping journey. Request a demo now or directly contact us on WhatsApp.