Jewelry often means customization to a person's personality and emotions, and users tend to buy only when they have a high sense of trust in the product and experience. How can brands present new jewelry designs online to attract customers from the competition and encourage them to buy? The example of Pomellato AR jewelry try-on shows the charm of digital marketing and proves that only by breaking through traditional marketing can we achieve breakthroughs. Every piece of its jewelry is hand-polished by artisans. With 3D display and AR try-on, its delicate luster is highly replicated, perfectly restoring offline shopping and improving revenue growth.
Pomellato Virtual Jewelry Try-on: Seamless Experience & Higher Sales
In Pomellato's Milan atelier, more than 100 artisans handcraft exquisite diamonds and colorful gemstones every day. Its craftsmanship creates world-renowned soft lines, rich colors, and delicate lusters. To enable more users to explore its iconic collection and learn the stories behind them, Pomellato breaks with convention and provides customers with a seamless shopping experience through omnichannel marketing and immersive AR technology. Its virtual jewelry try-on, such as AR ring try-on, AR necklace try-on, etc., allows users to realistically discover the sparkling world of gemstones and diamonds, and try on the latest styles anytime, anywhere. Now, let's make a detailed analysis of its virtual try-on function in the Web, App, and real boutique.
Augment Pomellato Website with AR Jewelry Try-on
Integrating AR try-on directly into the organic flow of Pomellato's official website has numerous benefits, such as increasing average time on site, user engagement, and discoverability of AR content. Potential customers can get more detailed information online than a simple image and have an immersive view of how rings or necklaces look on their bodies, speeding up their shopping decisions and shortening the purchase cycle.

There are a number of technologies on the market that allow AR plug-ins to be embedded directly into the Web, so for Pomellato itself, embedding Web-based AR technology is quite convenient and doesn't require any programming skills. It not only achieves wider coverage, but also saves a lot of development costs.
For customers, go directly to the official website, find the one they like, click on to enter the product details page, and try it on immediately. With real-time AR tracking technology, consumers can also rotate freely to view the try-on effect from multiple angles. The 3D display highly replicates the appearance and fine luster of diamonds, presenting customers with the same experience as offline shopping. Once they find a perfect one, they can add it to the shopping cart with one click and complete the purchase instantly.
Virtual Jewelry Try-on in Pomellato Traceability App
Pomellato's manufacturing methods are based on low energy consumption, and its offices & stores around the world use 100% green energy. Its new traceability app is another industry initiative that aims to take customers on a sustainable journey and explore its excellent design. Users can search for Pomellato on the Apple Store or Google Play to install it on the device and explore its gemstone origins and diamond characteristics. Luckily, there's also a "Virtual Try-on" feature in the app, allowing customers to try on new vibrant gemstones and perfectly cut diamonds for the same experience as offline shopping.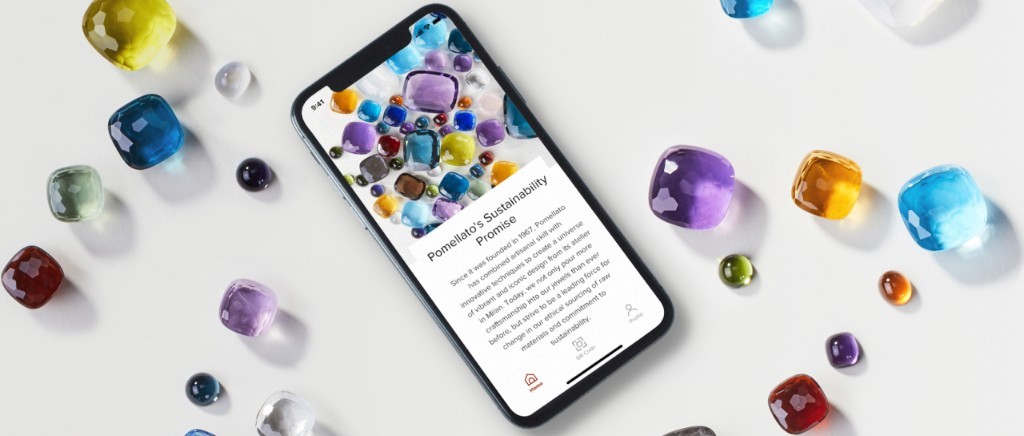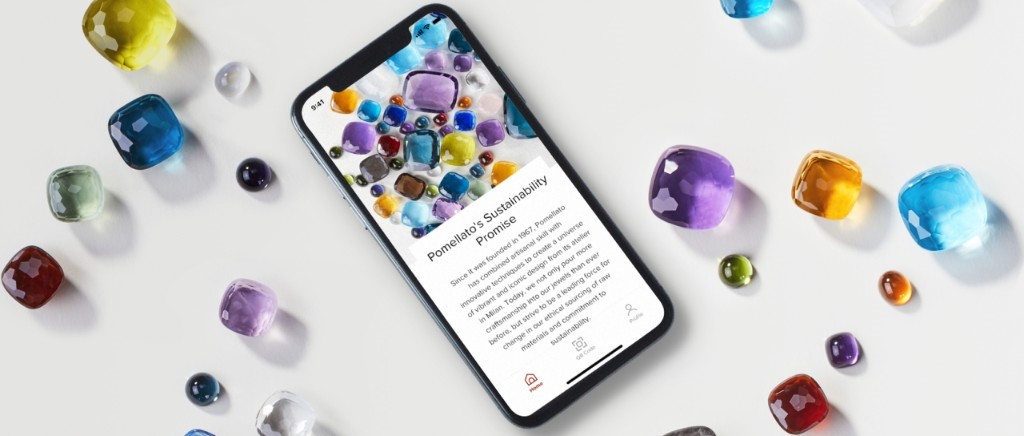 Users can find their desired Nudo or Nuvola Collection and click on the "Virtual Try-On" button to start the experience. Before trying it on, consumers will also be able to drag the ring freely to view the 3D effect in 360 degrees. Then, click on the "Try Now" to take a picture and virtually try on rings online. Customers can switch between different colors and styles to see the most satisfactory effect. Directly saving or sharing try-on photos are also available for users. When customers click on "Buy Now", they'll be directed to the website and complete the purchase.
Smart Mirror Try-on Jewelry in Pomellato Boutique
When buying jewelry in a real boutique, the situation of waiting in long lines or having to deal with inventory shortages is not a pleasant one. According to an analyst by 451 Research, 56% of consumers surveyed left the store without buying anything because of the long lines. To make matters worse, size differences among rings can leave consumers stuck in stores waiting for clerks to offer items in different sizes. Smart mirror try-on jewelry in Pomanto boutique helps consumers eliminate some of the time-consuming activity in the consumer experience. With artificial intelligence and machine learning, smart mirrors can simulate how a given item looks on the users, helping them achieve a high level of AR jewelry try-on experience.
Consumers can walk up to the smart mirror and experience an unforgettable shopping experience with its full HD display and touch screen capabilities. Just like the virtual try-on in the Web or App, customers can find their favorite styles and try them on virtually. They can also freely view highly restored 3D effects and real-time try-on effects. If they like, they can securely pay for on-screen items on the spot.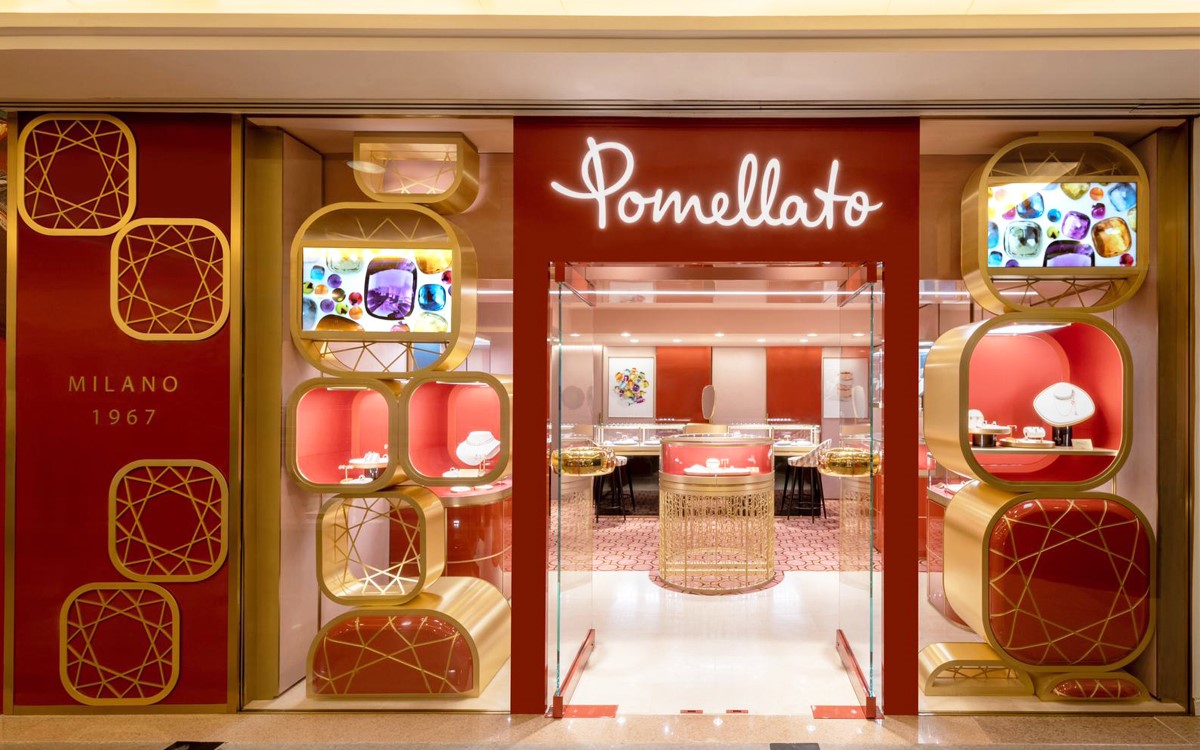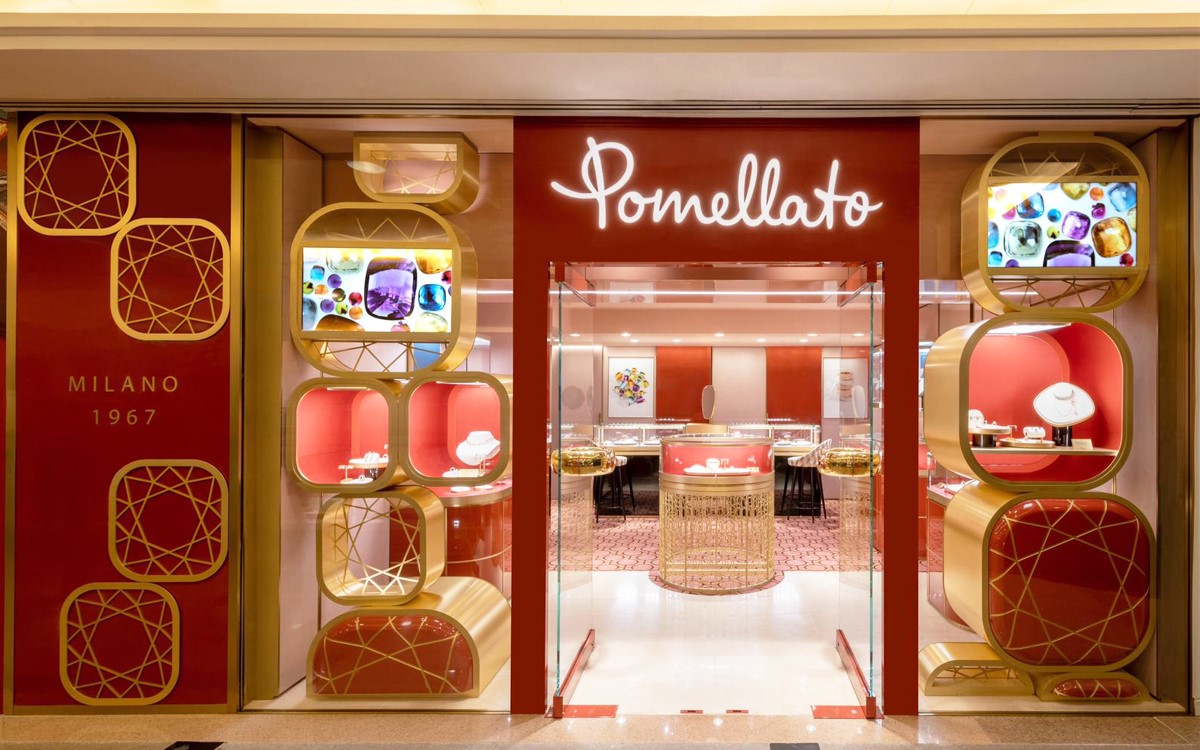 Repackaging jewelry can be time-consuming for brands themselves as they need to check that all the pieces are there and make sure they are not marked or damaged. Smart mirror try-on allows customers to virtually try on jewelry without taking them out of the packet, as well as enabling brands to give customers full inventory access at once and get better cross-selling or up-selling.
How Can Virtual Try-on Benefit Jewelry Brand Performance?
The use of augmented reality in the jewelry industry is the disruptive technology that enables jewelry retailers to surpass their competitors in the digital marketing world. According to a Business Wire report, 40% of respondents said they would be willing to pay more for products with AR experience, and 72% said they purchased unplanned items due to AR. Here are some benefits of AR for jewelry business.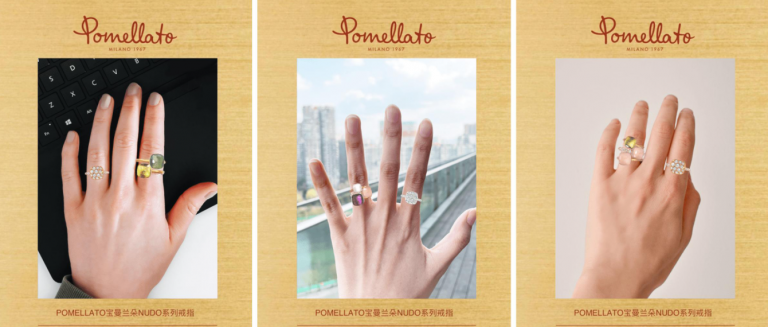 Enhance Brand Awareness and Attract New Audiences
One of the main marketing challenges for traditional fashion and luxury brands is the difficulty of connecting with younger generations. Deploying AR technology helps brands provide an innovative experience with Gen Z and allows them to share try-on photos on social media, meaning it provides an alternative way to generate awareness and attract new audiences. A lot of information can be extracted from customer interactions, which can help improve customer knowledge, behavior, and preferences, and therefore can be used in short-term or long-term promotion plans.
3D Jewelry Models Replace Outdated Paper Catalogs and Increase Engagement
Sometimes, customers want jewelry that doesn't actually present in the boutique, such as they may order different colors, shapes, or gemstones. If they don't see and try it, half of them might give up the purchase intention, but embedding AR technology can avoid this. With high-precision 3D rendering technology, the jewelry will appear in real size and proportions, providing users with an unforgettable and immersive experience.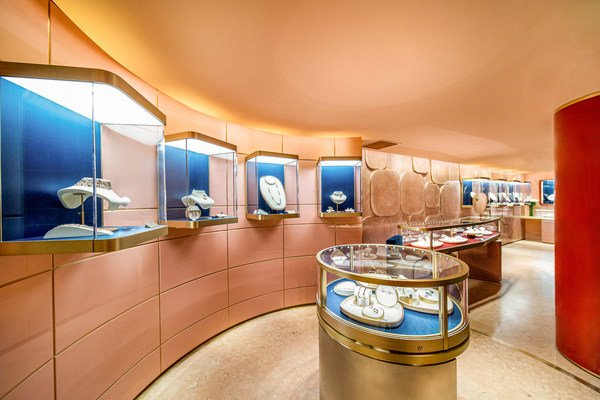 Reduce Returns & Improve Customer Satisfaction
Managing return costs could be a multi-billion-dollar problem, with customers returning between 15% to 40% of what they buy online. The biggest worry for online jewelry sellers is going through the vicious circle of returns. Through AR jewelry try-on, users can view the product visually and experience them to make satisfactory purchase decisions, which provides an unparalleled opportunity to reduce returns and improve customer satisfaction.
Increase Private Traffic and Sales Conversion Rate
By embedding AR virtual try-on into the official website, Pomellato drives customers into their private traffic pool and maintains their brand. Customers can turn on the camera anytime, anywhere, choose the latest styles and try them on, which deepens their impression on the brand and lengthens their stay on the page. With AR shopping experiences, Pomellato provides customers with intuitive purchase decisions and promotes their likelihood of buying products.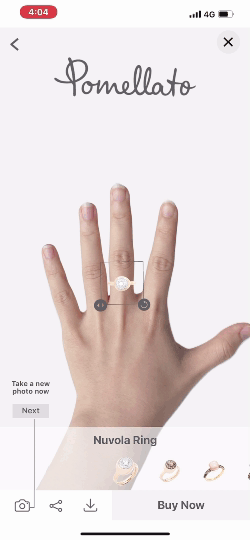 Save Customers' Time and Increase Repurchase Rate
Many consumers will give up buying goods because of long lines and waiting time. At Pomellato real boutique, a smart mirror try-on improves the user experience. As a result, customers have a better impression of the brand, increasing their brand loyalty and the probability of repeated purchase.
How to Embed Virtual Jewelry Try-on to Grow Your Sales?
Businesses that incorporate digital transformation at the core of their strategy will easily stay relevant and competitive in this era. In the long run, the investment in virtual jewelry try-on is low compared to the value it will provide. Luckily, AR integration is not as difficult as it used to be. Finding a reliable AR solution provider, such as Kivisense, one of the top 5 startups at 2021 F8 Refresh, can quickly drive amazing performance.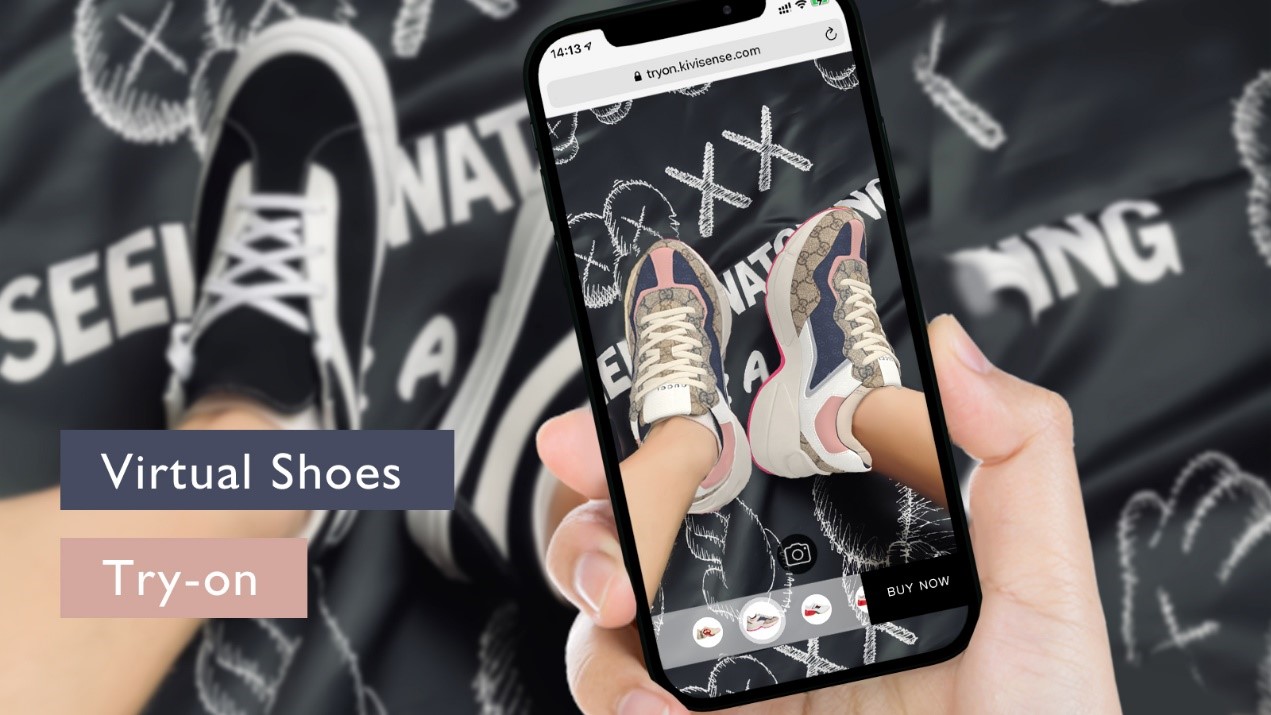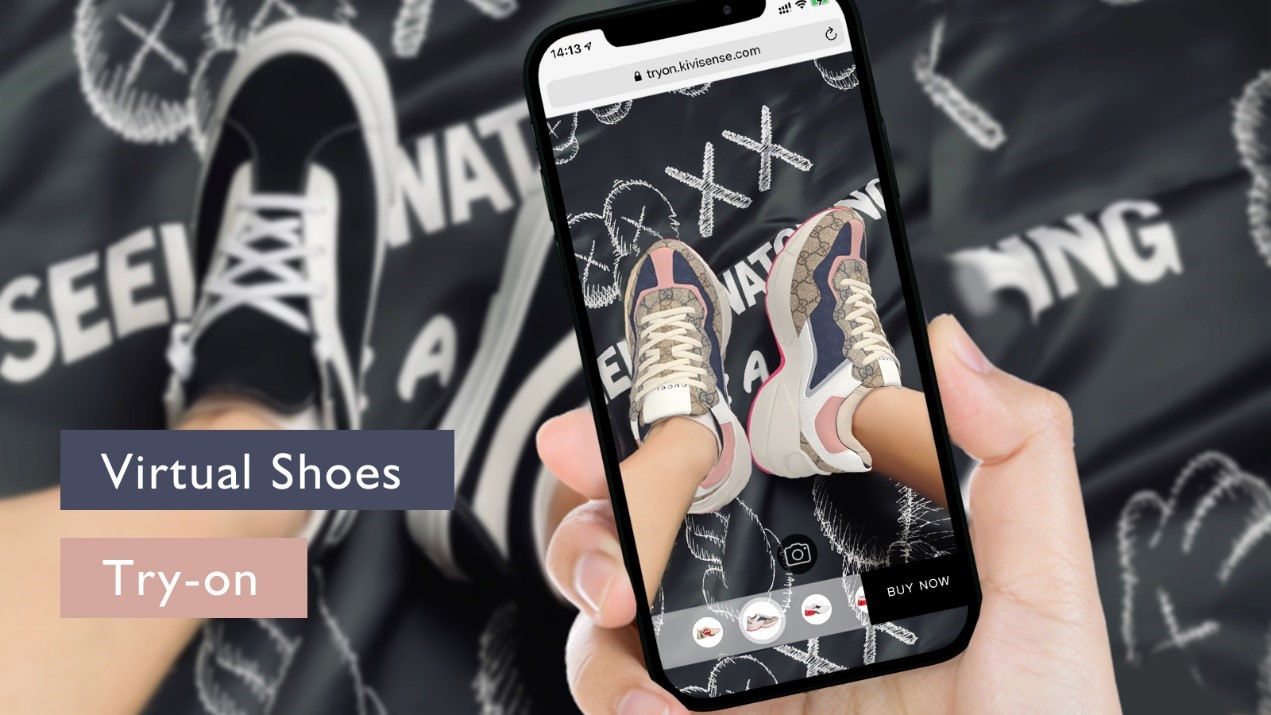 The following is a detailed analysis of its highlight technology:
It supports lightweight WebAR algorithm plug-in integration, allowing more developers to create AR scenarios with lighter experiences. Based on AI engines, Kivisense has developed accurate and real-time AR tracking algorithms to help brands provide an immersive virtual try-on experience and restore offline shopping experience.
The 3D rendering engine can highly replicate various materials, including diamonds, metals, gemstones, leather, PVC, etc., to make product models more realistic and bring consumers AR "See-Now-Buy-Now" experiences.
In addition to AR high jewelry try-on, Kivisense also provides a variety of modular API services such as AR eyewear try-on, AR shoes try-on, AR watch try-on, AR handbag try-on, AR cosmetic contact lenses try-on, etc., which is convenient for developers to directly invoke them. This method greatly reduces the development time & cost, and improves their development efficiency.
It supports partners to seamlessly embed AR plug-ins into Web, App, EC SaaS Platforms like Shopify, even real boutique, etc., helping brands create omnichannel virtual try-on and improve ROI.
Conclusion
As technology advances and buying behavior changes, jewelry companies around the world are embracing virtual try-on solutions in countless ways to get the most out of augmented reality. Integrating AR jewelry try-on in your business is key to getting a lot of exposure to capture the attention of your target audience. But keep in mind that creating immersive virtual shopping experiences requires an AR service provider with a solid technical understanding and attention to artistic detail.