In the last article, we talked about AR packaging as the core technology solution for the FMCG industry to survive in the fierce competition. Today, we focus on the fashion industry that makes the visual presentation and digital marketing extremely effective. The application of AR in fashion retail has greatly increased sales conversion rates and reduced e-commerce returns. It also marks a significant milestone in realizing the ultimate vision of AR virtual try-on.
4 Showcases of AR in Fashion Retail: Remarkable Sales Performance
With a large number of AR technology pilots and investments in recent years, experts say that immersive AR shopping is getting closer to reality, and the pace of acceleration is increasing constantly. Here are 4 AR fashion brands with remarkable sales performance in 2021.
GUCCI FLORA GORGEOUS GARDENIA
Inspired by the mysterious power of Gardenia, Gucci Flora Gorgeous Gardenia has been reintroduced as a delightful floral fragrance in September 2021. Its signature floral scent, product packaging, and advertising campaigns have taken the center stage and consumers' hearts.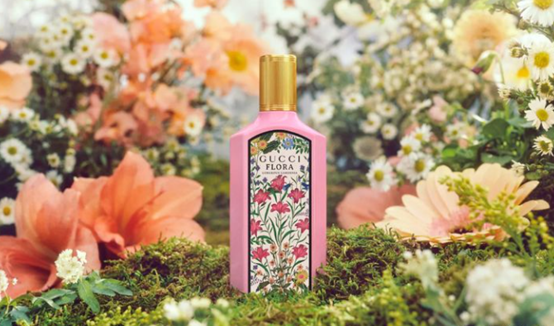 The collection is packaged in a new and elongated pink lacquer glass bottle, made partly from recycled glass, which is in line with the brand's eco-friendly and sustainability ethos. The distinctive floral pattern on the bottle was originally created by artist Vittorio Accornero for Gucci in 1966, and the new design version is inspired by Alessandro Michele. By matching a pink glass bottle and a shiny gold cap with a signature floral pattern, it becomes a work of art.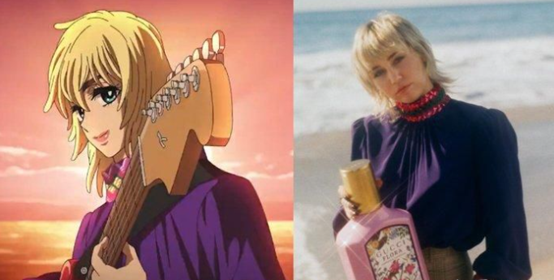 The campaign, starred by Miley Cyrus and directed by Petra Collins, tells a journey through a fantasy world inspired by Japanese anime. Meanwhile, Gucci launched "Discover Gucci Flora Gorgeous Gardenia" AR interaction to highly replicate the animation scenarios. Consumers can easily take beautiful photos with AR Flora stickers.
There is also an AR Flora bottle display function to help consumers find the secret of fragrance. Gucci integrates the latest SLAM AR technology to allow customers to place the Flora at home and then watch gardenia petals squirting out of the bottle. The visual presentation of Flora gets a large number of consumers engaged in.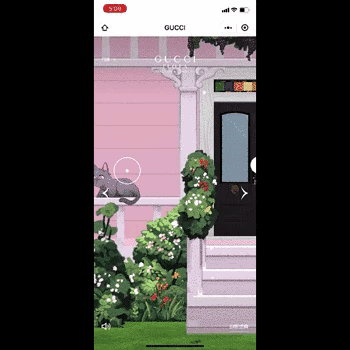 Gucci has always regarded social media as an important channel to build consumer loyalty and deeply interact with its fans. Millennials, Gucci's most important customer segmentation in the past six years, are highly dependent on social media and receptive to new technologies, so they can quickly adapt and get used to AR technology. This is why brands choose social media as the best new product release channel and use AR technology to present their unique selling proposition in an immersive way.
Pomellato WebAR Virtual Ring Try-on
Pomellato, the top handmade Italian fashion jewelry brand, was found in Milan in 1967 by Pino Rabolini, who has a unique vision of luxury and shaped Pomellato with a fashion-forward identity. His distinctive designs are highly regarded in Italian and across the international jewelry landscape. Pino Rabolini promotes that jewelry is not just an accessory, but also could be interchanged according to whim, dress, occasion, or even the wearers' mood. In recent years, Pomellato has integrated the WebAR virtual ring try-on function and achieved great sales performance.
Consumers can not only view the gorgeous 3D Pomellato ring in the boutique, but can also click on "AR Try-on" to instantly put the ring on their fingers. Adhering to the experience that jewelry can be matched at will, the brand adds the innovative Nudo mixing & matching jewelry, allowing consumers to DIY different rings freely and create their own exclusive ring combination. The interaction also supports taking try-on photos and generating shared posters, encouraging consumers to share their amazing matching creations on social media.
Through 3D display, Pomellato not only provides consumers with a 360-degree view of the digital jewelry models, but also impresses new users. Consumers can see the AR try-on effect in real-time, which speeds up their purchase decision. Its mixing & matching function encourages the creation of UGC and conveys the brand spirit in a subtle way. With realistic virtual try-on, consumers are more likely to add the ring to their shopping cart and complete the purchase. Overall, AR in fashion industry significantly increases user engagement, customer satisfaction, sales conversion, and brand awareness.
GUCCI WebAR Virtual Try-on
Virtual try-on experience is one of Gucci's most important AR digital marketing strategies in recent years. So far, Gucci has supported AR eyewear try-on, AR ring try-on, AR lipstick try-on, and AR shoe try-on. In terms of AR experience, Gucci integrates the same way as Pomellato, that is, embedding 3D digital product display so that consumers have a deeper understanding of commodities, and combining WebAR virtual try-on to stimulate consumers' impulse buying decisions and promote sales conversion rates.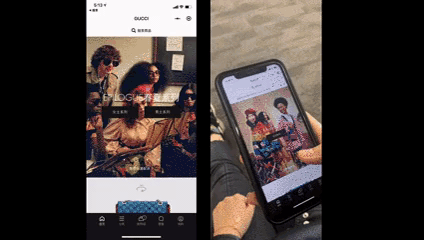 Dior AR Veil Interaction
After the successful exhibitions at the Musée des Arts Décoratifs in Paris, the Victoria & Albert Museum in London and the Long Museum West Bund in Shanghai, the "CHRISTIAN DIOR, DESIGNER OF DREAMS" exhibition came to Chengdu Museum of Contemporary Art (MOCA) from July 25 to September 7, 2021.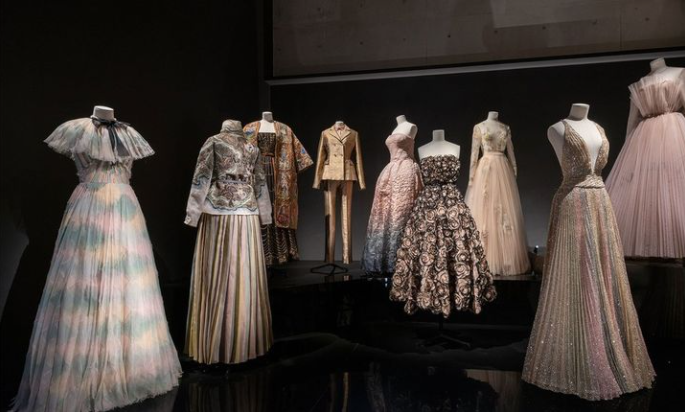 Designed by NATHALIE CRINIERE, the exhibition features a new graphic narrative, showcases legends of the fashion house since 1947, and explores the enduring influence of Dior through Haute Couture garments, magazines, photos, and films from Dior Archives. Consumers can directly view the exhibition online, book online, experience the AR Veil filter, instantly try out the Dior haute couture veils, and share it with friends.
This campaign, through advertising on social platforms, attracted many potential consumers who could experience the atmosphere created by Dior in advance and book the exhibition online. At the same time, the sharing function in the AR Mask helps the brand gain a fast speed of popularity, a vast area of spreading and a great power of influence.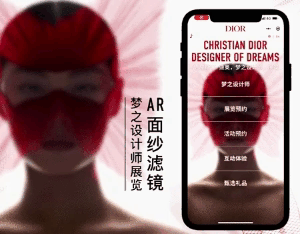 Drive More Sales in the Metaverse with Excellent AR Service
The above four showcases all demonstrate the importance of augmented reality in fashion retail stores. To stand out from the competition, brands have to provide consumers with a different and innovative shopping experience. AR digital marketing has been adopted by many brands, but it is necessary to pay attention to whether they have proven technology and creative planning ability when choosing AR service providers.
Kivisense focuses on the research and development of AR technology, creating many Web-based AR tracking technologies in real-time, including AR image tracking, Slam AR tracking (also known as World tracking or Plane tracking), AR hand tracking, AR foot tracking, AR face tracking, AR body tracking, etc. Because of its advanced AR technology development, it was named one of the five best startups at the F8 refresh hackathon 2021.
Correspondingly, its Web-based AR virtual try-on solutions cover a variety of industries, such as AR eyewear try-on, AR hat try-on, AR necklace try-on, AR watch try-on, AR ring try-on, AR handbag try-on, AR shoes try-on, AR cosmetic contact lenses try-on, AR filters, etc.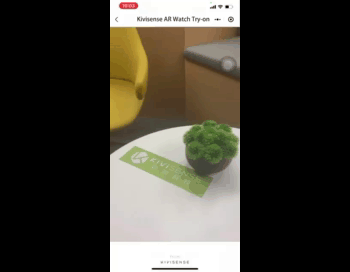 In addition to AR try-on, its high-performance 3D rendering engine can simulate tens of thousands of materials, including jewelry, diamond, precious metal, PVC, fabric, leather, etc., enabling consumers to achieve an AR "See Now, Buy Now" shopping experience.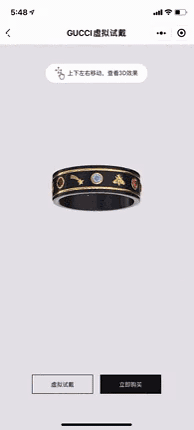 Its Web-based AR try-on engine has provided solutions for Gucci, Dior, Pomellato, TTDEYE, etc., helping them achieve great sales performance. Kivisense not only directly provides customized AR try-on services for brands, but also encapsulates its own capabilities as plug-ins so that other services can easily provide their partners with customized development.
Conclusion
According to the Wall Street Journal, the NFT market has exploded in 2020, growing from $41 million to an estimated $338 million. NFT are popular in the global creative community because they promise to empower artists and promote friendly relationships between buyers and sellers. With augmented reality, creators can provide more depth and context to any digital artwork, which helps users access superimposed digital content anytime, anywhere and project it into the real world from any smart device. Many luxury brands, including Gucci, Louis Vuitton, etc., will prove their value to consumers through NFT, and AR is the best way to power them in the metaverse. Let's look forward to more outstanding new cases of AR in fashion retail.