With the COVID-19 lockdown, the shift to e-commerce in marketing models is being exacerbated. Brands have to rely more on digital marketing to reach more potential consumers. The total spending on augmented reality is set to grow 54% to $72 billion by 2024, which means immersive commerce focused on AR will be the key to breakthrough performance. Gucci sneaker AR try-on provides consumers with a new way to virtually try on shoes in a real environment before buying, greatly improving purchase confidence, customer engagement, and sales conversion. Here's a look at Gucci virtual try-on experience and its advantages. The final part will also show you how to implement AR into your business.
Part 1. Try on Shoes Virtually at Gucci Boutique: Shorter Sales Cycles
What a hassle it is to try on countless pairs of shoes in outlets or department stores. Gucci shoes virtual try-on allows customers to experience various styles online at anytime, anywhere. Of course, if you prefer to go to a real boutique but don't want to waste too much time, you can queue up ahead of time on Gucci's new program to let them know which shoes you want to try on, and their staff will prepare them for you in advance. Then you can go to the store and try them on without waiting in line, which is perfect for shortening your purchasing cycle.
When you see a nice pair of shoes online, you can go straight to the product details page, where you can first view the 3D display for more details. Its 3D show brings users a richer experience than traditional 2D browsing, without worrying about deviations between items and promotional images. Then, click on the "AR Try-on" button and point the phone's camera at your feet to track them in real-time. Even if you try to walk, the tracking is also stable and accurate.
In the AR sneaker try-on interface, you can switch to try on different shoes, which is a very convenient experience for you. Taking try-on photos and sharing them with friends is also a great function. If you find a pair of shoes that fit you perfectly, just add them to the cart and complete the purchase with one click.
Part 2. Gucci Sneaker AR Try-on Revolutionizes Users Shopping Experience
With more users looking to buy products online, enhancing the purchasing experience with digital marketing hacks is an innovative and smart way to go. Gucci sneaker AR virtual try-on is a compelling example of how AR technology helps shoppers make more informed buying decisions for shoes. Integrating AR into the marketing strategies can attract large numbers of potential customers, increase user loyalty, and then drives sales conversion. Here's a look at the specific advantages of the Gucci try-on, and you can see why it will change the way users buy.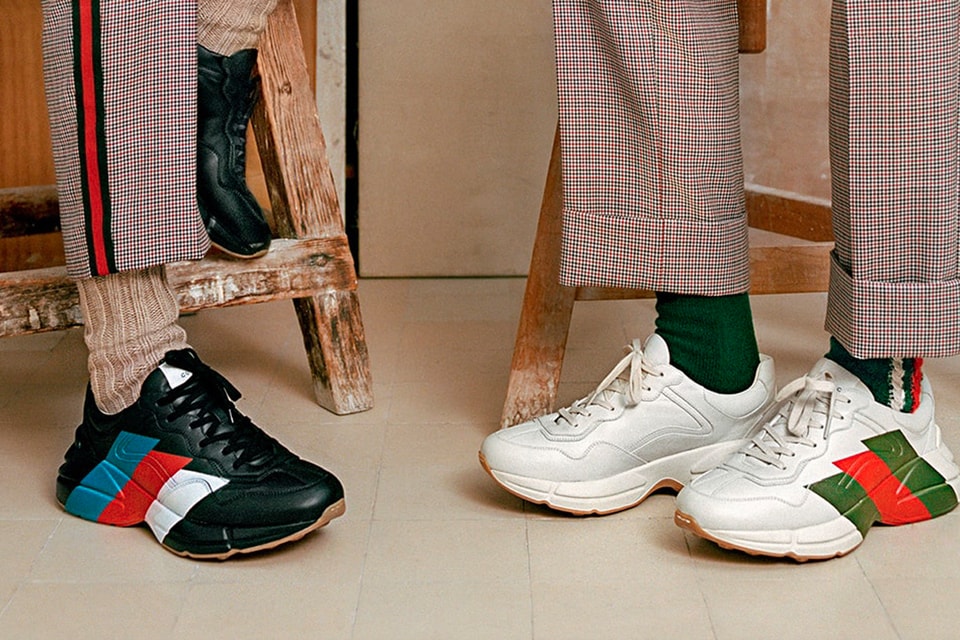 Stable Foot Tracking
Its foot tracking technology is powerful enough to synchronously follow the feet as they move and rotate, allowing consumers to view the virtual shoes in real-time from any angle.
Dynamic 3D Display
Traditional pictures typically don't allow consumers to see the details, while the 3D display enables them to drag or zoom in and out of the shoes for a 360-degree view, which helps brands get closer and create an emotional connection with consumers.
High-performance 3D Rendering
The 3D rendering engine can track the position of the shoes in space while recognizing the color and texture, realistically restoring a variety of uppers, such as leather, canvas, PVC, and other materials. This online experience is like trying on shoes in a physical store, helping you find the perfect pair with minimal effort.
Virtual Shoes Try-on Reduces Returns
The 3D display has deepened consumers' good impression on the products and promoted them to experience virtual shoes. With the "See Now, Buy Now" model, consumers can quickly add shoes to the cart with satisfaction, helping brands increase sales conversion rate and reduce the hassle of returns.
Share Try-on Photos to Get Fashion Tips
Many consumers are heavy users of social media platforms. When they see their try-on photo is very beautiful, or they are confused about which pair of shoes to buy, they can immediately share the picture with their friends to get the best fashion tips, which boosts the product promotion and increases consumer loyalty.
Part 3. Integrate AR Shoe Try-on to Sell More Products
Through 3D and AR, Gucci shoes virtual try-on makes the products more visual, shortens the sales cycle, and improves ROI. There is a high probability that augmented reality will become an important part of gen Z and millennials' futures, as it satisfies young people's curiosity about new experiences and encourages them to build emotional connections with brands.
According to a survey from Vertebrae, 4 out of 10 consumers want to access AR directly on the Web. Kivisense, an all-in-one WebAR solution provider focused on AI deep learning, is worthy of recommendation. It mainly provides two types of services, one is the online Kivicube WebAR Authoring Platform, the other is the WebAR try-on. F8 Refresh 2021 announced that Kivisense was one of only five companies in the world to win the Best Startup Award. Let's see why it made the top five.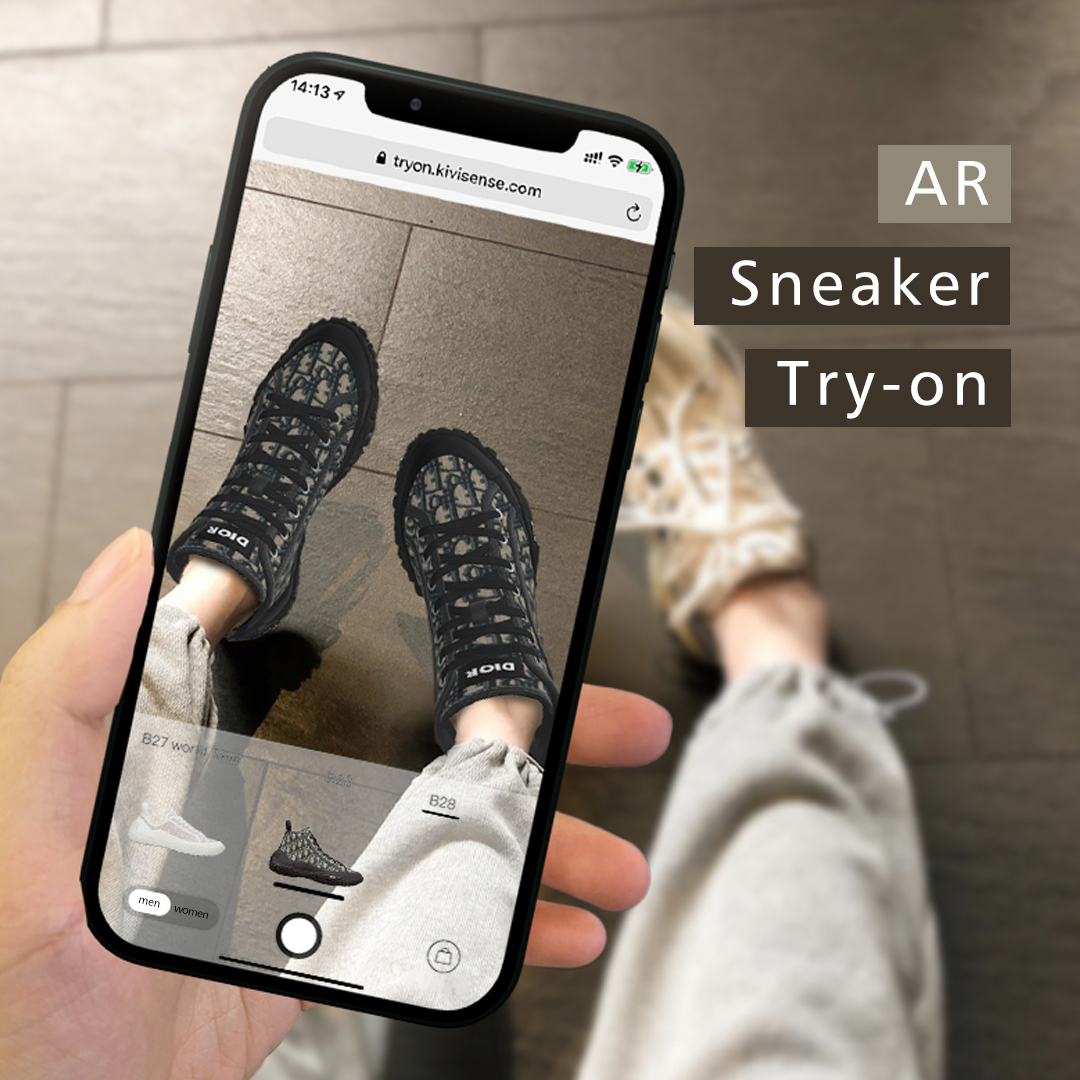 AI Deep Learning
Artificial intelligence and machine learning technologies are at the heart of AR platforms. The self-developed AI engine integrates local deep neural networks to implement the latest machine vision, accurately executing algorithms and training models.
Lightweight AR Algorithms
Algorithms often play an important role in the structure of artificial intelligence, and the Kivisense AI engine has built accurate recognition and tracking algorithms. Furthermore, it supports lightweight WebAR algorithm plug-in integration, allowing more developers to create more lightweight AR scenarios.
Real-time Tracking
The Kivisense team has implemented some breakthrough AR algorithms that guarantee real-time and stable face tracking, image tracking, foot tracking, iris tracking, plane tracking, world tracking (SLAM), etc., providing a more reliable AR solution for brands.
3D Modeling and Rendering
The professional 3D modeling team perfectly creates geometric representations of objects, and then its 3D rendering engine can highly simulate and restore a variety of materials, such as diamonds, metals, shoe vamp materials, etc., giving users a more immersive AR experience.
Conclusion
Even before COVID-19, 46% of retailers planned to launch AR programs, reported by Deloitte. The planned investment increased 150% by June 2020, according to eMarketer. Given that AR shoes try-on, AR eyewear try-on, AR jewelry try-on, etc., will across in retail categories and consumers' online lives, it is suggested that DTC brands embrace AR as the most important growth way for digital marketing. Thanks to advances in mobile technology, consumers can interact with AR directly through a Web browser, without having to download an app. Kivisense is a highly recommended service in 2021. Why not try it now? If you have other ideas, don't hesitate to share them in the comments.