The growing popularity of fast fashion among Gen Z is prompting eyewear manufacturers to continually update and design more attractive glasses. It is estimated that the global eyewear market size will reach $172.42 billion by 2028. To quickly respond to this trend, more and more brands enter the market with new designs, but the traditional marketing model has been unable to help them stand out from the fierce competition. With Gen Z becoming a major customer demographic, new AR eyewear try-on will be a key to gaining better market share, acquiring new customers, ensuring continued business relationships with existing customers, and providing new revenue opportunities.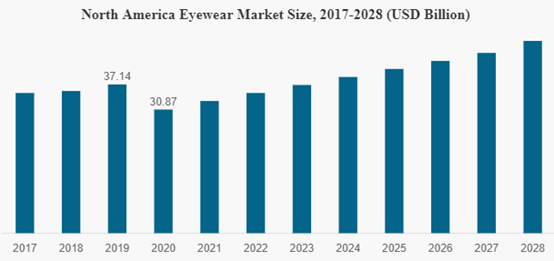 Digital Virtual Glasses Try-on Breaks Traditional Marketing Limitations
As traditional business relies heavily on offline marketing channels, many brands try to bypass this tedious process through online marketing, but the inability to try on glasses online has become a major bottleneck in breaking through sales performance. For the eyewear industry, rethinking marketing strategies might be more important than rethinking the product itself, which means innovation has to be at the center to encourage people to visit your site or complete a purchase.
AR technology is a very powerful enabler that shortens the distance between brands and consumers, provides immersive experiences, and increases consumer engagement. With real-time AR face tracking and high-performance 3D rendering, virtual glasses try-on highly replicates consumers' offline shopping experience and improves sales conversion rates. Let's specifically analyze how AR try-on experience is realized.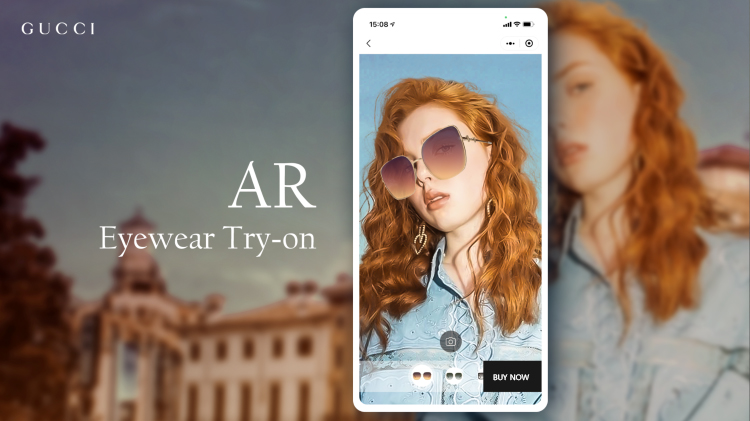 Find a pair you like and click on the "AR Try-on" button. Then simply place your face in the wireframe to start the try-on. You can also rotate your face to see the try-on effect in real-time.
Consumers can easily try on different eyewear to find the pair that best suits their face shape and style.
On the product details page, users can drag the model to view details and materials from various angles. The 3D models make the size and appearance of eyewear as realistic as those of offline products, speeding up consumers' purchasing decisions.
Without going to a local shopping mall, users can get the most desirable pair at anytime, anywhere.
There are also some interactive experiences configured in the virtual try-on function, creating interesting and creative shopping experience. Users can also share try-on photos, which demonstrates their brand loyalty.
With the explosive growth of commodities and the rapid spread of media, consumer demand also presents a changeable and complex state. Fortunately, the usage of AR in fashion retail tells brand stories in a very authentic, compelling, and innovative way, deeply touching consumer emotions and revolutionizing the sales model of eyewear e-commerce. This digital marketing method provides consumers with a more creative way to make quick buying decisions, which significantly increases sales conversion rates and ROI.
Revolutionized Marketing & Amazing Performance for Virtual Eyewear Try-on
As Statista shows, the AR market is projected to reach $198 billion by 2025. Specifically, according to Martech 2020 and beyond by WARC and BDO, 21% of marketers are already using AR in campaigns, and 46% of retailers will deploy AR solutions to provide engaging shopping experiences for customers. As AR is widely used by brands, the consumer experience is also being reshaped. These AR-based campaigns enable potential customers to virtually try on products and enjoy the experience, while increasing the brands' online sales. Here are 3 virtual eyewear try-on examples from top brands.
Mojosee Virtual Eyewear Try-on
DTC brand Mojosee has integrated the fashion eyewear virtual try-on on its official website, allowing consumers to try on glasses online and add them to the shopping cart with one click. Obviously, this approach shortens the consumers' purchase cycle and proves the convenience of the Shopify AR shopping model. Through the 3D digital eyewear model, consumers can more intuitively understand the product as it highly replicates the offline shopping experience. Meanwhile, the real-time AR try-on effect greatly stimulates impulse purchase behavior, helping brands realize amazing sales conversion.
Gucci Eyewear AR Try-on
Gucci eyewear AR try-on experience has been launched in its online flagship store, which includes a high-precision 3D digital model that displays the exquisite details of the glasses. With real-time AR face tracking technology, consumers can freely turn their heads to view the try-on effect from multiple angles and experience the effect almost as if they were shopping offline. No matter at any time and any place, users can directly enter Gucci flagship store to virtually try on glasses, and check the material in an immersive way. Through AR try-on technology, every brand can break through the limitation of time and space, create an AR "See Now, Buy Now" mode, improve consumers' shopping experience, and increase ROI conversion rate.
Dior Sunglasses Virtual Try-on
Christian Dior, a French luxury fashion house, has launched a Web-based AR try-on for its new eyewear, such as the Bobby Collection, Signature Collection, etc. Consumers can try on any style and color at home, on the road, on traveling, or while taking a break at work. 3D models and real-time try-on help consumers quickly make the most satisfying buying decisions, thus shortening their purchase cycle and reducing their returns. In addition, users can share their try-on photos with friends on social media platforms to get valuable suggestions, which greatly increases their brand loyalty. Meanwhile, brand awareness and sales conversion rate are also positively affected and continuously improved.
Integrate AR Eyewear Try-on and Witness Sales Growth
Compared with traditional marketing, advanced AR digital marketing creates an immersive shopping experience, which breaks various challenges in traditional marketing, including the inability to try on online and the limitations of interaction with consumers, etc. AR technology provides high-quality marketing solutions with low cost and high-speed spread, effectively reshaping brand value. More and more brands have embedded AR try-on engines to create a differentiated digital marketing model, and have increased sales several times. Then, how to integrate AR to Web, App, or EC Platform like Shopify, etc., and achieve incredible sales growth in the fierce environment? Just read on.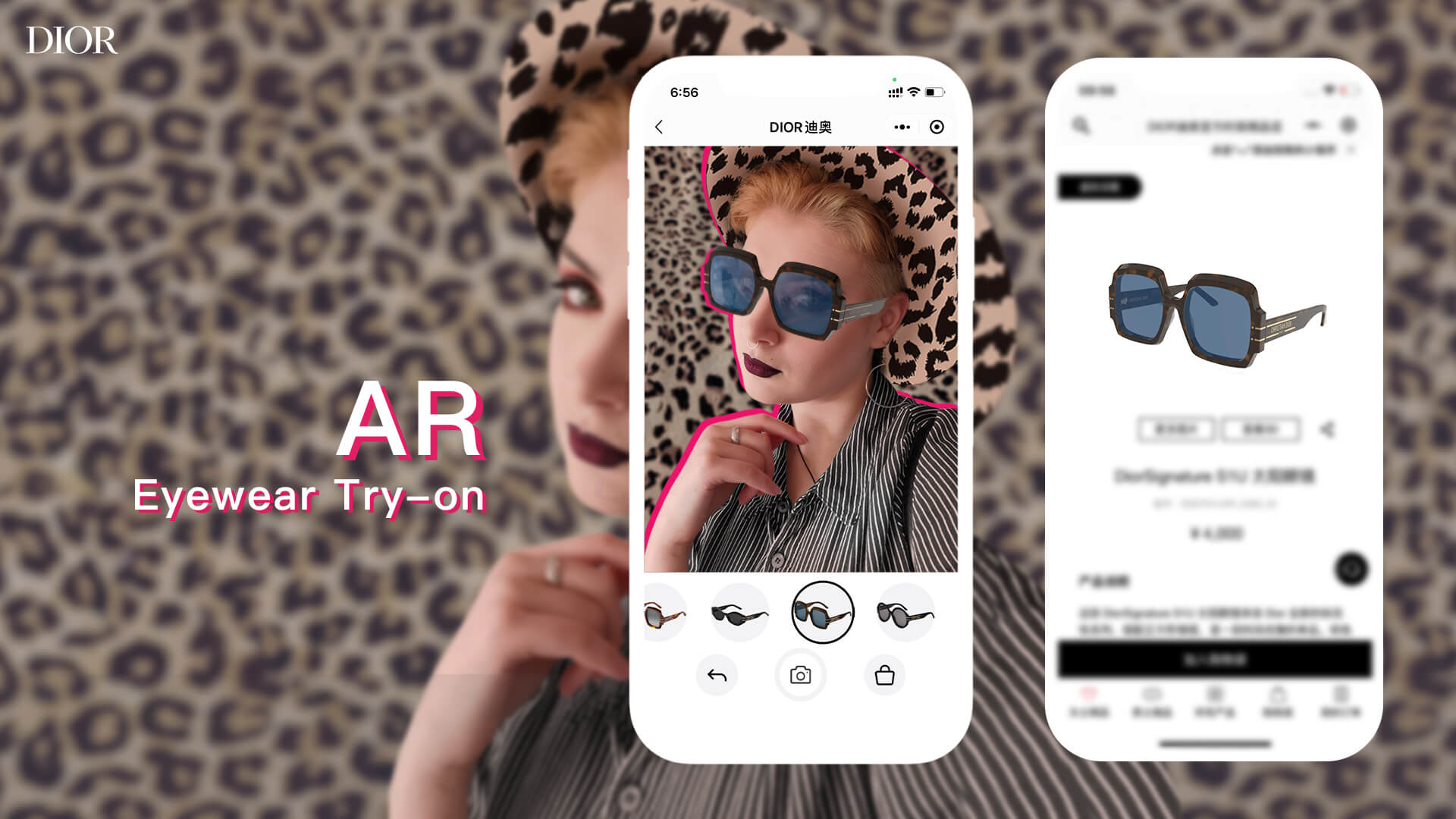 Kivisense, an all-in-one AR try-on solution provider, has developed its own AR algorithms based on artificial intelligence, including face tracking, hand tracking, foot tracking, iris tracking, body tracking, etc. Accordingly, it supports the integration of various technologies, such as AR eyewear try-on, AR watch try-on, AR shoe try-on, AR cosmetic contact lenses try-on, AR handbag try-on, etc., all of which can be quickly embedded into Web, App, and Shopify for better engagement.
In addition to supporting various AR algorithms, Kivisense also developed its high-performance 3D rendering engine, which can simulate lots of materials, including jewelry, metal, diamond, leather, PVC, etc., making their reduction degree reach more than 95%. With this immersive shopping experience, consumers are able to make decisions faster and buy satisfactory products with fewer returns. In turn, the brand's sales cycle and sales conversion have been greatly improved.
Conclusion
Online shopping is one of the most popular online activities globally, with e-commerce sales reaching $3.53 trillion in 2019 and expected to grow to $6.54 trillion by 2022, according to Statista.
This encourages marketers to invest in high-end technology to drive a more immersive customer experience and ensure they stand out from the competition. AR eyewear try-on technology is no longer a thing of the future, but the hacking skills to create an innovative shopping experience and improve market share, which should be on every marketer's to-do list in the fashion industry.