Online furniture has been one of the slowest product categories to gain a foothold, as shoppers struggle to judge whether a piece of furniture fits in their space or room decor by only viewing pictures online rather than in person. The bigger the item or price tag, the lower the purchase confidence. Frequent returns and low customer satisfaction are still the issues that the furniture industry needs to breakthrough. AR furniture online is growing in popularity. According to statistics, 60% of U.S. online customers prefer to explore 3D furniture before buying. AR technology enables furniture brands to provide customers with try-before-you-buy shopping experiences with realistic product visualization and stimulate purchase decisions.
Top 4 Showcases of Augmented Reality in Furniture
With Augmented Reality in furniture, consumers can point their devices to any space in their home or office and then select their desired items. The highly replicated 3D furniture is superimposed on the real world, where they can play with its colors, patterns, styles, size, etc. Here are the top 4 showcases to analyze how the furniture industry increases sales and ROI through AR.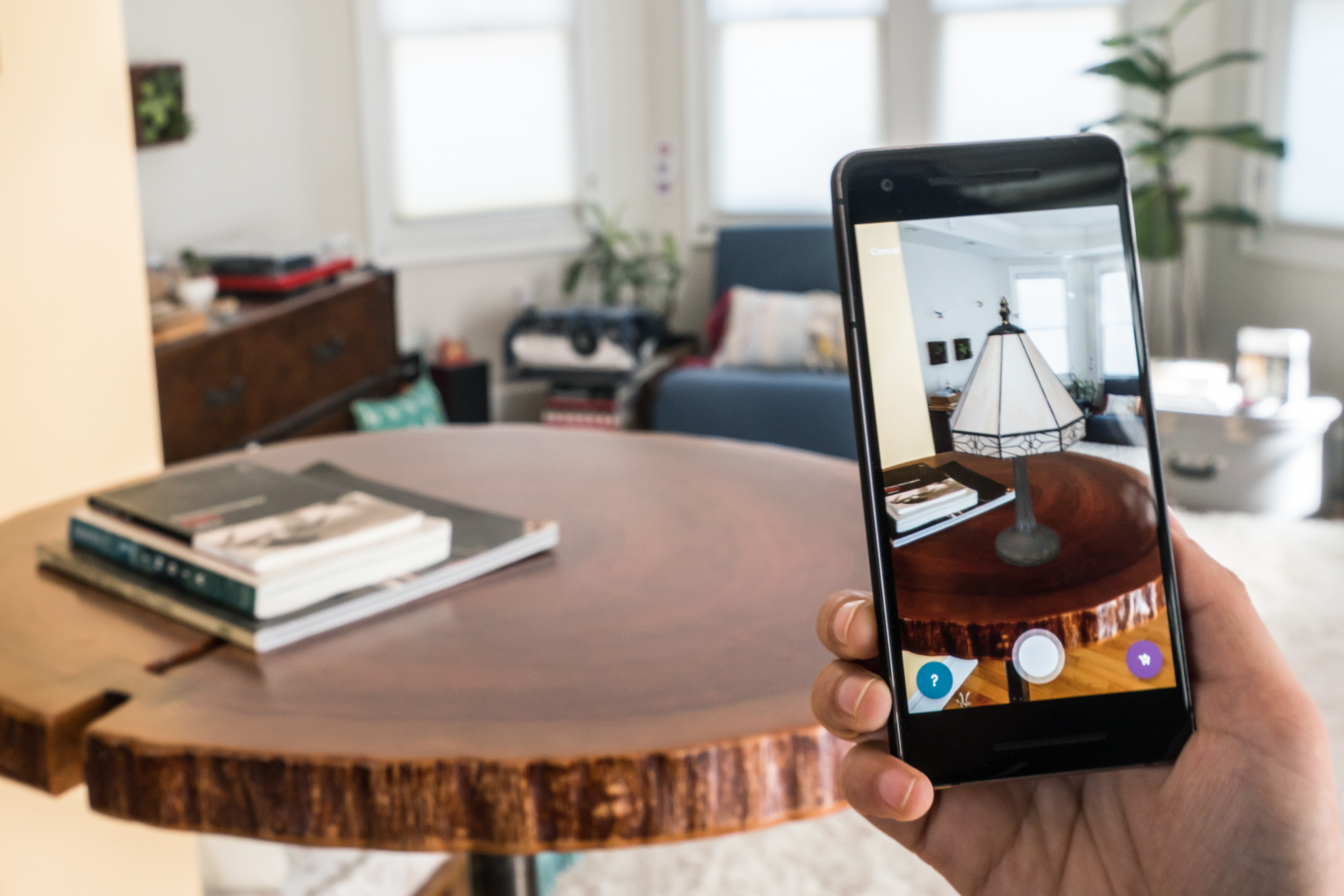 1. Decorate Your Space with Gucci Décor AR Experience
Gucci's sales have multiplied by several times through digital marketing strategies aimed at Gen Z and Millennials. In the past five years, Gucci launched AR shoes try-on, AR hat try-on, AR jewelry try-on, AR watch try-on, etc., to establish emotional connections with young groups.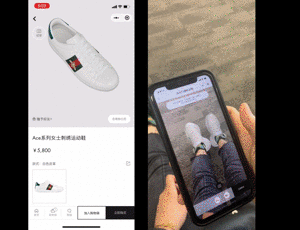 Gucci released the Décor SLAM AR experience on its official App, which allows consumers to place its new objects like tableware, wallpaper, furniture, and even stationery products in a real environment and then view details in an immersive way. Users can intuitively feel whether the furniture matches their home, and then complete the satisfying purchase with one click.
Customers usually tend to have less awareness of luxury brands' home products than that of shoes and handbags, and are often put off by high prices. Through SLAM AR technology visualizing the unique design of products, brands can help consumers make quick purchase decisions and shorten their purchase cycle.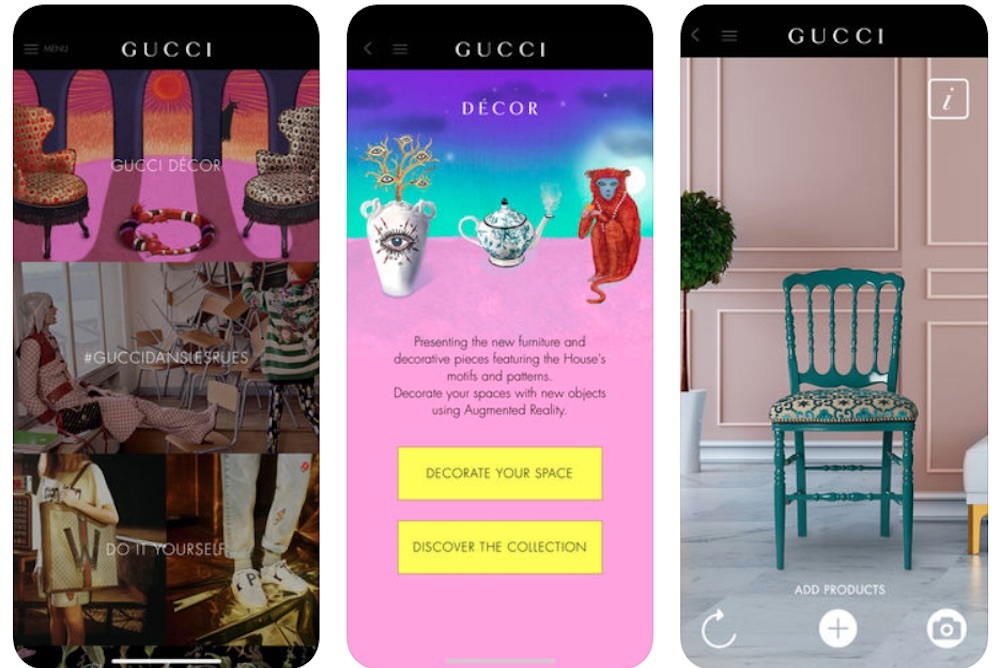 2. Kivicube SLAM AR Furniture Placement
Kivisense, an all-in-one WebAR solution provider, recently announced new scenarios for Kivicube SLAM AR. With its high-quality 3D rendering, the virtual model is as realistic as what you see in a physical store. Users can browse through a variety of products on an online database and make selections. Then point their devices at the desired location, and virtually place the selected product onto that space to view the effect in real-time. It also supports AR placement for IKEA products.
Consumers can also save their choices locally or share them on social media, and purchase them directly from the brands' official website. Kivisense makes it easier for consumers to make purchasing decisions in their own place and try many different styles or colors in a real environment. Meanwhile, it helps brands significantly increase omnichannel sales and brand awareness.
Kivisense also focuses on the development of virtual try-on shoes, jewelry, watches, handbag, eyewear, etc. Its key partners include Gucci, Dior, Valentino, Canada Goose, Pomellato, TTDEYE, etc., all of which have achieved amazing performance.
3. IKEA PLACE Augmented Reality Furniture App
Ikea has become a beloved furniture brand for a wide range of customers, from the college student who buys their necessary first futon to the long-time homeowner who needs a new bookcase, a new sofa, a crib, etc. Behind their success are Ikea's timely establishment of an online E-commerce platform and the adoption of excellent Gen Z digital marketing strategies as consumers' purchasing behavior changes. Launched in 2016, IKEA PLACE Augmented Reality furniture app focuses on promoting consumer shopping experience and sales growth from three aspects.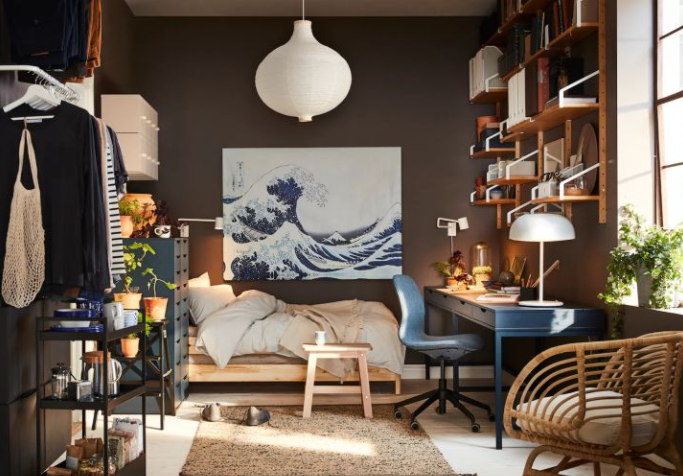 IKEA is the first brand in the world to use SLAM AR technology for furniture placement. Similar to Gucci, consumers can turn on the camera and view the true-to-scale 3D model placed in their own space. IKEA Place provides an exciting way for customers to enjoy IKEA and visually see if the product fits their decoration style, which greatly improves consumer satisfaction and sales conversion.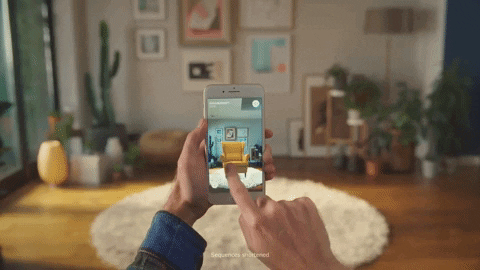 Augmented Reality for IKEA Assembly
Consumers can enjoy assembling IKEA furniture themselves, but most of them are put off by thick manuals. IKEA PALACE has turned paper IKEA manuals into an augmented reality instruction manual that visually shows users the specific steps on building their furniture. The real part assembly is guided by virtual models with animation in the right place at the right time, and then consumers can easily complete it by finding the same shaped parts. This digital experience solves the frustrations often encountered when assembling flat-pack furniture, greatly improving user experience and brand loyalty.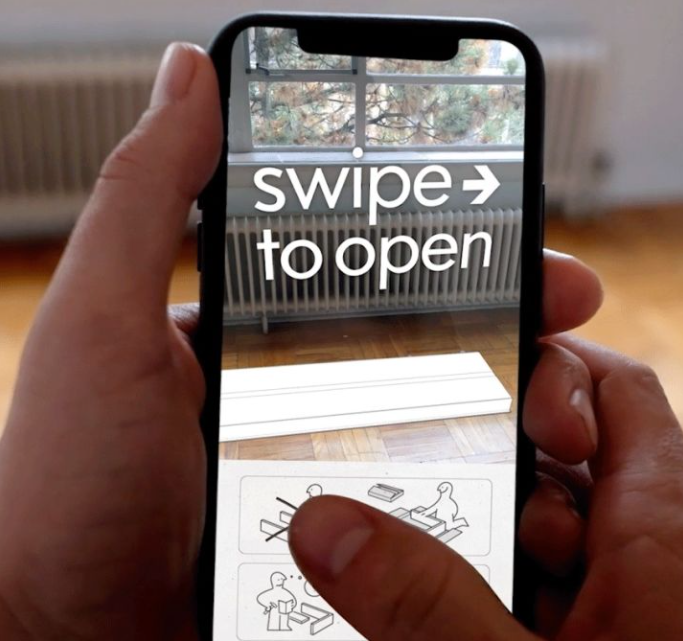 When the furniture arrives, it often leaves a giant cardboard box behind. Luckily, with IKEA AR Toybox, customers can repurpose packaging to shape new toys in a gamified way to reduce material waste. Scans the carton with your phone and then the app is able to measure the size of the available cardboard box and determine what kind of things can be made with it. It will track a virtual template on the cardboard and provide step-by-step instructions on how to put them together. This interesting interaction not only increases the significance of environmental protection, but also improves brand loyalty. At the same time, creative gameplay encourages consumers to share it on social platforms, which greatly increases brand awareness.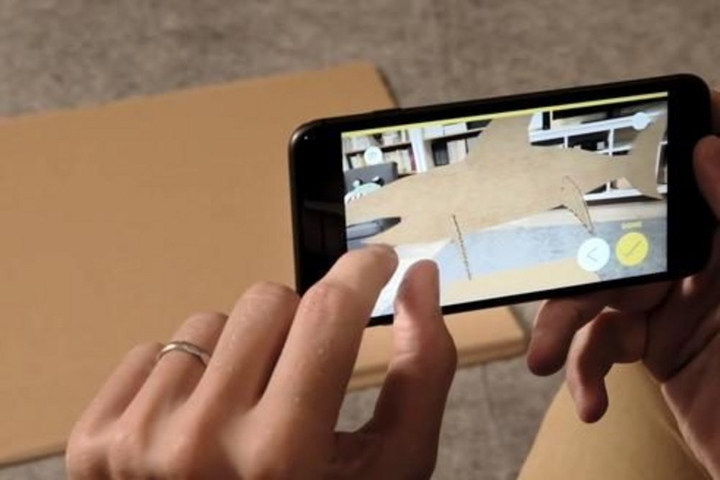 4. Primer AR Home Design
Unlike other AR furniture placement experiences, the Primer AR furniture app allows consumers to directly view how different wallpaper, wall paint, and tile look at full scale on their walls. With Primer's lighting estimation in real-time, AR material looks more realistic with ultra-accurate textures, sheen, and finish. Whether consumers want to redesign their living room, remodel their bathroom or renovate their entire house, Primer's AR Home Design app will help them find the perfect wall decor in an immersive way, which dramatically increases consumer satisfaction.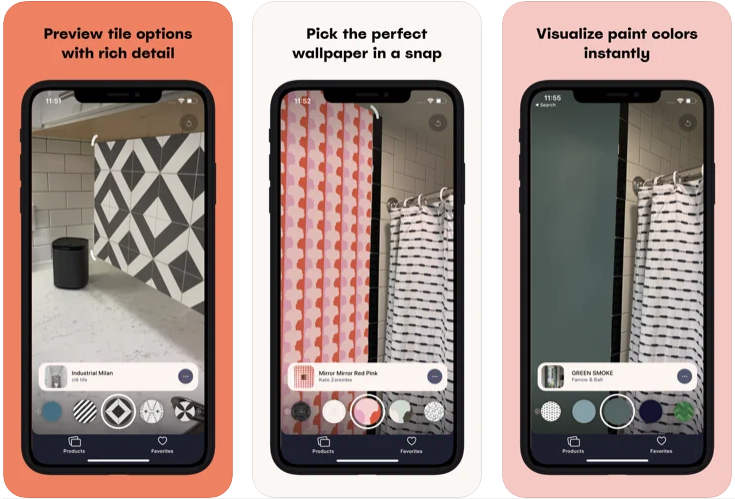 Analysis of Technology Selection in AR Furniture
The above analyzes the showcases of AR in furniture industry from the commercial perspective, and the following will discuss the strengths and weaknesses of technology selection.
SLAM (Simultaneous Localization and Mapping)
SLAM (Simultaneous Localization and Mapping), a branch of AR technology, recognizes the real environment through mobile phones or other camera devices, then tracks the world and superimposes virtual models on it. All of these cases implement SLAM technology, in which they recognize floors, walls, and desktops, then display 3D digital products on them.
The technology allows the camera to recognize the real world just like humans and place the AR materials in the appropriate space, ultimately providing users with an immersive AR experience. However, a large number of hash rates are needed, so most of this function is currently integrated into the app, which prevents consumers from experiencing lighter interactions.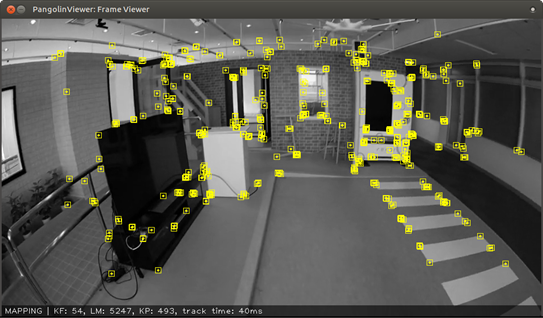 Physically Based Rendering (PBR)
How to make 3D digital products present quite realistic effects in the real environment is also a problem that the furniture industry needs to pay attention to. Compared to traditional Lambert, Phong, and Blinn-Phong lighting models, Physically Based Rendering (PBR) uses more realistic shading/lighting models as well as measured surface values to represent real-world materials. With PBR and SLAM, consumers can make purchase decisions quickly.
PBR rendering also involves a lot of computing and has high requirements on the performance of devices. Similar to SLAM, it needs to be experienced through an app, which is not friendly to some start-ups looking to build brand loyalty.
AR in Furniture Industry Revolutionizes Shopping Experience in Metaverse
In 2021, the AR/VR industry is taking off again, with major giants betting that AR/VR technology will become mainstream in the future. Facebook founder Mark Zuckerberg said that developing underlying AR technology is a top priority in building the next-generation computing platforms. Recently, the hot topic of Metaverse has also exploded, and AR/VR is the key to this world. WebAR solution providers like Kivicube and 8th Wall are making breakthroughs in Web-based SLAM technology. By extending the AR furniture scenarios to the browser, consumers can directly start their AR furniture placement experiences by scanning their mobile phones, and then complete the purchase on the official website.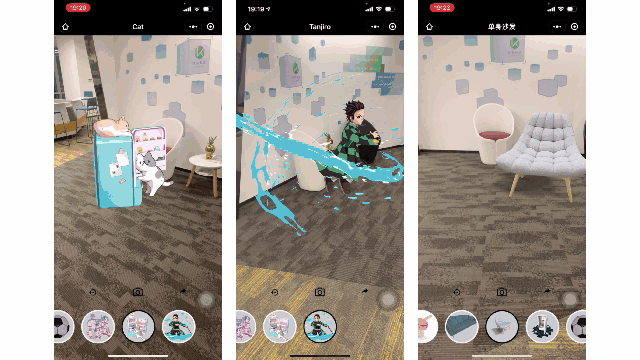 Through innovative AR shopping, brands can significantly shorten sales cycles, reduce returns, and increase sales conversions.
The Kivicube 3D rendering engine is capable of highly replicating a wide variety of items, including jewelry, handbags, furniture, etc., making them look as realistic as if they were in a physical store. Furthermore, Kvicube is an online visual WebAR Authoring Platform that allows any designer, creative practitioner, and other non-technical users to easily create AR furniture placement scenarios. Without downloading an App, consumers can directly place highly simulated 3D products in the real world by scanning the QR code, which not only lowers the difficulty of AR scenario creation, but also improves user experience.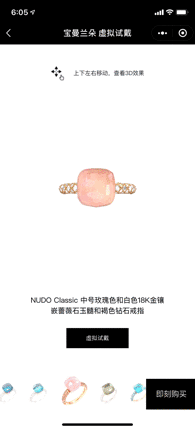 Conclusion
The "try-before-you-buy" experience is quite important for consumers, especially when buying large furniture products. Through AR, customers can virtually try out them without worrying about making bad decisions. The 5G rollout has driven a massive digital revolution and promoted the global economy. With technological breakthroughs like point cloud, there will be more excellent AR furniture apps in the future to help consumers make buying decisions faster and improve sales for brands.