Metaverse is a great revolution in computing, transforming the way users interact with each other, entertain themselves, shop, etc., by combining the physical world with advanced technologies. At Connect 2021, CEO Mark Zuckerberg announced that their vision was to help bring the Metaverse to life, so they changed their name to Meta, reflecting their commitment to the future. Metaverse is full of innovative marketing potential, ranging from live shopping to fashion shows, AR try-on, virtual boutique, product launches, object placement, live flagship events, NFTs, etc., which marks a move beyond traditional advertising toward creating more engaging and exciting experiences. With Millennials and Gen Z set to become avid users of digital content, many brands are turning to Metaverse marketing and creating a global economy that is expected to be many times larger than the current one.
1. AR Metaverse for Gucci: Virtual Try-on Sneaker, Eyewear, Handbag, Jewelry
To generate awareness and interest for the release of new sneaker collections like Rhyton, Tennis 1977, Ace, etc., Gucci introduced an AR shoe try-on campaign that provides consumers with an immersive experience while on the go or at home. Just go to its online boutique and click on your desired pair for a 360-degree view. With its high-precision rendering, 3D models are as realistic as you'd see in a real boutique. Through real-time foot tracking technology, you can freely walk or rotate your feet to see the effect from any angle. It also enables you to complete the purchases with one click. Gucci also launched virtual try-on for eyewear, handbag, jewelry, etc., all of which have achieved better sales conversion rates.
2. Watsons Launched AR Metaverse for X Soda Water with Virtual imma
Virtual imma, who is extremely popular among Generation Z, has been selected as the ambassador of Watsons' new carbonated drink "X Soda" to cater to young people seeking a personalized experience. When you scan the can, unknown energies pop out and you think you're surrounded by a pink world, and suddenly virtual imma and "X Soda" appear in the modern city. Through AR object tracking, immerse yourself in mysterious space-time signals. Augmented Reality in food and beverage industry stimulates users to share interesting experiences on social media platforms, which greatly boosts brand awareness and sales growth.
3. CHIVAS Whisky Remixed in Augmented Reality Metaverse
A popular way to enjoy whiskey is the Whisky Highball, which is an iced alcoholic beverage mixed with whiskey and soda in a tall glass. To experience the refreshing and rich taste in an immersive way, CHIVAS AR Whisky Remixed was launched. Consumers can unlock their AR Metaverse by simply scanning the QR code on the package. With object tracking and motion recognition, an interesting mixology scenario appears, where ice, tea, soda, and wine mix together. This digital marketing strategy serves as an innovative way to directly connect with customers and generate brand impact through insightful interaction, which revolutionizes user experience and enhances engagement.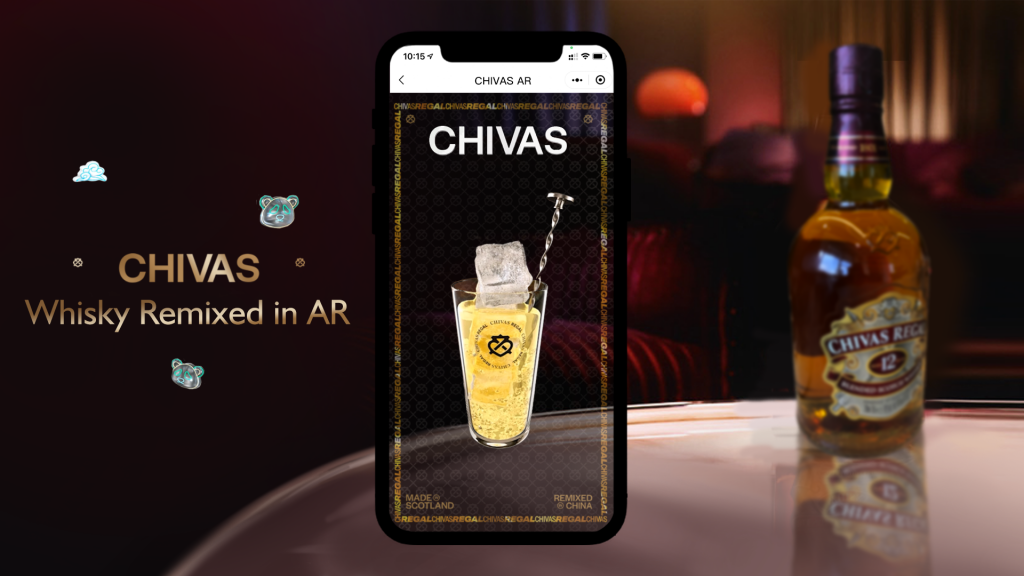 4. Pomellato NFT Artwork for the Iconic Nudo Collection
The NFT is shaking up the art world and spreading rapidly in the luxury industry. One of the biggest strengths of luxury brands is the ability to extend their refined aesthetics and visual experiences into the virtual world through NFT. Pomellato has unveiled its first NFT artwork on the 20th anniversary of its iconic Nudo collection using artificial intelligence, blockchain algorithms, and other technologies, which broadened the way the brand presents its products and reached more Gen Z. Digital native who have grown up in the information age are demanding more from luxury brands than ever before. Pomellato ring AR try-on has also been introduced to enhance customer experience and provide a reference for purchasing decisions.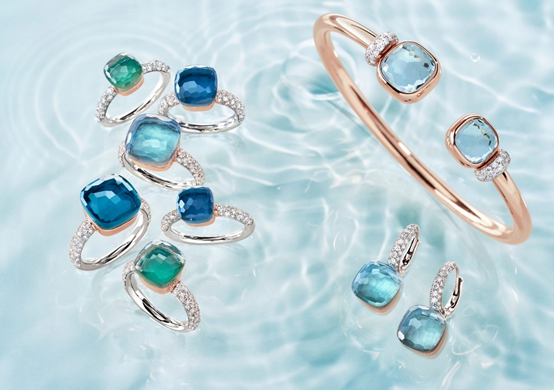 5. SLAM AR Furniture Placement – More Sales with Metaverse Marketing
Many users have had the experience of ordering furniture online and finding it didn't fit in the room, then returning it. Kivicube SLAM AR is now available to reduce the burden of choosing your next piece of furniture. Its smooth performance and real-time tracking capabilities allow customers to place virtual furniture in a real environment in real-time. The high-precision 3D rendering makes the virtual model look quite realistic under different lighting, which greatly replicates the offline shopping experience. Through this immersive experience, consumers will make purchase decisions faster and shorten their buying cycle. With AR, choosing exquisite furniture for home decoration has never been easier.
6. Nike Created Virtual World "Nikeland" to Reach More Gen Z
Nike created Nikeland with the backdrop of its world headquarters and inside Roblox's 3D space, building on its goal to turn sport and play into a lifestyle. It features arenas where online players can play mini-games, including tag, "The floor is lava", dodgeball, etc. Users can also deck out the digital versions of themselves in the Air Force Ones and other Nike gear. Nikeland players will also earn blue ribbons and gold medals when they reach certain milestones or complete certain tasks. It shows that Metaverse has become the best way to reach younger consumers and a vital part of the sales growth strategies.
7. Mercedes-Benz 3D Exploration: Better Engagement in AR Metaverse
According to Statistics, the global automotive AR and VR market will reach about $673 billion by 2025. Capitalizing on this trend, Mercedes-Benz has launched car 3D view experience for its new C-Class, EQA, EQB, etc. The 3D rendering engine highly replicates the interior and exterior materials, such as radiator grille with central star, lamps, dashboard, intelligent driving assistance system, MBUX multimedia system, etc. Consumers can immerse themselves in opening and closing the car doors, sunroof, trunk, etc., and digitally exploring views from all angles. Different colors can also be customized, so that users can find the most satisfactory one and book a test drive. Many brands in the automotive industry are undergoing rapid digital transformation to get more consumer engagement and improve sales.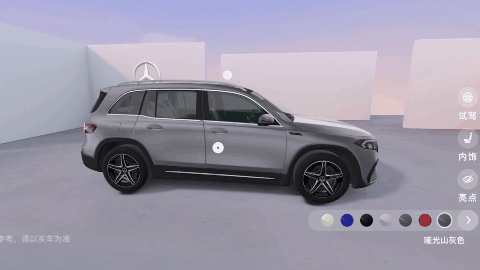 8. Explore Gucci Office Room in VR Metaverse
The Gucci Gift Giving campaign invited consumers to discover three offices rooms at Christmas party. Through VR shopping scenario, consumers can discover classic fashion from the 1980s. They can virtually browse through different rooms, enjoy the festival atmosphere, and visualize new collections such as men's clothes, Tennis 1977 women's sneakers, handbags, grip watches, etc. When they find something they like, they can complete the purchase with one click. Gucci is now leveraging AR and VR to integrate more modern experiences at various touchpoints, such as AR shoe try-on, AR ring try-on, AR eyewear try-on, etc., and the result is customer engagement that is not only personalized, but also goes beyond convenience and sensory appeal. These immersive shopping experiences are becoming a key differentiator for brands to stand out from the competition and increase customer loyalty.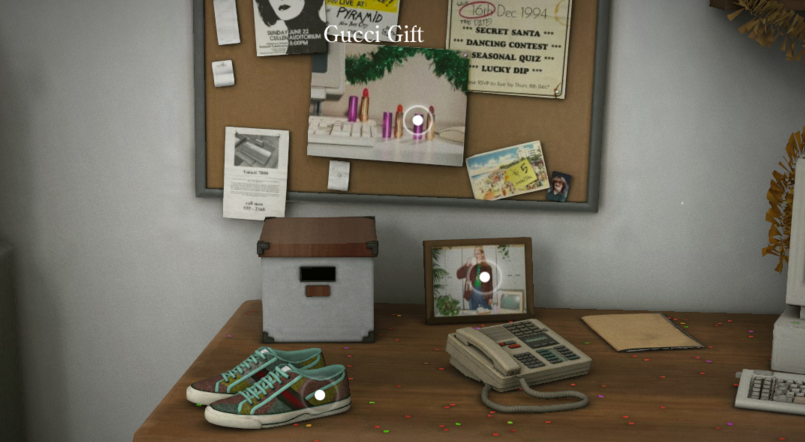 9. Warner Bros. Lunched 100,000 Avatar NFTs for "The Matrix Resurrections"
Metaverse is penetrating the Internet with the rise of VR and AR, so the "Matrix" franchise's entrance into the NFT market seemed inevitable. For the upcoming film "The Matrix Resurrections", Warner Bros. is releasing 100,000 unique avatar NFTs for $50 each, aiming to bring excitement to the long-awaited fourth movie in the sci-fi franchise. A series of avatars will roll out in their basic form, with randomly assigned and hyper-realistic animated characters lost in The Matrix. After two weeks, regular avatars will have the chance to consume either blue or red pills, and the latter of which will turn the character into a resistance fighter with new clothes, accessories, and hairstyles. NFT is seen as an entirely new business model that monetizes intellectual property and promotes user engagement with their product.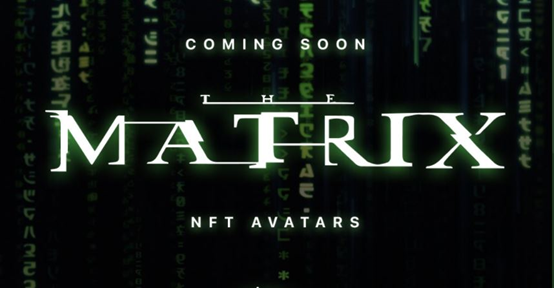 10. Norton Museum of Art Makes Artwork to Life with AR Technology
AR in tourism and culture is also quite popular, providing consumers with visual, memorable and interesting experiences. The Norton Museum of Art brought artworks to life through AR. The main augmented works of art include 'Soundsuit' by Nick Cave, 'MOONRISE. East. April' by Ugo Rondinone and 'Typewriter Eraser, Scale X' by Claes Oldenburg and Coosje van Bruggen. By using the gallery's tablets, visitors can change the expression of the sculpture's face or experiment with different textures. Moreover, visitors can move the works they are viewing into a virtual environment, like a sculpture garden, as well as AR creations made by other users. Digital interaction has great potential to capture the imagination of the younger generation and spark dialogue, further exploration, and curiosity about contemporary art.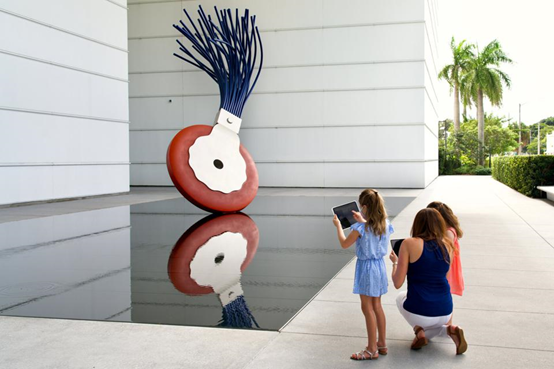 Conclusion
During the pandemic, AR Metaverse has been widely used, particularly in retail and shopping, from previewing furniture at home to virtually trying on luxury fashion brands. It's great to get high engagement, but what matters is conversion rates. Interactive 3D campaigns drive sales and ROI higher than any other medium because they highly replicate offline experience. Adopting Metaverse marketing is a key to keeping up with your customers and competitors. Kivisense, a Sino-French joint venture focused on WebAR solutions, is a top priority for you. Its partners include Gucci, Dior, Valentino, Canada Goose, Pomellato, TTDEYE, Mercedes-Benz, etc., all of which have achieved good performance.