Statista reports that the AR market will reach $198 billion by 2025, up from just $3.5 billion in 2017. With consumer demands changing, marketing strategies in retail fashion are being revolutionized. Customers will think twice before buying and focus more on visual shopping experiences, so digital virtual try-on is no longer a luxury but a basic human right for them. With AR technology, brands can create immersive and efficient try-before-you-buy experiences for customers in both online and real boutiques, which significantly enhances customer engagement, brand loyalty, and sales.
AR Shoes Try-on
Morgan Stanley reported a 20% drop in overall sales for retailers on Black Friday 2020, but online spending that day rose 21.6%, according to Adobe Analytics. It's hard for consumers to choose perfect shoes online, but traditional retailers, struggling to stay afloat during the pandemic, are reinventing online shopping and increasing sales with AR try-on.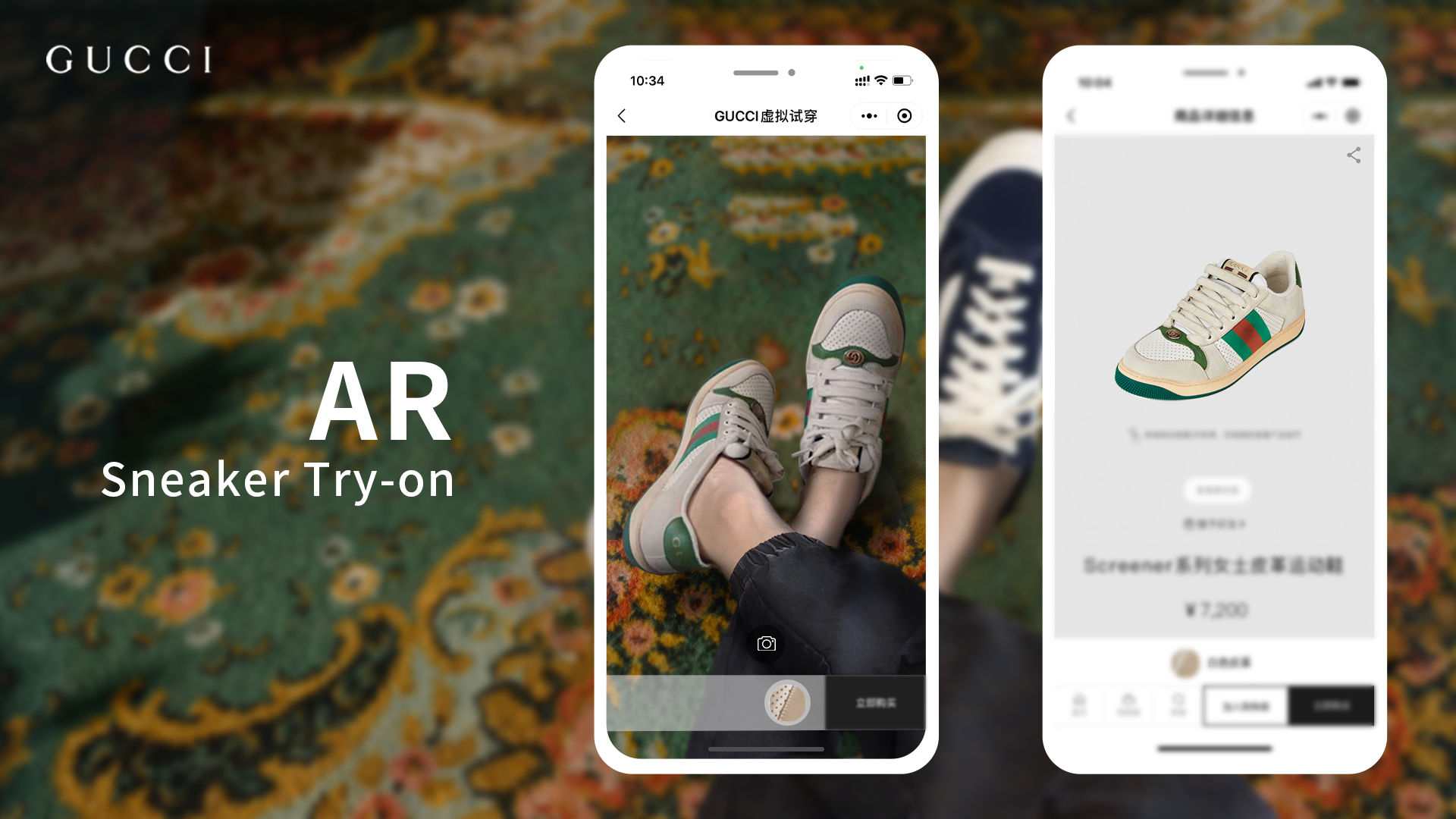 Shoppers can select their desired footwear and try them on virtually in real-time. It also provides them with a 360-degree 3D view that highly replicates offline shopping. In addition to improving customer experience, AR technology also eliminates unnecessary return costs, and increases repeat purchase rates.
Influential and innovative Gucci is reinventing a digital approach to further reinforce its position as one of the world's most desirable luxury fashion houses. It introduced a new augmented reality experience that enables users to virtually try on various styles, like Ace, Chunky B, Rhyton, Tennis 1977, etc., on its online boutique. Through the 3D effect, users can view shoes in 360 degrees. The highly replicated models speed up their purchase decisions. Dior, which dominates global luxury power players ranking, also launched AR shoes experiences for its DIORIVIERA Summer Capsule, World Tour B27, D-Connect Diori-ID, etc., and achieved great performance.
Some world's leading DTC brands, such as VIVAIA and Valentino, respectively embed augmented reality try-on engines into Shopify websites and online boutiques. In November 2021, the performance luxury brand Canada Goose launched its first footwear collection, including Snow Mantra Boot and Journey Boot. It also released AR footwear try-on, "Live in The Open" and other campaigns to increase user engagement.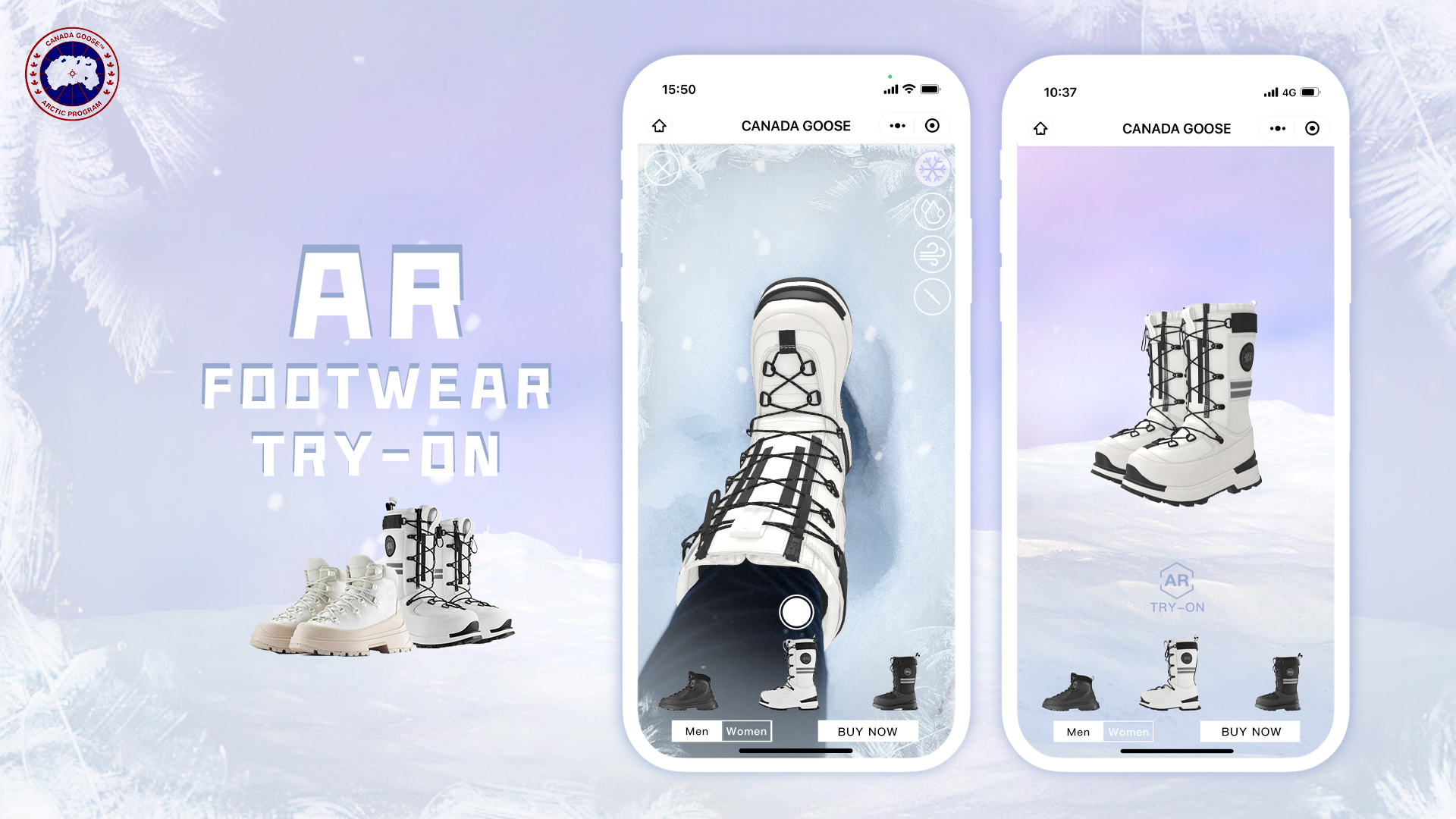 Virtual Eyewear Try-on
By 2028, the global eyewear market is set to reach $172.42 billion, so more brands are entering the market with creative designs. However, leveraging traditional marketing strategies has been unable to stand out from the competition. With Gen Z becoming a major customer base, it's even more important to adopt digital marketing hacks, which means it encourages more consumers to visit your site and complete the purchase. With real-time AR face tracking and high-performance 3D rendering, users can quickly find the best pair without going to a local mall.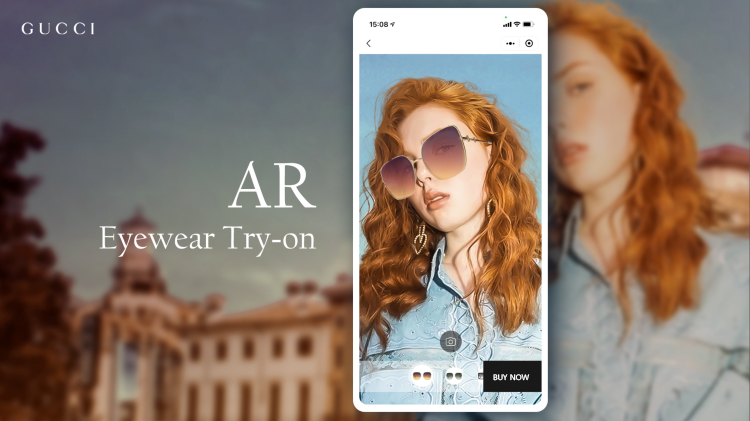 World's leading fashion brands such as Gucci, Dior, etc., as well as DTC brands like Mojosee, introduced quite fascinating brand stories through AR technology, deeply touching consumer emotions and revolutionizing the sales.
With highly replicated 3D eyewear models, consumers can view products more intuitively and make purchasing decisions quickly. They can freely turn their heads to check the try-on effects in real-time and satisfactorily complete the AR "See-Now-Buy-Now" experience.
Virtual Jewelry Try-on
The traditional jewelry industry usually relies on offline interaction to drive sales. However, the market situation has accelerated their urgency to go digital. AR reshapes traditional jewelry industry, making it more attractive to Gen Z buyers. Through virtual jewelry try-on, customers can see how the jewelry looks on them in an immersive way, which greatly increases brand loyalty and sales.
Synonymous with creativity and color, Pomellato jewelry is handmade by many experienced craftspeople. The brand specially launched a virtual try-on for its rings and necklaces, allowing customers to visually experience their craftsmanship and purchase them anytime and anywhere. Furthermore, Pomellato launched AR jewelry try-on in the App, Web, and real boutiques, reshaping omnichannel sales.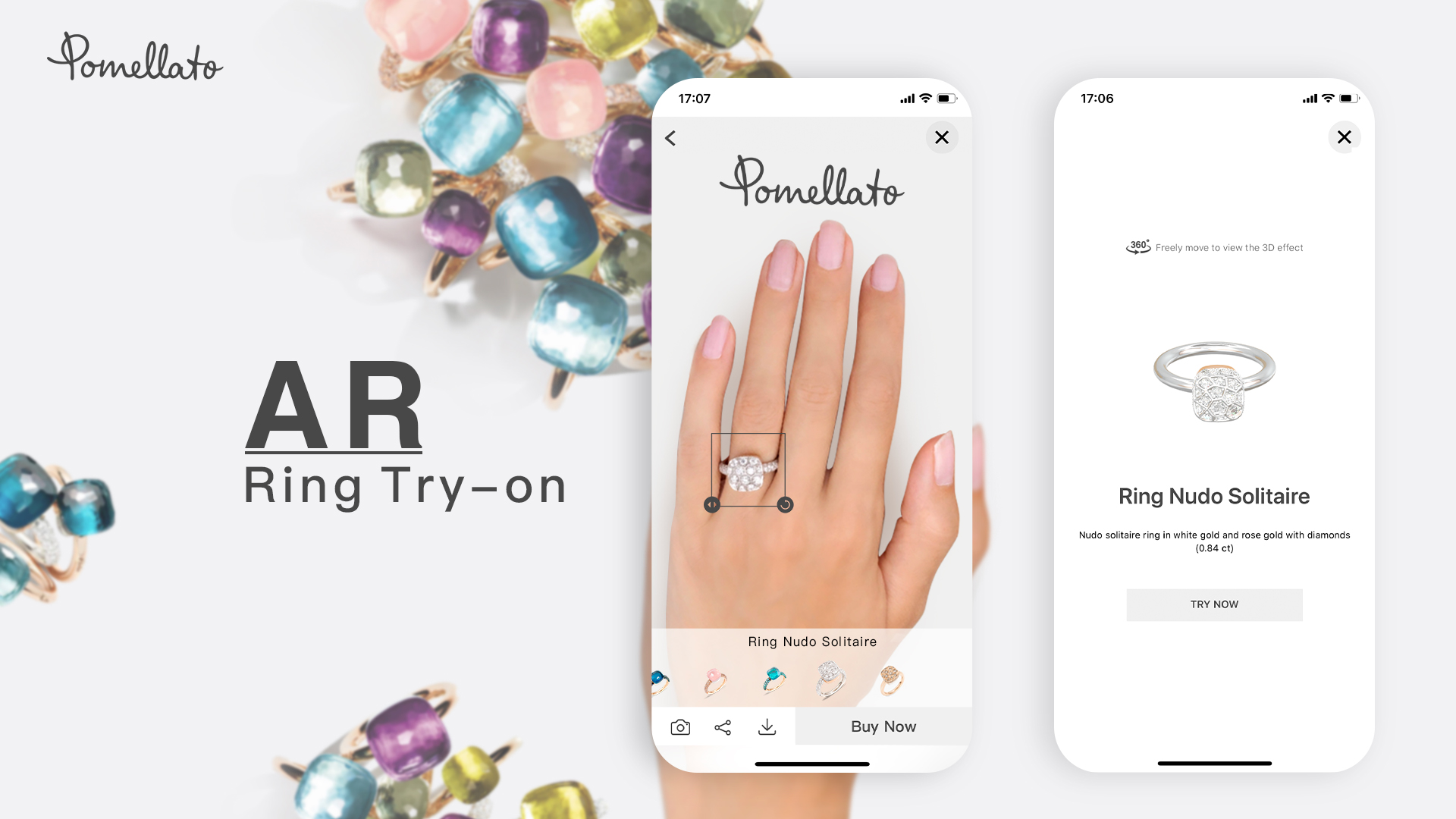 A series of modern and romantic Gucci products, such as eyewear, clothing, handbags, jewelry, etc., all represent the pinnacle of Italian craftsmanship. In addition to AR try-on for shoes and eyewear, Gucci also launches the same experience for its rings. Users can not only view the ultra-realistic 3D rings in 360 degrees, but can also virtually try on various styles in real-time to find the perfect one.
Augmented Reality Watch Try-on
Swiss watch and luxury timepiece brands were previously slow to adopt digital marketing, e-commerce and social media, but the use of AR is becoming increasingly prominent for them, enabling them to make a deeper connection with consumers. Luxury fashion brands such as Gucci, Rolex and IWC have all joined the AR revolution to digitize their shopping experience.
Some 3C brands like Xiaomi have also launched a virtual try-on for Redmi Watch 2. With real-time wrist tracking technology, the watch can be fitted super-precisely on users' wrist. This innovative AR shopping, comparable to offline shopping, greatly promotes consumer engagement and sales conversion.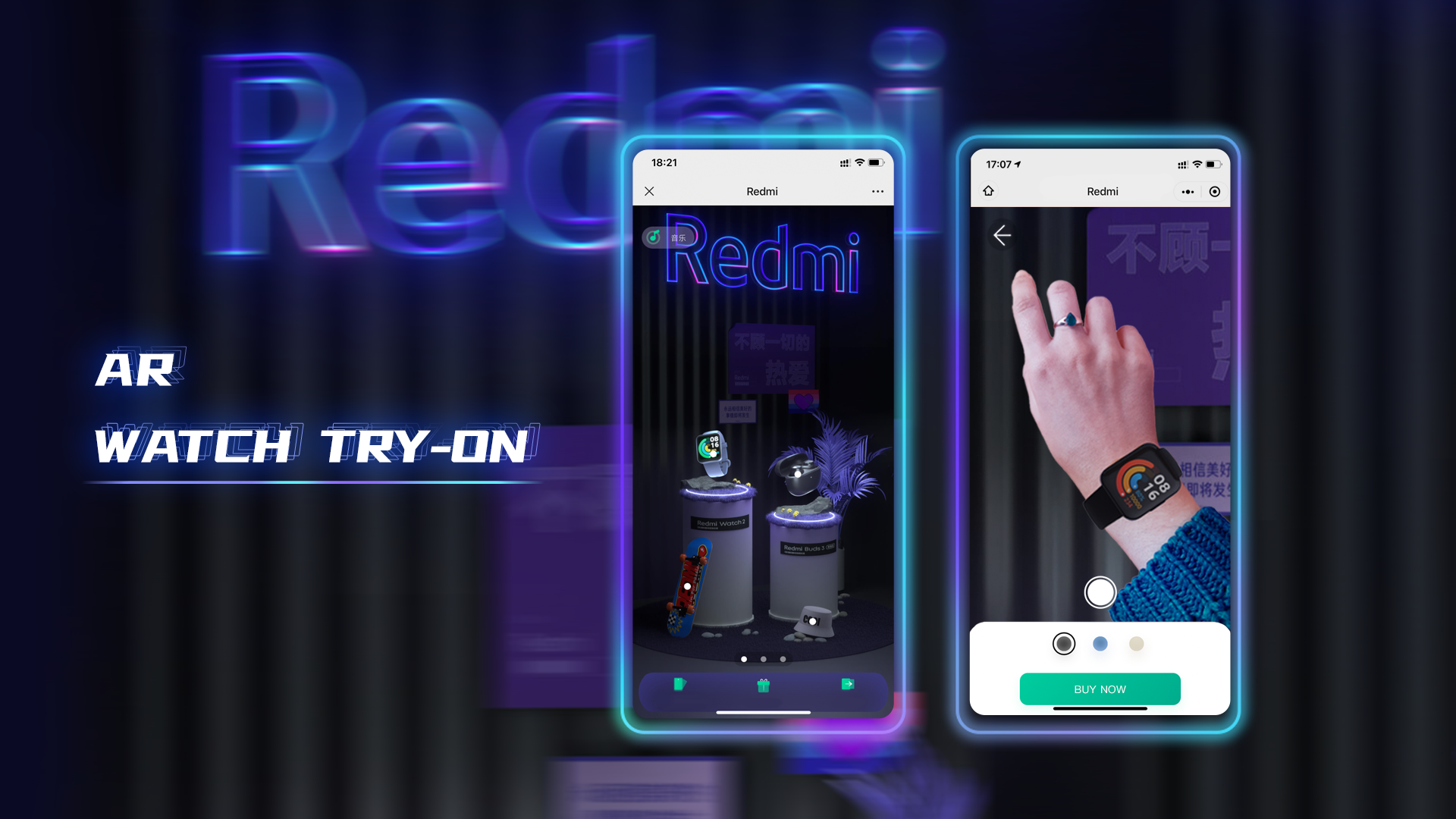 Virtual Makeup Try-on
The year 2020 hit the cosmetics industry hard, with revenues declining in all markets. But some brands quickly invested in digital transformation to withstand the negative impact and even improved e-commerce sales. Thanks to augmented reality technology, consumers can easily buy their favorite cosmetics online without worrying about how it will look on them. They can also virtually try on a variety of styles without removing makeup, which speeds up their purchase decisions and shortens the sales cycle.
Top brands like L'Oréal, Estée Lauder, MAC Cosmetics, Black Opal, Charlotte Tilbury, etc., are all leveraging AR to make consumers virtually try on a different shade of lipstick or eyeshadow. TTDEYE, the largest colored contact lenses (CCL) e-commerce in the United States, also launched the CCL AR try-on experience. It not only published the virtual try-on advertisements on Facebook with Spark AR, but also embedded the AR experience into its website, where consumers can try on more products and directly buy them online.
AR Clothing Try-on
Virtual try on clothes is more complex than their counterparts in cosmetics and accessories, but Kivisense has made realistic AR clothing closer to reality through ongoing research into AR algorithms. They recently made improvements on the try-on capabilities, including 3D body mesh that defines 3D shapes and advanced fabric simulations. For fashion brands, this can greatly unlock their digital clothing sales, increase sales conversion rates and reduce e-commerce returns. With real-time body tracking algorithms, 3D digital clothing can automatically appear on your body as you move in real time.
Luxury fashion retailer Farfetch also launched an AR clothing shopping tool that allows consumers to try on jackets from Virgil Abloh's Off-White collection. Through a seamless AR shopping experience, user engagement and repurchase rates have been greatly improved.
Conclusion
As consumers demand technology-driven experiences in Metaverse, augmented reality shopping tools are crucial for fashion businesses looking to improve their users journey. The AR try-on experience takes the guesswork out of online buyers and provide them with a clear idea of how a product will look and fit on their body, which encourages them to complete the purchase.