Trying on shoes may be time-consuming. You need to travel to your local mall or shopping center, locate a shoe store, and then track down someone to bring out many sizes, colors, and styles. However, thanks to Kivisense and augmented reality, you can now try on various shoes, check how they fit and then purchase them! All of this without ever leaving home.
What is Virtual Try-On for Shoes 
Augmented reality is a method that uses equipment to add a layer of digital content to your real-world views, such as text information or a 3D object. You may use almost any device, such as your smartphone, tablet, or AR headset. Like other try-on solutions, AR try-on solution for shoes is a feature that allows customers to try on footwear using any camera-equipped device. This technology, which makes use of Augmented Reality (AR), allows them to see how an on-foot product will look on them before purchasing it.
How Virtual Try-On Work for Shoes
If you're a customer, simply click the "try on" button on the shoes product page, activate your camera, and you're ready to go. If you own a brand, you get more than just a footwear virtual try-on tool. Kivisense allows you to create public or private shareable try-on links or a QR code for consumers to use for a more personalized shopping experience. To try on the item, users will just click on the link you provided.
Select & Explore
Pick footwear to observe them in detail with a 720-degree view
Try On Instantly
Point the device's camera at your feet for a hyper-realistic try-on experience.
Share & Purchase
Post photos and videos of your try-on for shoes to social media and then purchase the real one.
AVG. 3D RENDERING ENGAGEMENT
AVG. AR TRY-ON ENGAGEMENT
Highly-realistic textures and material reflections through 3D rendering engine and easy to update and upload new products.
"This is all experienced through mobile phones, no apps, no downloads, with a click of the 'Try On' button on the website and a simple scan of the QR code, customers can experience it through mobile browsers, and have access to this from the comfort of their own home."
— Steven Zhang, CEO of Kivisense
Revolutionary Shopping Experience For Any On-Foot Products
With Virtual Try On for Shoes, users are able to enter a hyper-realistic virtual environment using their devices, allowing them to try before they buy and explore any featured footwear at home. It might be the most recent footwear trend in casual shoes, hikers, sneakers, slippers, sandals, high heels, clogs, and other kinds.
Partnered with more than 30 top fashion brands, including Gucci, Dior, Burberry, and Valentino, to provide customers with genuine shopping experiences using immersive virtual try-on tech.

The Benefits of Virtual Try-On for Shoes
Enhanced Conversions

Increased engagement and personalisation boost your profits and sales.
Higher Customer Satisfaction

Exceed customers' expectations by providing them more assurance about the shoes and how it will look on them.
Omnichannel Integration

Virtual Try-On for shoes can be placed into your brand's website, e-commerce site, mobile app, and in-store fitting mirror.
Higher Engagement

Maintain customer engagement across platforms with VTO footwear solutions and watch your business thrive.
Competitive Edge

Adoption of cutting-edge tech to create a digital competitive advantage for your footwear brand and outperform competitors.
Personalized Fitting Experience

Provide a personalized try-on experience based on an individual's preferences.
The most significant advantage of using the Virtual Try-On function in your shop is increased sales and conversions. Customers can visualize how the footwear will look and make more informed purchase decisions. Augmented reality capabilities may help consumers understand product features more quickly while purchasing, offer greater informed shopping options, and create a more intimate shopping experience. AR has transformed into an effective marketing tool, showing that branding strategy has entered a new era.
Young customers, particularly Gen Z, are in desperate need of highlighted items. AR shoe try-on meets customers' desire for individualized shopping by allowing them to immediately experience high-quality goods and services. The AR engine can track shoes and respond to various footwear from all angles, with rapid foot motion reaction, creating a very lifelike fitting experience and assisting their purchase decisions more quickly and efficiently.
A proper image-sharing button takes visitors from the AR try-on to the purchase page, making it simple to create the see-now-buy-now shopping experience. It not only meets young people's emotional needs for sharing and exchanging fashion ideas, but it also encourages your customers to make purchases and reduces the e-shopping return rate.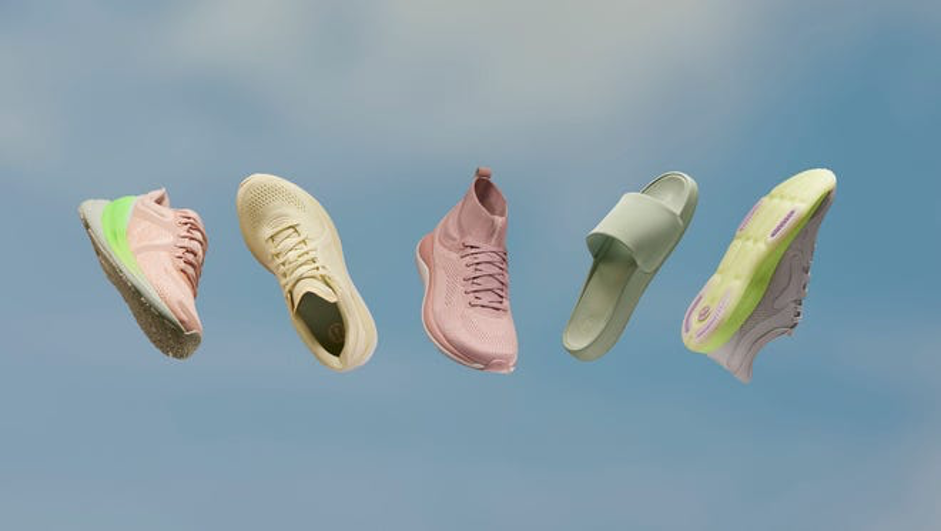 One Virtual Try-On Solution Supports Omnichannel
AR Try-on solution for shoes that supports both desktop and mobile apps, boosting businesses' omnichannel strategies and enables any smartphone user to virtually try on footwear anywhere.
Cross-Platform Virtual Try-On Support for E-commerce
Our leading Virtual Try-On solution for shoes can be simply integrated onto your site, giving customers the confidence to purchase online. Users can virtually try on 3D footwear on your website, e-commerce platform, or e-shop like Shopify by placing a try-on button or QR code on the product page. The solution is completely compatible with both desktop and mobile web browsers, with seamless support for all major browsers on macOS and Windows platforms, as well as iOS and Android devices.
In-Store 3D Virtual Try-On for Shoes
Kivisense's pioneering virtual try-on solution for businesses now allows retailers to offer virtual try-on on digital versions of their shoes both inside and outside of their stores in making contactless selections. Customers can also virtually try on any featured footwear in real-time using an in-store smart try-on mirror with the customized shoes try-on solution.
Inspirational Virtual Try-on Showcases for Shoes
The key to AR marketing is to provide clients with immersive shopping experiences. AR tech can bridge time and location gaps, allowing people to become more than just observers of the footwear, but participants in it. It has changed how brands communicate with their customers. Diversified marketing approaches have effectively entered the younger marketing group, bringing virtual fashion from the metaverse into the real world and allowing businesses to transform meta fashion with more possibilities. The cases below powered by Kivisense demonstrate how AR-powered try-before-you-buy solutions for shoes raise awareness and sales. It's definitely something to think about for your brand.
Gucci has unveiled an augmented reality (AR) try-on feature for the Adidas co-branded Series Gazelle shoes, allowing customers to virtually try on the vintage-inspired footwear.
The hyperreal 3D modeling brings customers back to the classic looks of the two brands. The augmented reality real-time try-on function shows the collision details of the premium Gucci logo and Adidas, allowing customers to access the co-branded series at their fingertips.
During the try-on process, the hyper-realistic 3D modeling can fit the foot on a variety of foot angles, responds instantly to motions, and rotates, resulting in a seamless try-on experience and a genuine fitting effect, allowing customers to grow desire for the footwear while trying it on digitally, which improve brand ROI and drive sales!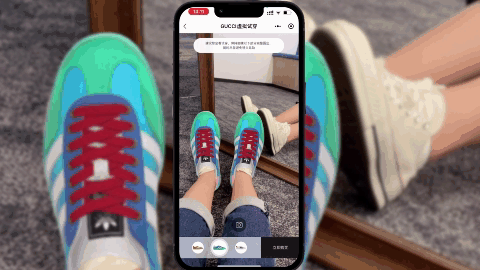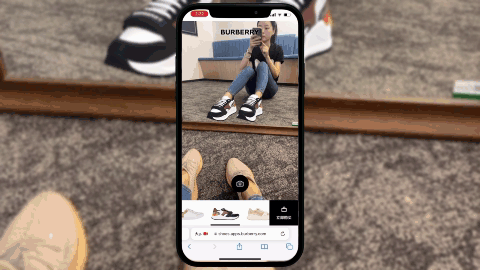 Burberry launched the WebAR shoes try-on feature on Wechat mini-program and its official website, allowing the virtual try-on experience to reach a wider audience. High-performance 3D rendering and augmented reality foot tracking technologies reconnect consumers to the in-store trial experience, allowing them to sense the ideal fit and successfully enhance brand sales conversion!
The mini-program shoes try-on is popular among Wechat users. It has an obvious advantage in networking and can gain new customers through social media groups.
WebAR shoes try-on provides and benefits consumers with instant AR experience benefits. The cross-platform features can easily run on all major system and web browsers. Furthermore, WebAR can be conveniently connected to Tmall, Shopify, and other eCommerce platforms and self-developed apps, allowing e-commerce brands to boost sales efficiency and promote marketing and engagement.
Lululemon has debuted its first women's footwear lines. Enter the lululemon mini-program, then click "3D space" to explore 3D shoe modeling and try them on with a single tap.
The use of real-time foot tracking technology allows the shoe model to perfectly fit the foot while movement, allowing consumers to expect the distinctive look of blissfeel running shoes and deliver an immersive AR shopping experience.
The innovative digital try-on experience increases consumer participation and purchases satisfaction, helping lululemon to identify itself in the highly competitive footwear industry.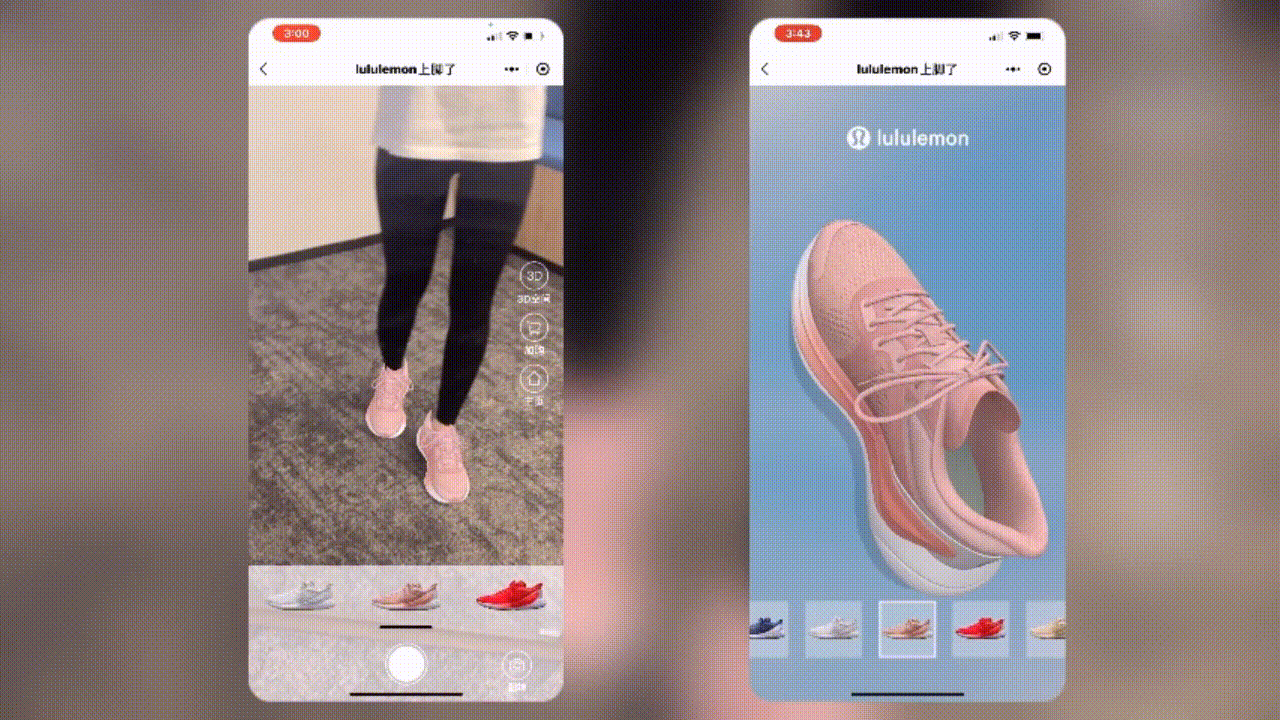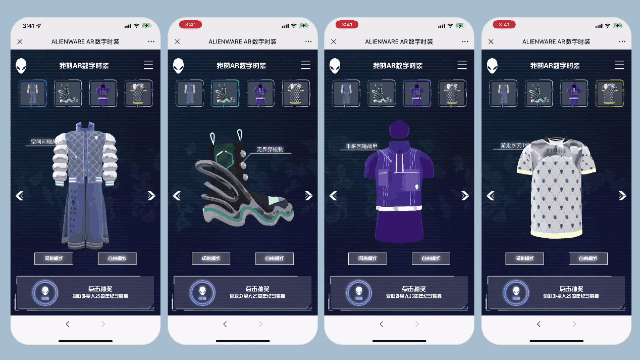 Alienware launched a series of "Exploring the X Space" campaigns. AR can be used to try on digital fashion to get entry into the metaverse, bringing NFT digital fashion to reality and allowing consumers to experience real digital fashion at home.
Alienware is riding the wave of trending NFT fashion, allowing people to visually interact with NFT wearables. Individual engagement creates an emotional bond between the brand and its customers, resulting in a positive brand impression and generating more leads for the brand.
Fusion, a popular FILA brand, launched a virtual fusion metaverse exploration expedition, releasing a futuristic online campaign.  It also created virtual footwear using FILA FUSION x FACETASM co-branded shoes, allowing customers to try on the virtual footwear and access the fusion metaverse.
The brand digitizes the sneaker series, allowing customers to try on digital shoes throughout time and place. It generates fantasy via numerous interactions and leads the industry's future pioneer trend while presenting its vision to users.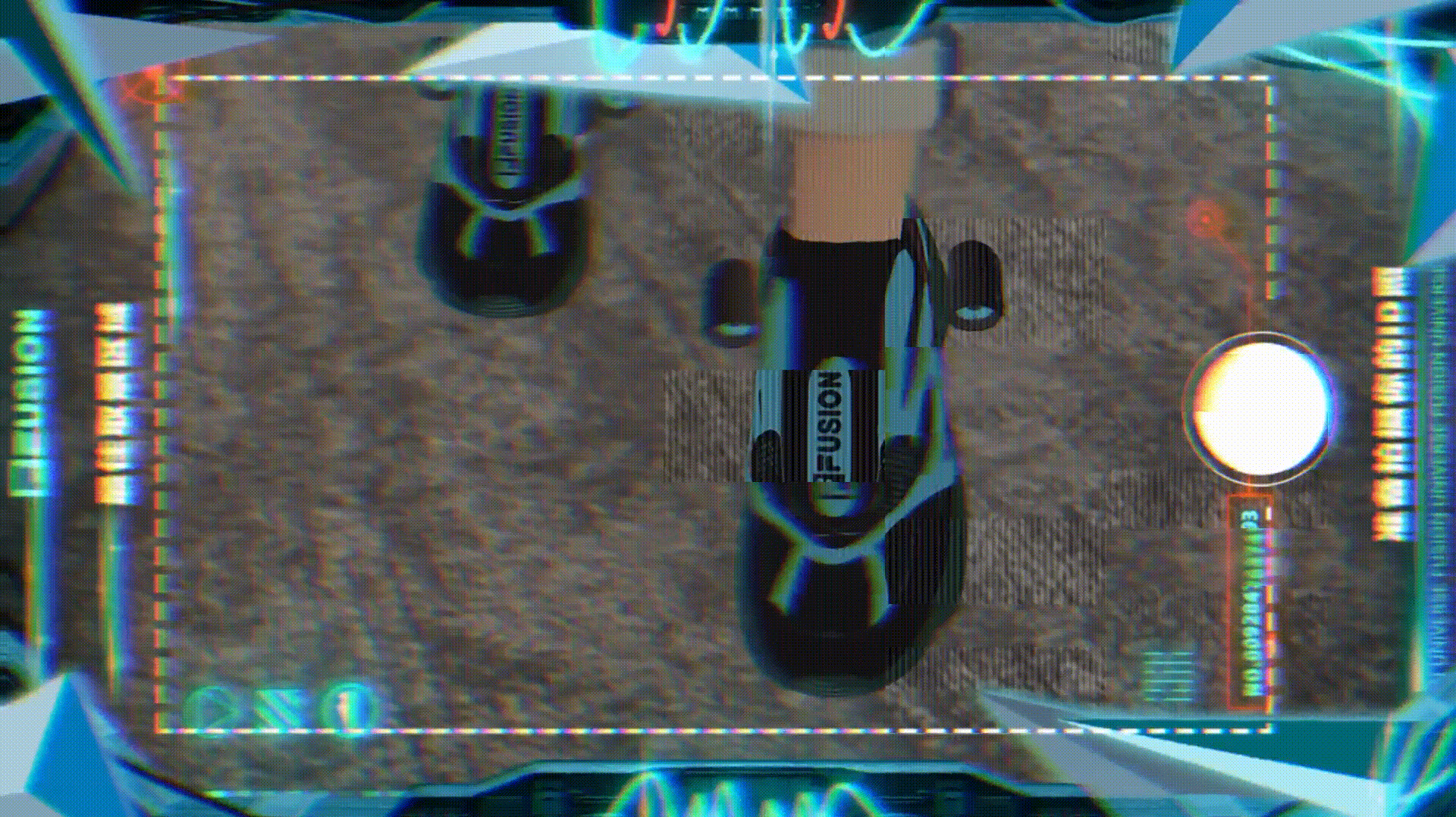 Leave Your Customers Wanting More with AR Try-On Solution for Shoes
If you would like to try our leading AR solution for shoes, Kivisense empowers brands to visualize how the shoes will appear to your customers before purchasing them. It has had great success in partnerships with Gucci, Dior, Pomellato, Valentino, Canada Goose, lululemon, Salvatore Ferragamo, and many more leading brands. Furthermore, the Kivisense AR solution can be seamlessly integrated into a variety of platforms such as the web, app, Shopify, social media, and so on, assisting businesses in reaching Omnichannel and increasing the sales growth. What are your thoughts on the Virtual Try-On for Shoes? Contact us right now!
Three Easy Steps for the Win!
Tell Us About Your Needs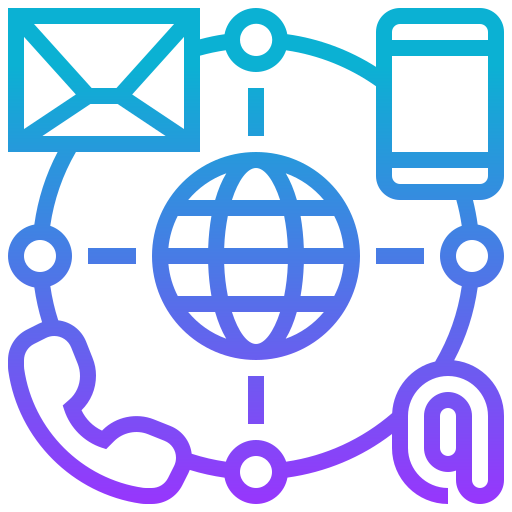 If you have a vision, don't hesitate to contact us or build up your product via our self-service dashboard.
Speedy Integration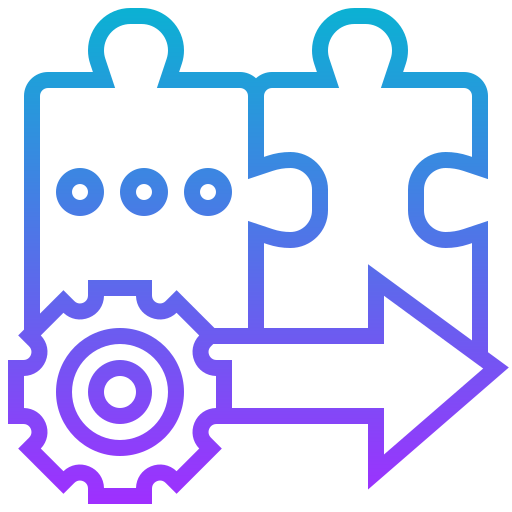 Kivisense will be integrated into the platform of your preference, the one that best meets your business needs.
You're All Set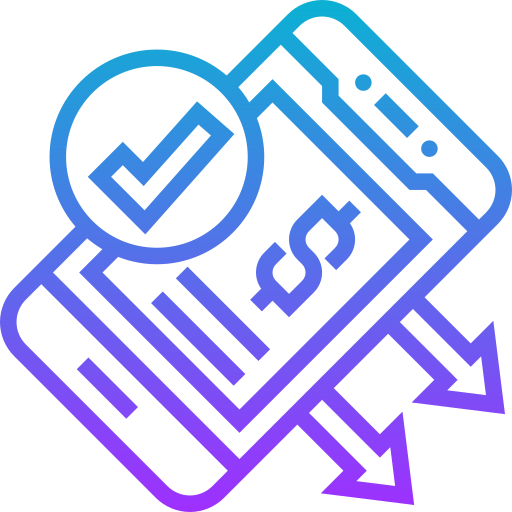 Congratulations, you are now ready to provide your consumers with an upgraded virtual try-on experience.
Explore More About Virtual Try-on for Shoes